Part One of This Post: My First Mother's Day-
Oh man Sunday was fun. In that nontraditional I'm-sure-some-other-moms-might-not-get-it way. The whole weekend was sort of an extended Mother's Day extravaganza since we made time for visits to the farmer's market and a Bon Air parade/festival with Clara and John on Saturday (Burger's afraid of firetrucks and loud noises, so he skipped the parade). Then on Sunday, I was awakened by the bean who was holding a handmade card (she scribbled all over it with crayons- so cute) along with an equally sweet card from John and Burger. I was also given a printout that was entitled "The Tale Of Sherry's First Mother's Day" which explained that John tried to hunt down the gold Calypso for Target dangly earrings that he knew I had been drooling over, but they were sold out in two stores that he drove to as well as online. So he snuck onto my Pinterest boards and saw that I was also obsessed with these lovelies (found here on Etsy)…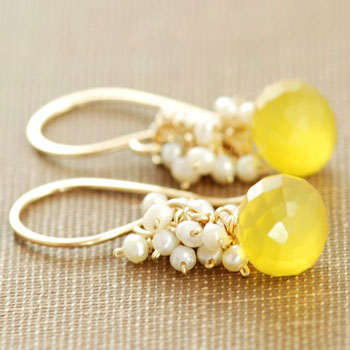 … so he ordered them for me instead. Yes there was excited arm flapping. I love them so much. They kind of remind me of lemons which take me back to our wedding day. And I love that John thought to check Pinterest to find something I was obsessing over. Smart man.
Alas, my new lovely lemon earrings didn't arrive in time to be handed over in the flesh, so a picture of them was sweetly included in my little First Mother's Day printout along with news that John was also getting me a Mother's Day massage to continue the tradition that he started last year when I was hugely pregnant and desperate for some prenatal massage relief. Wahoooooo. He intentionally didn't book the massage for Mother's Day (he told me to pick a later date because he knew I wanted to spend the whole day with Clara). Sweet, huh? Thanks hubs. For the Mother's day rubs and the beautiful baubles.
Anyway, after my little wake-up slash card & gift fest, Clara and John and I went to Einstein Bagels (one of my favorite breakfast spots) where I got an asparagus and mushroom flatbread sammy (for two bucks with a coupon- haha). It was so delicious I can't even say. John and Clara shared a muffin and a coffee cake in case you're wondering (suddenly this play by play got very specific). Then we headed home for Clara to catch a nap and John parked me on Karl The Sectional to watch some delicious reality TV (Pregnant in Heels) while he went outside and got back to work on the patio. The plan was for him to work for two hours while Clara napped and then come in and shower and play with us for the rest of Mother's Day.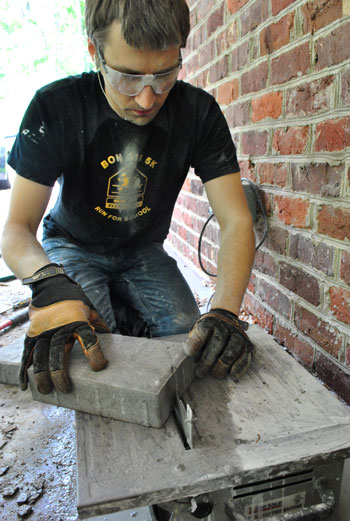 Here's where Mother's Day veers of into the nontraditional realm. By about two hours into Project Patio it was apparent that John needed waaaaaaay more time to make progress, so I decided the best possible way to spend the day would be to play with Clara while daddy kept working on the pavers (what mom doesn't want a finished patio for Mother's Day?). So Clara and I played with blocks and puzzles and crayons and had some lunch and brought daddy some granola bars and even practiced walking a little bit (don't worry, it was all assisted so John didn't miss any true first steps). We even got outside for some fresh air and had fun on the patio while John worked away in the background.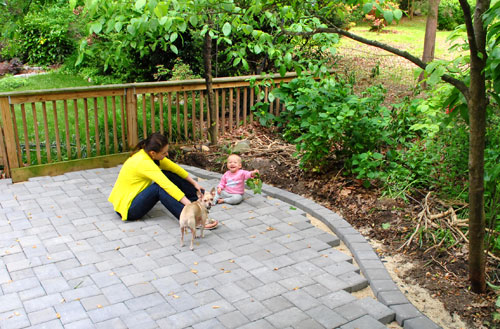 Burger was especially excited to have some fun out there too, and it was cute to see both of "the kids" enjoying our new space- even before it was completely finished.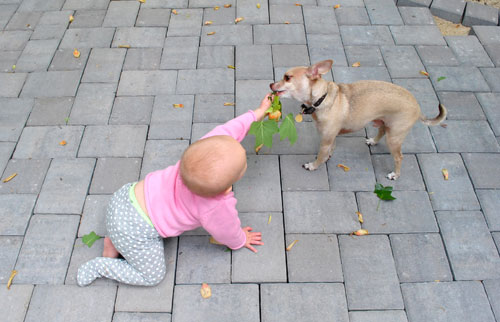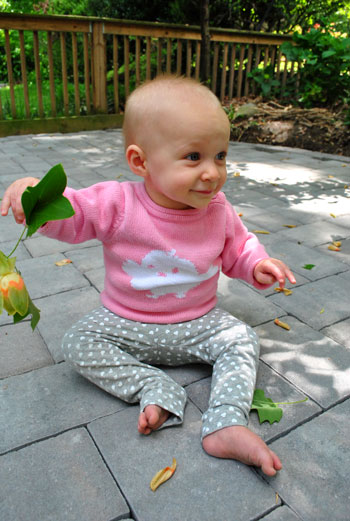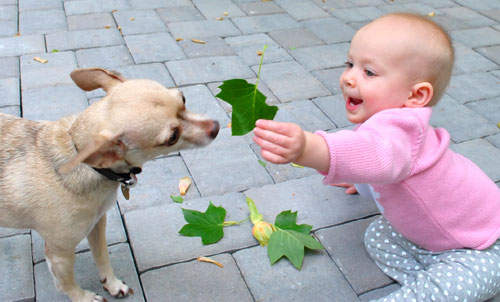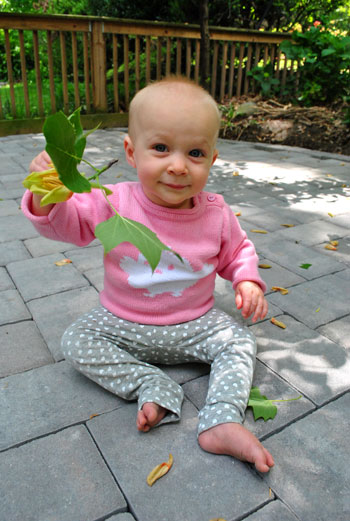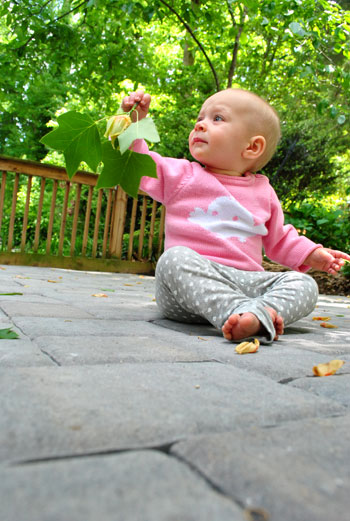 And about eight hours of hard hubby handiwork later, I had my Mother's Day patio! John had completely cut all the edge pavers – he just needed to add sand between the cracks, which he planned to do on Monday (final "after" pics should be up tomorrow morning for ya, btw). And we had just enough time to enjoy a nice family dinner (burgers from Five Guys – mmmm) and then it was time to put the bean to bed and enjoy some sofa chillaxing (John wrote Monday morning's post while we watched a criminally long episode of The Apprentice – seriously three hours is about two hours too many). But it was the best Mother's Day ever.

Part Two of This Post: Proof I'm Crazy-
I always tell you that I'm neurotic and loud and crazy but for some reason you guys don't buy it (instead I get pinned as perfect and prissy, which are both hilariously untrue). But behold, this video pretty much proves my insanity. We were asked to chat about radon by our local news station (it was recorded a few weeks back but aired last night at 11pm on NBC12). And while John's quotes make total sense, I shout things like "We're gonna die tonight!" and "It sounds like aliens. Invasion!" while waving my arms around wildly. Here's our Flip video of the TV screen (yeah, we're high tech):
Now do you believe me? I'm nuts. We cracked up the entire time it aired (and then rewound the DVR to watch it again while cry-laughing). And for those of you at work, you can read a breakdown of the segment here (complete with some nutso Sherry quotes worked in of course). Oh and there's some cute footage of the bean in the video too, so it might be worth a watch on "mute" if you're trying to keep your video-viewing on the down low at work.
Possibly the funniest thing that happened during the interview was that Clara started clapping for the first time. On camera. And we sort of lost it. They even sent us this "outtake" of the big moment:
If the clip above doesn't work, here's a direct link for ya. And yes. I'm flapping my arms and generally acting insane again. I guess that's to be expected at this point.