This is it. My most favoritest art ever. Yes I know that's a big statement. A big statement with a non-word, at that. But it's all deserved because I've framed and hung my bike art and I'm in love. Not only with how the final product looks, but how easy and cheap it was to achieve. So forgive me if my enthusiasm is more annoying than usual today. I'm a man with a love of all things bike and all things easy. Wait, that sounds wrong…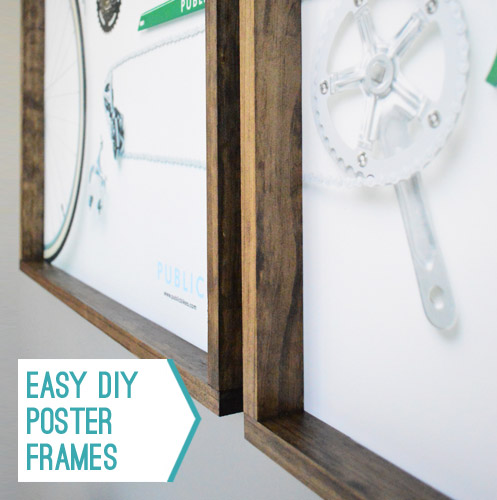 So here's that wall before with my retail display cast-offs just pitifully taped to the wall.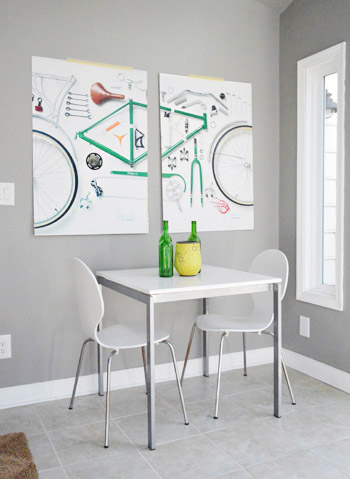 And here they are all framed up. In frames that only cost us $14 to make ($7 each!) and whose most challenging step was finding the patience to let the wood stain dry before I could finally hang them. Seriously, they weren't hard to make in the least.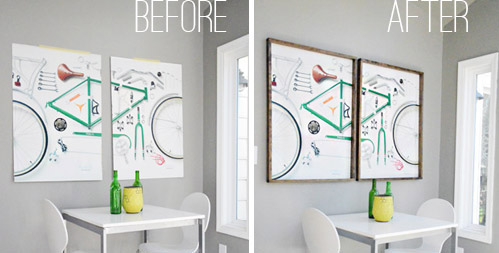 Here's how it all went down. Er, up. My $14 was spent on four boards of 6 foot long 1 x 2″ pine from Home Depot.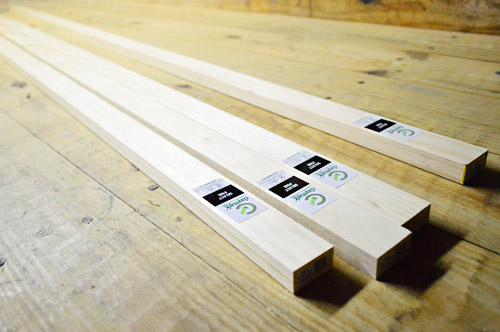 Since we were building two frames, that meant we needed four boards of the same length (for the sides of each of the two frames) and four shorter boards of the same length (for the top and bottom of each of the two frames). To make sure I cut the four sides of my frames (and the four tops/bottoms of my frames) evenly, I clamped four boards together and cut them all at the same time (you could have your boards cut to size at the store if you don't have access to a saw, btw).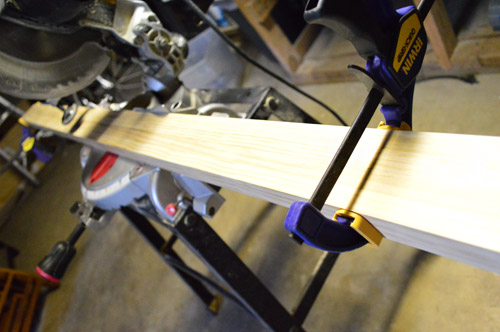 So two clamped cuts later I had four long boards (for the two sides of the two frames) and four short boards (for the top and bottoms of each of the two frames).
The short boards were cut to 1-inch longer than the width of the poster to create some overlap (i.e. each poster is 27″ wide, so I made the boards 28″ wide). The side boards were cut to 1-inch longer MINUS the width of the two top boards (i.e. each poster is 39″ tall + 1″ – 0.75″ for the top board – 0.75″ for the bottom board = 38.5″). This will make a bit more sense soon, I promise…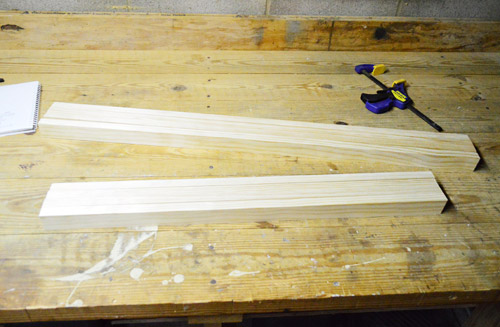 I chose not to complicate matters by doing mitered corners and went for more of a rough and raw look. So attaching the boards into a rectangular frame was pretty easy and completely miter-saw free (seriously, if you had Home Depot cut your four boards to the right sizes, all you'd need to do is the following part at home).
I clamped the pieces tightly together and screwed through the top and bottom boards into the side boards. Oh and it did help to make pilot holes first with a small drill bit so my wood didn't split when the screws went in.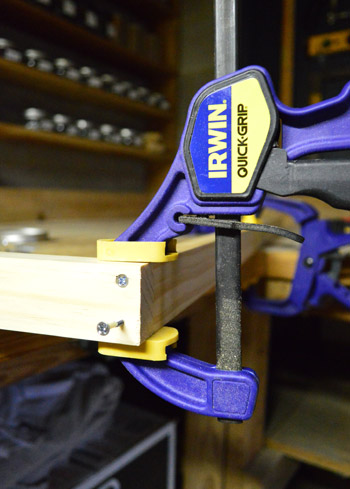 Here's what my two frames looked like once everything was screwed together. I didn't do anything to cover up my screwheads since I figured not many people will be staring at the tops or bottom of the frames once they're hung (you'd have to be pretty dang tall or lying on the floor to see them). Plus I was going for the raw and imperfect look anyway. A bike's gears show, so what are a few screws in a few not-easily-seen locations?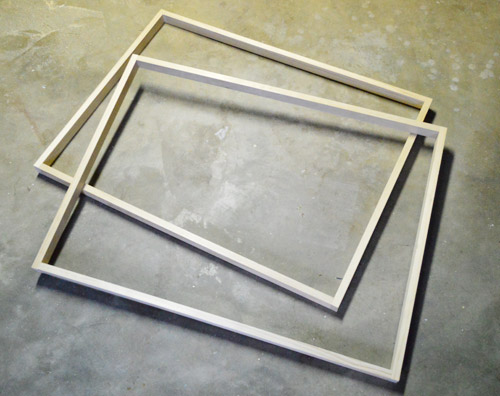 I contemplated leaving the wood raw (since that's how we originally saw them at store) but Sherry and I agreed they'd look better in a dark stain (we used Minwax's Dark Walnut since we still had a small can leftover from some project long ago) to tie into a few other wood items in the room like a wood side table and some wooden art over the daybed. Once the stain dried, I put a coat of Safecoat polyurethane over it and patiently waited another night (torture I tell you) to put everything together and hang them up.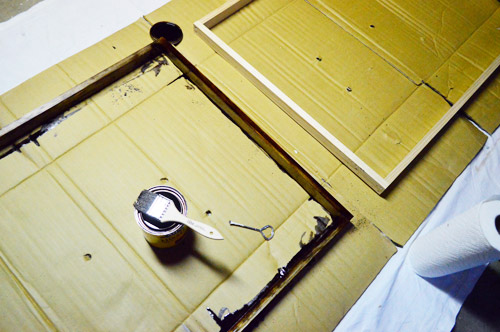 With everything dry, I laid my posters face down on the back of the frames. The inch I added to each side meant the poster sat on the frame comfortably without being visible along the edges. My poster was printed on pretty sturdy paper (it's similar to thick poster board) so I was able to just staple it around the edge in a few spots as a means of attaching the art to the frame. If you're trying this with a poster on thinner paper you might want to consider gluing it to a piece of sturdier poster board to make it less flimsy (maybe use a glue like rubber cement or spray adhesive that won't make the poster wrinkle when it dries?).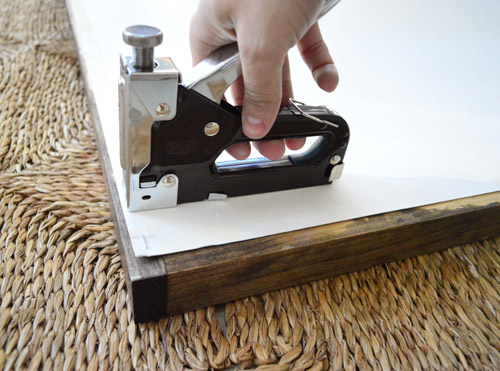 Once I put a few staples around the edges (I did about four per side, but depending how stiff your paper is you might need more) I attached some simple picture frame hanging hardware through the poster and into the wood of the frame – so it wouldn't show through on the front or anything: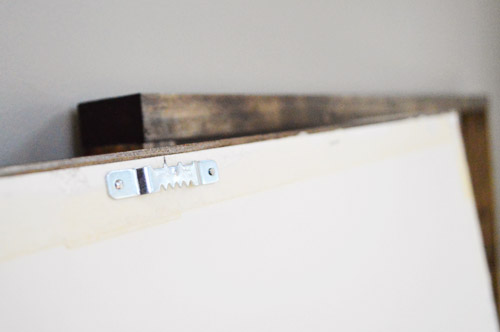 Then those babies were ready to hang. Cue the angels. Part the clouds. I am in bike art heaven. Oh yes, and ignore the way-too-airy table and chairs. Once we have a chunky storage piece of furniture (we have our minds set on something, so we should have that update for you soon) the bike art will have the nice grounded and proportionate look that it deserves.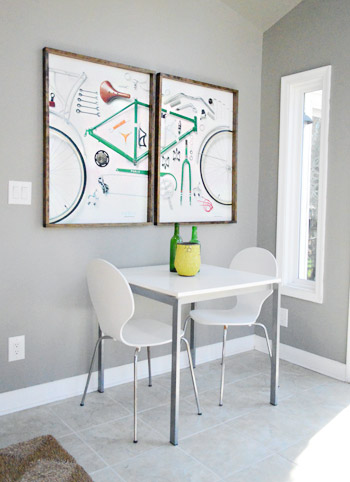 Seriously though, I'm pretty stoked about how they turned out. Obviously the art itself (featuring a deconstructed bike by Public Bikes) is the real star. But I like to think that my frames have at least earned a "best supporting actor" nomination. And heck, they're honored just to be nominated.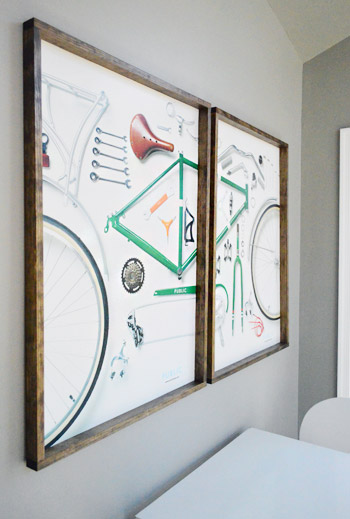 We're both really happy with our decision to use the boards so they raised off against the wall a little bit – giving the poster some dimension instead of just being big and flat. That thick frame feels uncommon and artful – and thanks to the posters being so firm and un-delicate, we don't anticipate any issues with there being an absence of glass. They're just like poster board so we think they'll hold up for a nice long time (of course we can always add glass or plexi if we change our minds, but for now we love them completely unobstructed).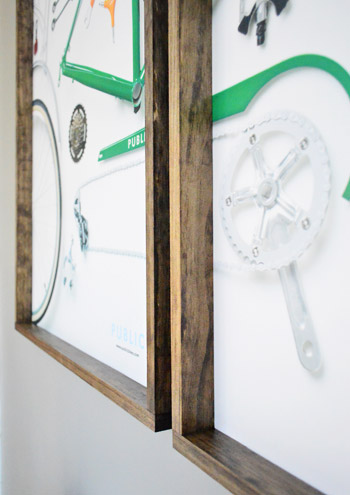 Then I had an impromptu make out session with them.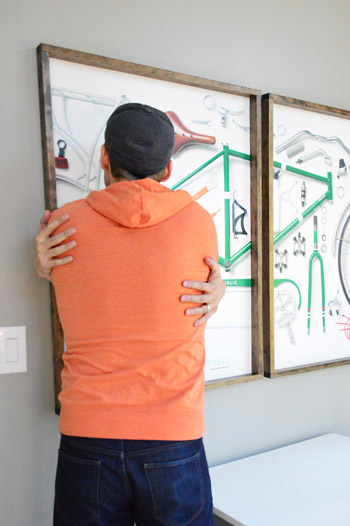 Sherry probably won't have to witness that again (I can't make any promises), but I'm glad I can see these babies from the window over our kitchen sink. So she may catch me gazing lovingly at them while doing dishes. And it might just be a love triangle since she occasionally lovingly gazes at me while I do dishes.
So that's the latest in the sunroom. Can't wait to share the storage-y piece of furniture that we'll be adding under the bike art. Soon I hope!
Update: We finally created this Shop Our House page to help you hunt down any furniture/accessories that you see in our house, along with all of our paint colors.