After a few "settling in" months we're going through that phase I like to affectionately call the What We Really Need (And Don't) Phase. Essentially, like most folks before a move, we tend to do our best to craigslist or donate or yard sale the things we know we no longer need or use (so we don't waste time/energy moving it only to store it and never use it again in the new house).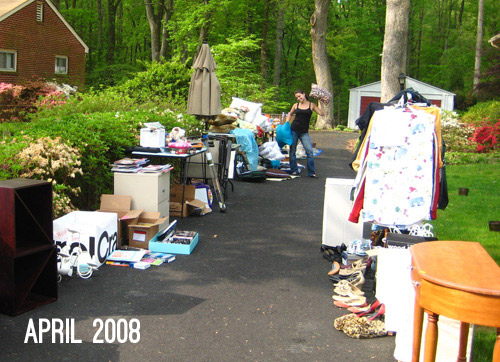 But we do end up moving all of the stuff that we loved and used in our last house, even if we're unsure where it'll go in the new house. Then after a few months of actually being in the space and moving things around – sometimes ten million times – it becomes increasingly clear that we probably could have saved ourselves some moving sweat by eliminating a bunch of other things pre-move. It always seems like what's perfect for one space just looks crazy in another (or something you used all the time somehow doesn't have a function at all in the new place thanks to a different layout/more storage/etc). In short: moving hindsight is 20/20.
This phenomenon first struck me back when I lived in NYC and was moving two blocks away (from Sullivan Street to Thompson Street in Soho) and I carried every single thing by hand from apartment to apartment with the help of a couple friends (yes, even my mattress and bed frame). So every book and kitchen item counted. I tried so hard not to move a single spoon that I didn't need, but inevitably when I was settling into the new place I amassed a big ol' donate pile (and it burned me that those bruises on my thighs from carrying boxes back and forth could have been a little lighter).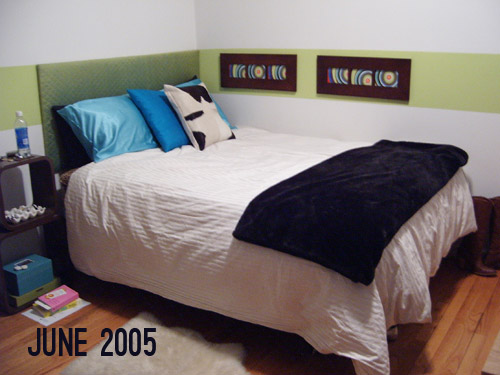 Well guys, I think I've grown in the last 8 years because it no longer pisses me off, it's just sort of something I have learned to accept. The sky is blue. The grass is green. And we'll move stuff that we only realize in hindsight doesn't work in the new place. So we've been pretty busy selling things that no longer fit into the "works for this house" column. Which is nice because clearing out has always been something I love (and who doesn't want a little extra cash?). And since a bunch of you guys have been asking for a little "audit" of what we no longer need and have sold/are selling, here's the list.
1. Our four slatted bar stools. A sweet reader emailed me and said the exact same vintage set of four stools were selling for $825 on One King's Lane and offered me $800 for ours. After I picked myself off the floor, John and I had a serious will-we-use-these chat and decided that we are 99.9% certain that we'll have an eat-in table in our kitchen as opposed to a bar area. It felt too crazy to take $800 for them – even if that was the going rate, so we countered with "$400 and they're yours." She was thrilled to snag them for over 50% off retail, we were happy to sell them for over 50% more than we paid for them off craigslist last year, and we even got this shot of them living it up in her kitchen: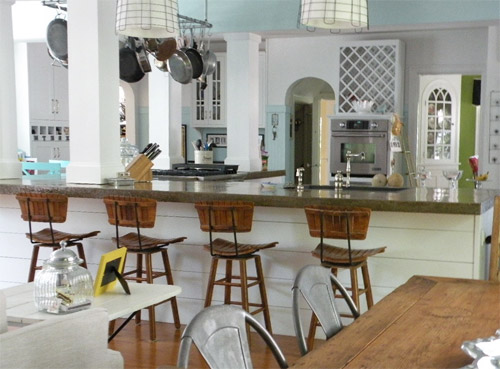 2. Our egg chair & Ikea slipcovered chair: Alas, our Goodwill find and leftover chair from our first apartment were cute in the sunroom here when it was sealed off, but they wouldn't stand up to the weather once we tore out the doors in there. And without any good nooks or corners to tuck them into here, both got Craigslisted for $30 total. Eggy went to a guy who was really into its design and the Ikea chair went to a girl headed off to college.

3. The yellow chairs that we had on our last house's deck. Aw I loved those things. But since we only have one outdoor space here (the deck) it meant these yellow guys had to share a space with our bright red Adirondack chairs, which at the last house lived far away on our patio. The two bold colors were a bit circus-y out there and we decided the Adirondacks fit the more traditional style of this home better. Someone was very happy to take these two for $90.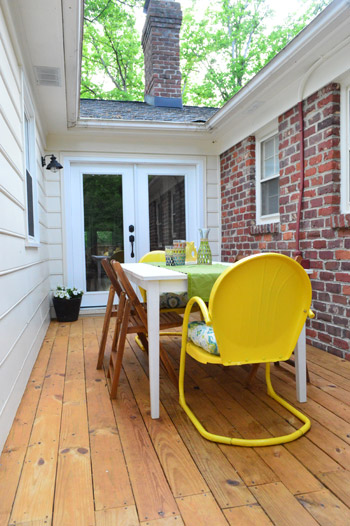 4. Our rocking bench from the front porch. Again, this was a case of "don't have the same outdoor spaces" (i.e. no wide front porch) and we debated putting it back near the edge of the woods but we thought it would just get covered with leaves and ticks and not be as nice without the awning of the front porch that the first two houses provided. It went super fast for $20.

5. Our woven nursery chair from Clara's old room. It just felt too modern for this house (it worked nicely in a mid-century ranch, but something about this house's molding and paneled doors and more classic/traditional vibe made it feel a little off). We listed it for $20, but took $10 for it since the person was also buying the yellow deck chairs.
6. The dresser from Clara's big girl room. We loved how it worked on that blank wall in there, but when we set up Clara's room in this house we decided her nursery dresser (with the white top and stained bottom) looked nicer with her daybed, so that ended up in her room without the need for another dresser in there. Our first instinct was to save it for a future nursery, but we decided our hand-me-down dresser from John's dad would be great for that room – and womp womp – this guy was out. Fret not, he went to an awesome loving home thanks to Sir Craig and his list (for the same exact price of $55 that we bought it for) and the buyer happened to be a furniture rehab pro, so she sent us this updated picture.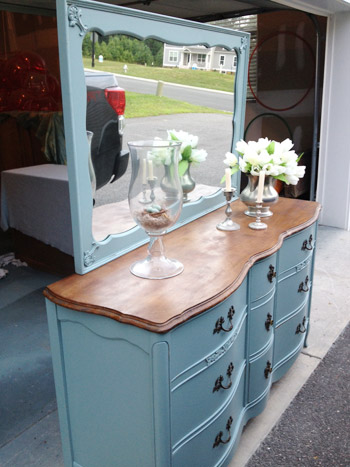 7. Slate in the new backyard: Okay, so it's technically not something we moved, but since we're on the subject of selling stuff, we inherited a bunch of slate that was peppered all over the backyard where we'd love to grow grass. First we debated reusing them to create some sort of patio, but since we're not hurting for outdoor living space right now with the deck and the freshly-opened sunroom, we opted to sell the 120 or so pieces that we dug up for $100. They went fast!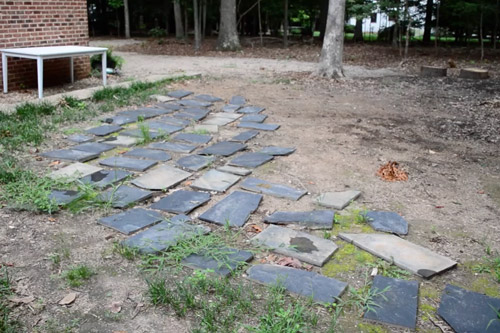 So that's what we've been selling. So far our Craigslist total is $705 for letting go of that stuff that doesn't work as well for us here. And we decided that getting something we've wanted with that loot would be a nice way to "put it back into the house." So when we saw this wood inlay dresser go 25% off on West Elm (which put it almost exactly at $705) we pounced. At the ripe old age of 31, we've actually never bought a real grown up dresser (we've used the hand-me-down one from John's parents and a few Ikea or thrifted ones) so it felt kind of crazy. Especially the "white glove delivery service" where they carried it up the stairs and placed it in the room for us, already fully assembled. Guys, I thought I was Oprah. Never felt fancier in my life.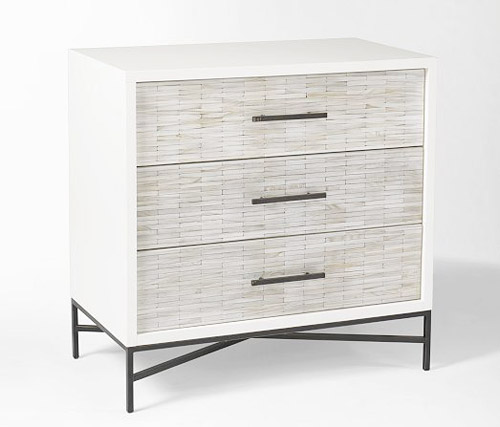 I can't wait to show you a picture of it in our room. You know, once I stop pretending it's a sculpture and actually put our clothes in it. The funny thing is that we just heard that "iron" and "wood objects" are traditional sixth anniversary materials, and since this wood inlay dresser has iron legs, we're calling it a belated anniversary present. To marriage! May it forever contain our clothes in wedded bliss.
**********************************
As a little Friday bonus, here are four fun projects, chats, or questions going on over on the Forums. We also announced this week's giveaway winners, so you can click here (and scroll down to the Rafflecopter box) to see if it's you.
| | | | | | | |
| --- | --- | --- | --- | --- | --- | --- |
| | | | | | | |
| by DelightfullyNoted | | by candice | | by ViewAlongTheWay | | by K8e9 |