Update: So sorry for the slow loading & crashing issues all morning guys! Looks like our server had a case of the Mondays, but after two hours on the phone with tech support we think we have it all worked out. If you're still having any issues commenting or reading the site, please let us know!
Well, it's late on Sunday night as I sit down to write this post. We just got back from a whirlwind weekend in Northern Virginia, where we did everything from helping John's sister with a bedroom update to buying some stuff for the nursery. So today we'll be chronicling ten things that we helped Carrie shop for, hang, and install into her bedroom for a nice little "adult upgrade." And here's Carrie now…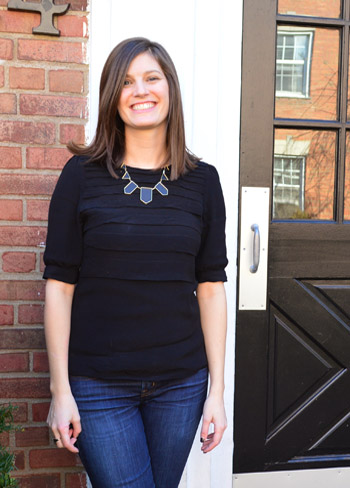 She recently asked us to help her to create a "grown up bedroom" after saving up some cash over the last few years since our painting sesh in her apartment back in 2011 (remember that?). She told us that she was ready to spring for a few nicer items – like an upholstered headboard, more substantial side tables, two table lamps, new art or a mirror for over the bed, and some updated bedding. So we got to work hunting down some options for her to choose from, while working with some of the things that she already had (like her Ikea curtains from 2008, the paint color we rolled on a few years back, and the green and tan area rug that she's had for a while).
The vibe that she wanted was "that-soothing-mostly-white-hotel-room-meets-Olivia-Pope's-bedroom vibe" (that's literally how she described her dream bedroom to us). So we just got together and watched a bunch of Scandal on the DVR with big ol' glasses of red wine in our hands and willed the room to redo itself. Just kidding, we shopped, assembled, and finished her room in about 24 hours this weekend (after ordering a number of things beforehand). So here's how it looked when we got there on Saturday morning (don't mind the missing bed skirt that usually hides the stuff under the bed):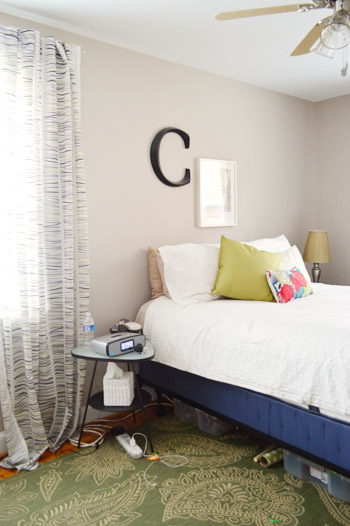 And here's a moodboard that we made for the room, just because it's fun to see how moodboard items can "translate" to real life (and we have some real-life after photos right within this post – so there's about to be some instant gratification!). Oh but it probably helps to mention that this board didn't get tossed together all at once – it was more of a slow-build over a few weeks' time (we showed Carrie a ton of options in a bunch of price ranges for many of these objects so that she could make the call and choose what she truly liked best – especially since it was her moolah and her room).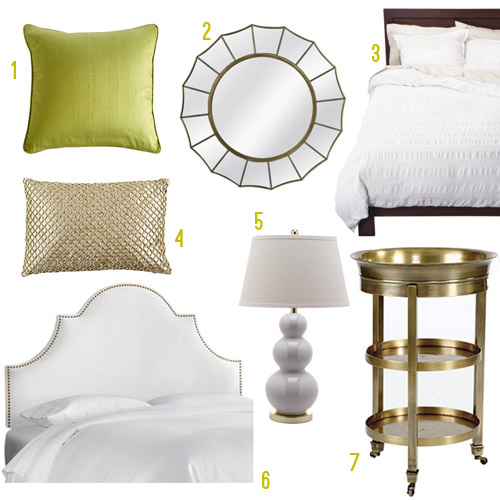 We thought two of these Pier 1 pillows (on clearance for $14.98) would look nice in front of the white shams on her bed.
This geometric brass-framed mirror for over the bed gives off that hotel-chic vibe (and it's just $39.99 from Target).
We thought this on-clearance soft seersucker king-sized bedding would add some nice texture (we always love a king-sized duvet/quilt/coverlet for a queen-sized bed, just because it provides extra drapey-ness)
This $29 beaded metallic pillow is a fun complement to the green pillows, while tying into some other brass-toned choices in the moodboard.
A set of two of these shapely chic lamps were $149 from Joss & Main (Carrie loved the posh brass bases and finials).
This curvy queen-sized upholstered headboard was another Joss & Main find for $269 (the brass nail-head details sealed the deal).
Carrie actually found these dapper little castered brass side tables from Ballard Designs herself (at 15% off) – and we all loved how they tied in with other items we'd been eying for her.
Those last three items were obviously more in the "splurge" category – but it was fun to mix in clearanced pillows and some discounted bedding along with a nice upscale-looking-but-affordable mirror. So here's her room now, after adding those seven things (well, ten since there were two green pillows, two lamps, and two side tables).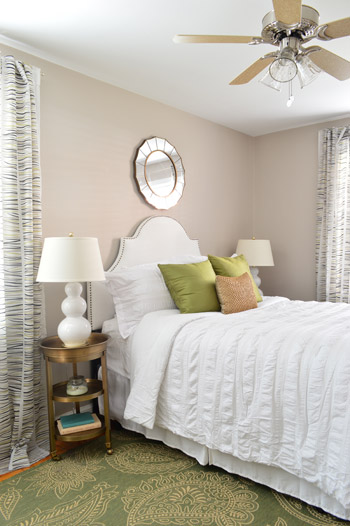 It's amazing how much the room has changed. The big curvy headboard and brass-framed mirror instantly added a ton of polish, and for some reason even the ceilings feel higher.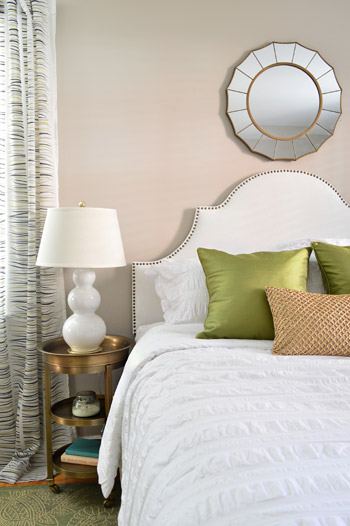 And things like those charming white ceramic lamps on the brass side tables…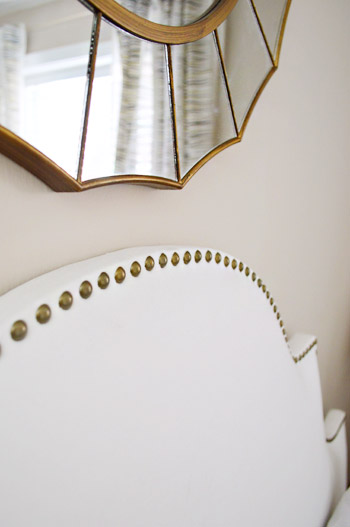 …along with the textured new bedding and pillows, have added even more of that upscale, soothing-as-heck vibe.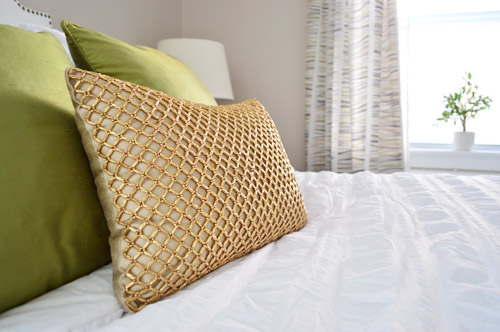 It was really nice to work with some of the things she's had for a nice long time, like those six year old curtain sheers and the existing rug. We also brought over two of these faux topiaries that we've had forever as a little room-warming gift for her windowsills.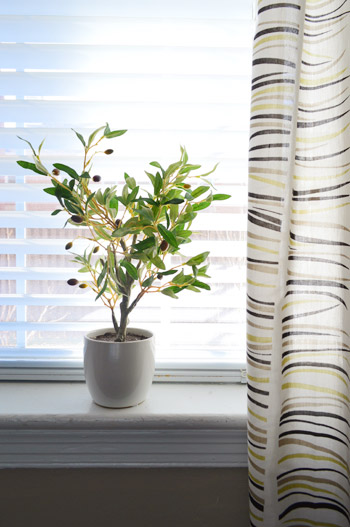 As for Carrie's reaction to the room, it was pretty awesome (come to think of it, I wish we had gotten it on film). She said she loved it about a million times, and even texted us later to say "I don't think I said thank you enough. I'm in love with the bedroom. It looks better than I ever thought it could. Thank you! Thank you!" Is she sweet or what?
We also grabbed these detail shots for you, just to show that when you're going for the white-on-white-with-with-small-pops-of-other-colors thing (like green and gold), you don't want everything to be the same texture, because that can end up looking kind of flat. So instead, if you're going with a somewhat monochromatic pattern, it's fun to layer in some different materials, sheens, textures, and subtle patterns.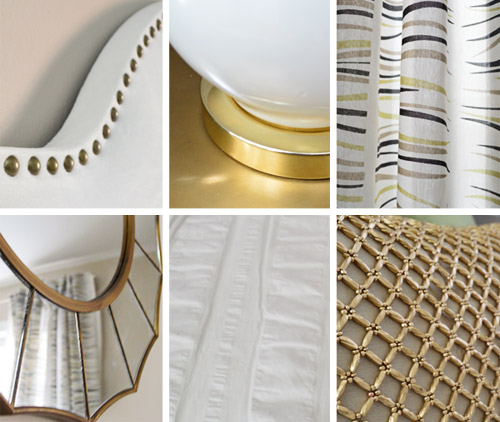 For example, in one pretty small space you can find all of these things in the mix:
hard metallic nail-heads against the plush upholstered headboard
shiny white ceramic lamps with gleaming gold bases
breezy white curtains with some subtle pattern
a nice reflective mirror to bounce around more light
texture-rich seersucker bedding
a metallic beaded accent pillow
Oh and one simple organizing detail that we loved about Carrie's apartment was this hook rail that she had hung for her chunky necklaces a while back. It's such an easy and functional way to see all of her statement necklaces, and she says she wears them a lot more (and it helps to keep them from getting tangled up in a drawer). So I couldn't resist sharing a shot of that: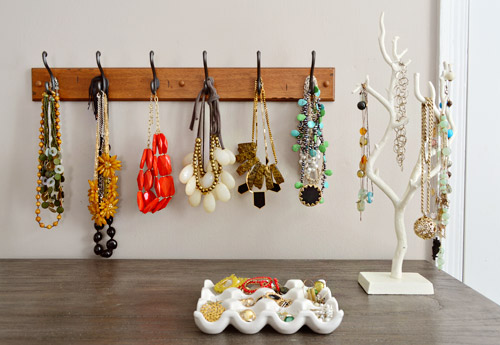 So a big thanks goes out to Carrie for the fun challenge and for letting us share her bedroom with the internetz. We'll be back with some more DIY stuff for you this week (and an awesome thrift store find for our own house!) since this was pretty much just hunting/hanging/installing stuff. We're just so glad that that Carrie's sweetly smitten with her "new" bedroom, and that we could see a mood board come to life and share it with you guys! What did you do this weekend? Was anyone else at Ikea on Sunday night? It was a madhouse. But sort of a fun madhouse…