I was inspired by a chipper yellow table runner and a fiery pendant light to make a warm-blooded dining room mood board just for fun. Whoop, here it is: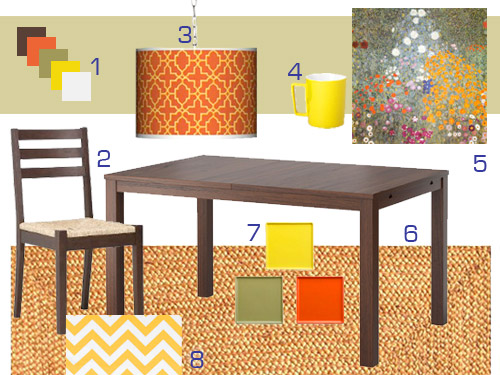 1. The wall color could be a soft olive-khaki tone, like the stripe in the background of the mood board (try Benjamin Moore's Limestone 513) with browns, oranges, deeper olives, pops of yellow, and some crisp white in the furnishings/accessories. Maybe even a smidge of navy if you're into that sort of thing. And now that I see that stripe of olive-khaki, big wide horizontal tone-on-tone stripes might be pretty fun for the walls if you're feeling feisty (try Benjamin Moore's Limestone 513 and Flowering Herbs 514).
2. These Target chairs are $70 a pop, and the Ikea table is under $300 (but you could always find something on craigslist and refinish it for even less if that's your jam).
3. This Stacy Garcia pendant (along with the fun chevron runner) were the inspiration for this entire board. Isn't the geometric kinda Moroccan-ish pattern fun? It's down from $225 to $149 with free shipping for anyone interested. I wonder if you could search for a coupon code to take it down even further.
4. Yellow mug = happy life forever. At least that's a theory I'm working on. Who can sip from this guy and not smile? He's even called the beam mug.
5. Klimt has always been a favorite of mine. I have another theory that his painting called The Kiss is akin to the movie Titanic (it makes all the ladies swoon). And this lesser known garden print is painterly and soft – which makes it a nice counterpart to the graphic pops of pattern in the chevron runner and the geometric pendant. I also love that it has olive, orange, white, and even a dash of navy. Holla.
6. This giant braided jute rug from Overstock would bring in some natural texture to balance the graphic patterns and sleek dining table (it's $230 for an 8 x 10 and has tons of 5 star ratings).
7. These bright little appetizer trays ($2.95 each) would be so charming mixed in with crisp white china, a few of those yellow mugs, and the sunny chevron runner.
8. Here's that chevron runner (from etsy for $15) that started it all (well, I guess he's in cahoots with the pendant, who also sparked this board). Cute, no?
Anyone out there doing some dining room makeover-ing? Or sipping from a happy yellow mug? Either way, it sounds like a good time.
Psst- See 150+ other mood boards (and sort them by room or color) here. Oh and we just heard the new 376 page (!) Ikea catalog is out here.