Ladies and gents, we've dreamed of this day. The day that our midnight coding tantrums and accidental hunger strikes would come to an end. That's right, we fiiiiinally figured out how to create a simple mood board gallery that you guys can browse by color or by room. Just check out the new Mood Board tab up near our blog header: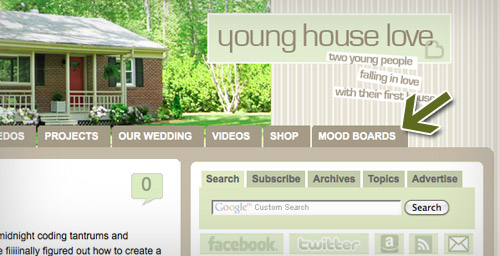 We rounded up every last mood board that we've made in the last three years – which adds up to nearly 150 of them! – and whipped up (well, if you can call 50+ hours spent wrestling with code) a fun little browsing system for your perusal. Now you can find inspiration for your own home when it comes to color schemes, furniture placement, or just have some accessorizing fun. Even if the furniture, accents, or art that we've chosen are no longer available, they're still useful guides for hunting down (or DIYing) something similar- and hopefully they're just the spark that you need to get excited about your next home makeover. And of course we'd love to see before & after pics along with a link to the mood board that inspired the transformation should that occur!

And this idea gallery will always be growing since we'll be sure to add more mood boards to the mix as we continue to whip them up (the newest boards will always be displayed first). So go forth and search mood boards to your heart's content, either by color or by room. Or you can choose to view every last one of them if you've got some time on your hands. We hope you have as much fun looking around as we had coding it celebrating its completion!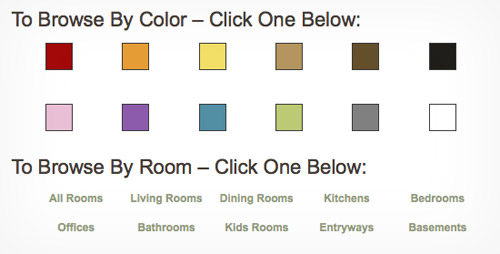 Just follow this link (or visit the new Mood Boards tab under our header) and remember that you can click any mood board thumbnail for a bigger image and a link to the full source list. While it's not the most technologically advanced gallery, we hope it does the trick of making it a bit easier to digest all of those furniture and accessory riddled mood boards.
And we're planning something similar to wrangle all of the inspirational "afters" that we've featured thanks to readers and people that we've house crashed over the years too (just picture one big database of Reader Redesigns, Design Dilemmas that have been solved, and House Crashings arranged by room and color for you to sift through). But for now we're just trying to muster the energy to look at all of that HTML again. So stay tuned!