Here's a strange little tradition that John and I started last year: in the dead of winter, we make a list of stuff that we'd love to do in the summer: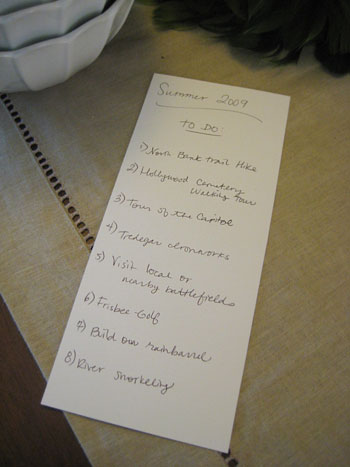 Then we hide the list somewhere that we won't look until the weather is nice and warm again (we tape it to our sunscreen bottle, but it would also work tucked into a bathing suit drawer or stuck in a cooler that you only use in the summer months).
It may sound weird, but we come up with about a million things that we can't do in the winter because it's cold, and then summer rolls around and everything we were dreaming of doing somehow slips right out of our brain. So instead of relying on faulty mental notes we decided to make an actual note to be rediscovered months later when the sun is back out in full force. This year our "to-do" list includes everything from Frisbee-golf to a tour of the Capitol and even building our own rain barrel. It's a definite excuse to get outside and have fun, and we love that it's one to-do list that we never dread. Happy listing!