Notice anything different when you peek into the office from the dining room?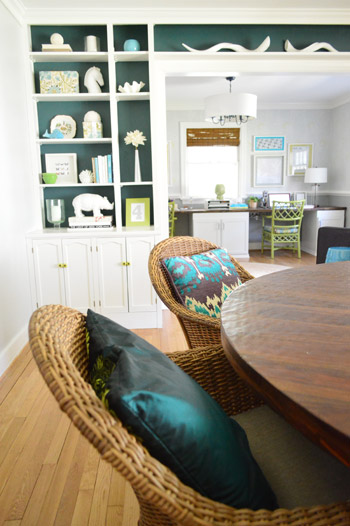 Hint: check out the window region.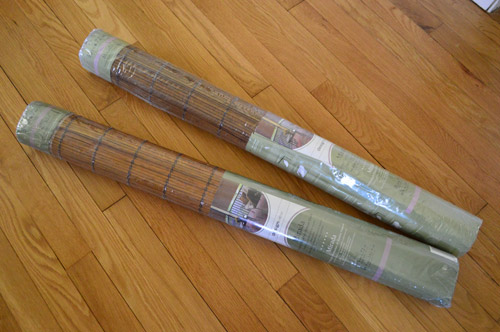 We got these guys at Home Depot for $22 each (they're 35″ bamboo blinds with the name Miranda on them if that helps identify 'em in the store) with the hopes that they would finish off the windows in the office and tie into the thick wooden desktop and the jute rug that we have in there. In our first house we had bamboo blinds in a bunch of rooms and always planned to bring them into this house as well (we mention them a lot in our Listy McListerson posts like this one) – just for the awesome texture they add.
When it came to installation, they had little metal ring hooks at the top of them, but we were going for an inside mounted look and those ring hook hanging things were messing with the "perfectly fitted" effect that we wanted, so we just used needle-nosed pliers to pop those hanging rings off the top, and few screws through the wooden brace piece at the head of the shade (4 spaced out equally) to secure them right into the window trim instead.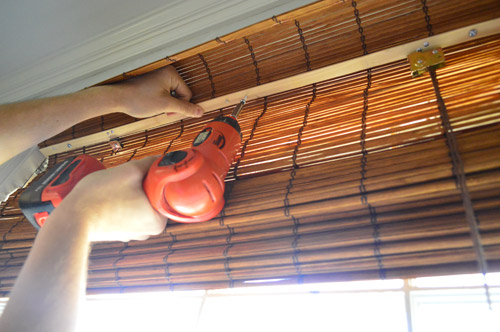 The result is a nice polished look (it's amazing how window treatments in general can take a room from "in process" to "looks pretty complete to me") and the wood tones tie into the desktop just as well as we hoped.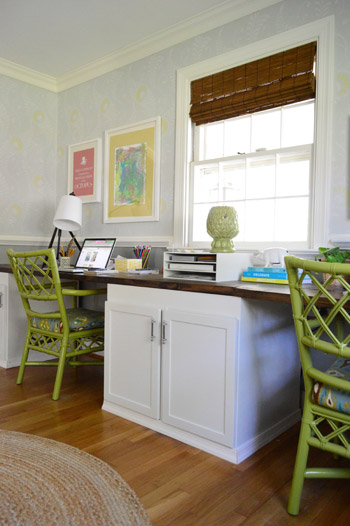 Eventually getting the floors refinished in a slightly darker tone (like the desktop) would be the ultimate dream…
For now we're just enjoying the textured-meets-tailored vibe that they add to the room.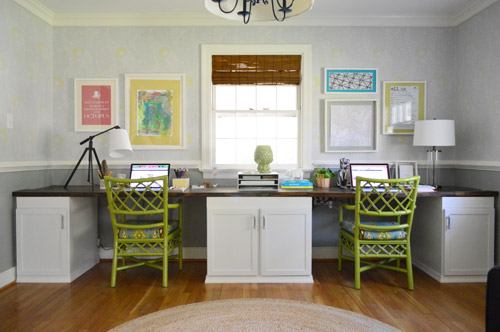 And it's a total bonus that they tie into the woven chairs and the dining table in the adjoined dining room.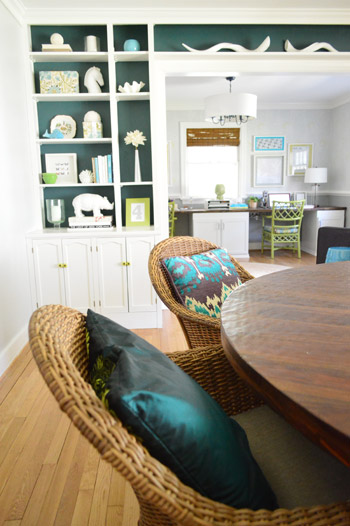 Anyone else adding blinds, shades, or curtains? Whenever someone asks me about the change that surprises me the most (by making such an unexpected difference) I always say it's curtains and blinds. It's weird how a naked window with sun flooding through it can be so pretty that you think it doesn't even need anything else, but then when you finally slap some breezy curtains or textured bamboo blinds up there you end up thinking "oh man, that makes me wanna dance."