We did it. Since this morning's post we made one more trip out to the tile store and finally made a tile decision (we ordered over 50 square feet of it to do the entire wall above the stove where we'll add open shelves and a vent hood as mentioned here). Our process was visiting a bunch of small local shops and big box stores just to see what was out there. And we had the most luck finding stuff that we loved at a local tile store (The Tile Shop). The only problem was that many of their gorgeous offerings were nearly $20 a square foot, which can work if you're doing a standard backsplash – but can definitely break the budget on a whole wall (50 square feet x $20 = $1000!).
Here are a few things that we loved, but the prices just weren't right for our budget (this smoky gray skinny tile was $17.99 per square foot):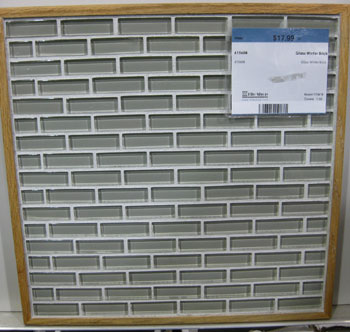 This moody gray glass subway tile was $18.99: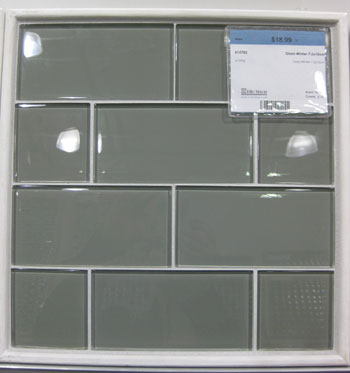 This pretty cracked glass tile was $16.99 (it looked like a mixture of marble and ice cubes):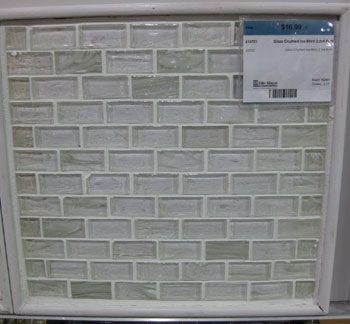 This soft tiny glass mosaic tile was $14.99: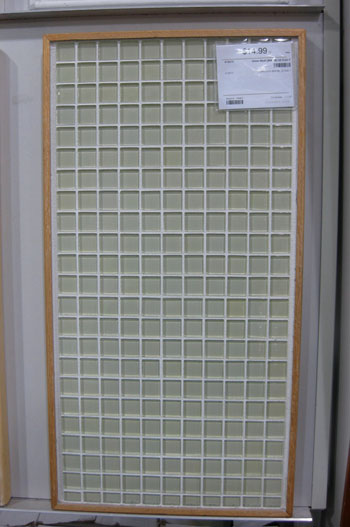 Then in the back of the store in the clearance section we came across the prettiest softest gray penny tile with such a smooth finish and such clean circular shapes that it definitely felt modern but not too cold – just clean and sleek enough while still saying soft and reading more as a texture than a big repeating tile on the wall.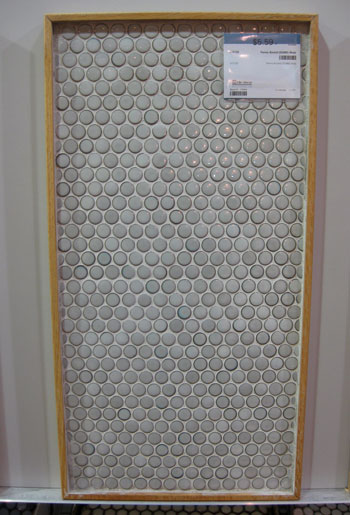 And priced at just $5.59 a square foot it was definitely a lot less of a budget breaker (50 square feet x $5.59 = $279).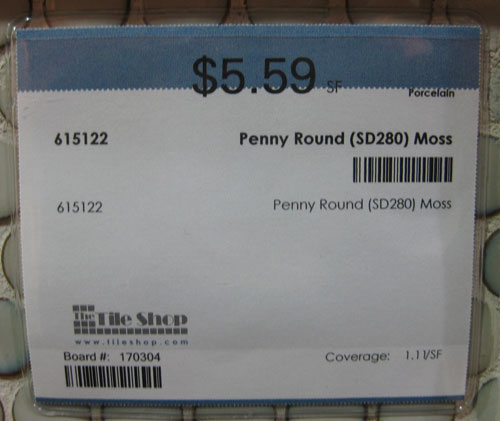 But we should tell the whole Tile Shop story. At John's dad's recommendation, we used The Tile Shop as a resource when we did our bathroom remodel in our first house (they were really helpful when it came to finding the right grout and supplies) and they later became sponsors of ours. So the coolest thing about finding our tile there was that they offer all YHL readers (including us) a 10% off discount on anything in their store (or online) with the code YHL10. So we scored an additional 10% off.
Since it's going to be a main focal element in the kitchen, we figured it wouldn't be a drop in the bucket project, but we're happy to come in way under $300 for the tile and save money on labor by installing it all ourselves (with details as we go of course). We definitely think it's going to be one of those makes-the-room choices. So excited.
Oh and here's how Clara reacted to it. First she walked by and coyly glanced over at it…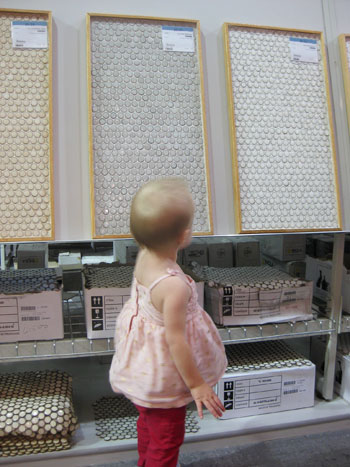 Then, naturally, she petted it.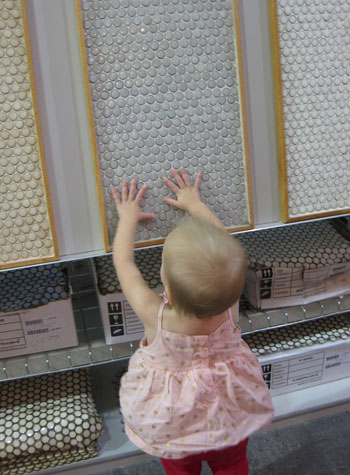 It's very smooth. She's a fan, just like mom & dad. Incidentally, it's porcelain – so it's completely non-porous, which means it is extremely stain resistant and we'll be using stain resistant grout and sealer so it'll all be nice and protected against any kitchen spatter. Because I would not wanna be the sucker in charge of scrubbing all that grout all the way up the wall with a toothbrush for years to come. Thank goodness for no-maintenance sealer. We used it in our last bathroom and didn't clean the shower tiles for over a year – no kidding. More on that here (you can even reapply it once a year to keep things über protected).
But back to Clara. After we went to the front counter and paid for everything she said "all done" and took my hand and led me right back…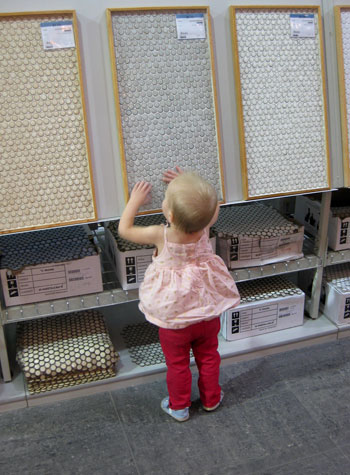 … to the tile display in the back of the store. For one last pet-session. Is she a good tile salesman or what?
But let's rewind. Before pulling the trigger and whipping out the ol' wallet we ran home with our sample and googled "penny tile" just to check out a few other kitchens with something similar. Here's a nice photo that shows how it might look behind floating shelves. And here's some all-the-way-to-the-ceiling penny tile (of course this stuff is a lot bolder and more metallic than the finish we chose).
Here's some penny tile that looks nearly identical to the one we picked (found here). Ignore the fact that this is a bathroom and try to picture some dark cork floors, white cabinetry, and chunky white open shelves paired up with it. Yum. See what I mean about it becoming sort of a texture in the room instead of immediately reading like a big shiny wall of tile? I love that it'll layer in with all the other stuff (open shelves, range hood, cabinetry, counters, cork floors, soft grellow walls, the fireplace, art, window treatments, lighting, etc).
Here's our tile sample getting cozy on the faux-sheepskinned ottoman in the living room. Looks right at home, right?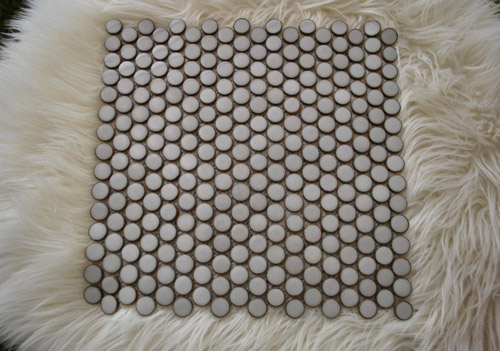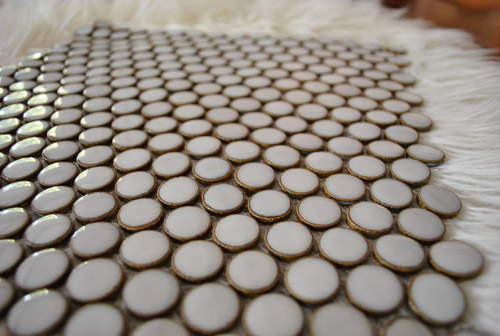 And here's our sample tile paired with the cork flooring sample, the swatch card with our kitchen wall color, a Klean Kanteen (to represent our stainless appliances) and a white ceramic tile (to represent the white cabinets – once we paint them). Can you see it coming together? We couldn't be more excited.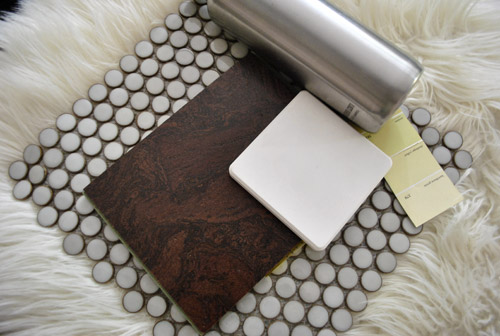 But before we can get our tile on (and share all the as-we-go steps), we have to do pretty much everything else in the kitchen (the backsplash is one of the last things that goes in after cabinets are set and appliances are installed and counters are in, etc). We're planning to do some other demo/appliance moving tonight though, so if all goes well we'll have those pics to share tomorrow! Slowly but surely. Or as Clara says "slowly, slowly" (if you ask her what a sloth says, that's her answer).
Has anyone else bought tile (for the backsplash, floor, bathroom, etc) lately? Did you also hit up at least five stores and even check things out online before pulling the trigger? We never spend this much time on things like paint (which can easily be redone) – but things like tile and flooring and counters definitely seem to take us some time! How do the people on Design Star make all these decisions in five minutes? Maybe because it's not a room they actually have to live in for years to come? Maybe that's where the pressure comes in? Then again, they do have Vern and Candice and Genevieve judging them on national television. So yeah, there's that kind of pressure…