This house just makes me smile, so of course I had to House Crash the heck out of it and share it with you guys. Behold- the eye candy that is Kelly Moore's amazing casa. You might know her from her killer photography blog (all of her DIY-related posts can be found here) or her genius line of camera bags. But you don't really know a person until you poke around their house, so let's get to it. We'll start in the kitchen, where Kelly and her husband whipped up some extra thick homemade concrete counters (and shared a tutorial right here). Everything from the happy painted cabinets to the apron sink and the sleek stainless appliances are so charming together: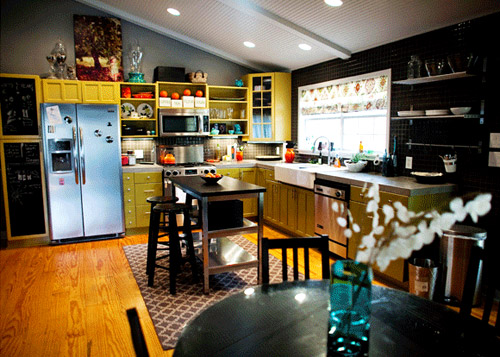 The cabinets are painted Sherwin Williams Alchemy on top and Grandiose on bottom (she couldn't decide on a color so she used both). And the island, sink, and shelves hail from Ikea while the rug is by Dash & Albert (from a shop in Ruston, Louisiana called Chartreuse Pear).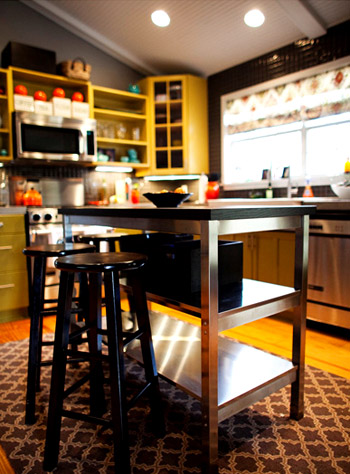 And that wall of smoky and sophisticated glass tile? Cue the breathy amorous sigh. She got that from Lincoln Flooring (also in Ruston, Louisiana).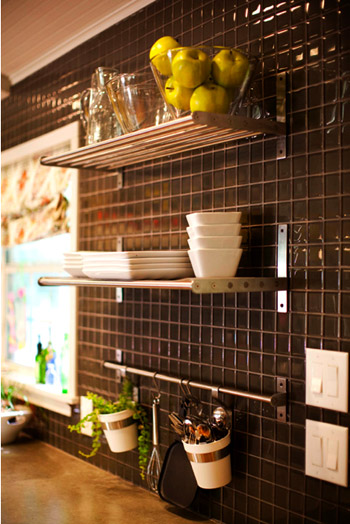 Here's the large and lovely living room with a come-hither sectional and cushy round ottoman (from Haverty's and Overstock)…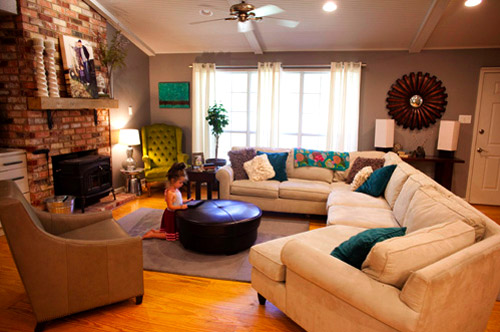 … that faces a sweetly rustic brick fireplace with airy lofted ceilings.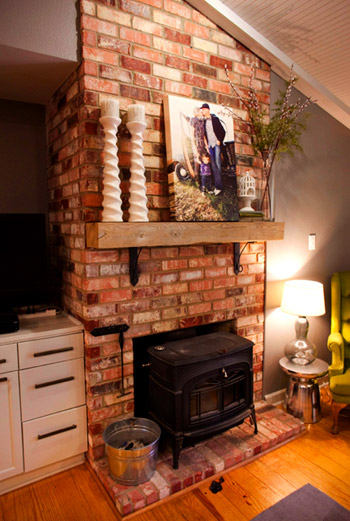 Everything right down to the little details (like this showstopping mirror from Pier 1) seems to scream come on in and make yourself at home.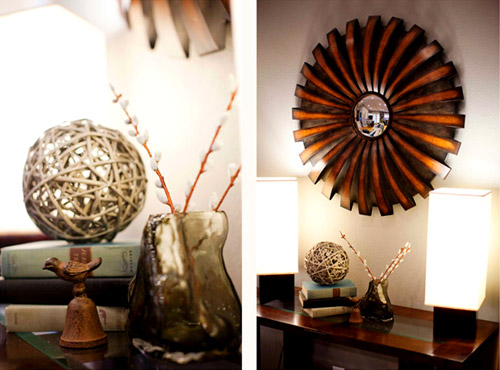 I can totally imagine myself curled up on that sofa reading a book. Is that creepy? Sorry.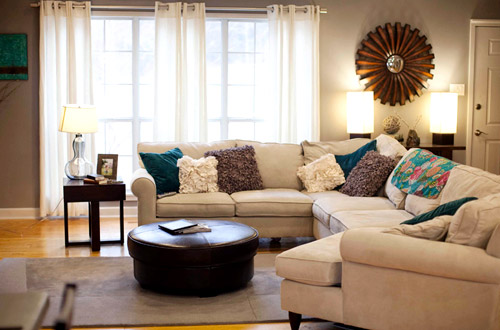 And I can picture myself sitting here at the dining table scarfing some pita chips and hummus. Too much? Ok. I'll try to keep it casual. Check out the great paneled ceiling and those sleek bulb lights (from West Elm) over the farmhouse-ish table (from Material Things in Monroe, LA). The chairs and picture ledges are from Ikea and that amazing folk art cow painting is by Erickson T. Wright.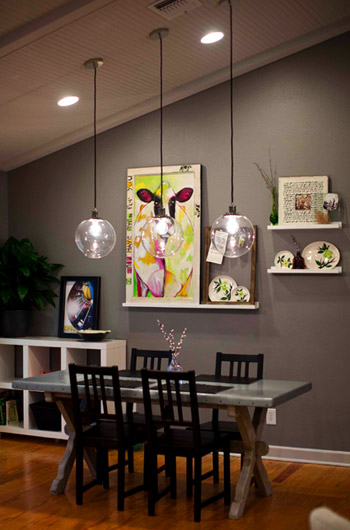 Once again Kelly has managed to mix something rustic with something sleek for a gorgeous result (just like her stainless appliances & her charming apron sink or the clean-lined sectional & the weathered brick fireplace).
And let's just say that Kelly isn't afraid of color. Here's her bold master bedroom which is painted Sherwin Williams Kimono (complete with a perfectly complementary little girl in a yellow dress- that's her daughter Posey, isn't she sweet?). The fun industrial-chic chandelier is from West Elm, the bed is from Ashley Furniture, the curtains are from Walmart, and the bedding is from Kohl's.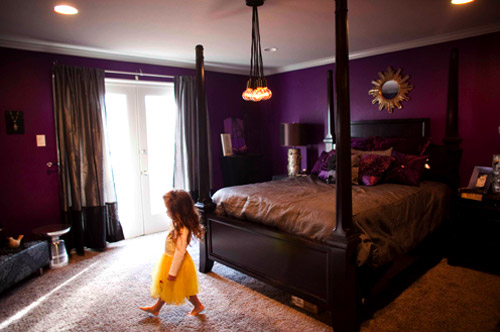 And speaking of Po (as Posey's affectionately known) here's her playful room full of everything from the alphabet and a world map (thanks to lettered animal decals from Blik and a sweet oversized map from Urban Outfitters draped casually in front of the window). Gotta love working in some "learning" in such a hip way. And let's just say that I'm in love with the L-O-V-E pillow cases (from Urban Outfitters) with hand shadows that spell out the word.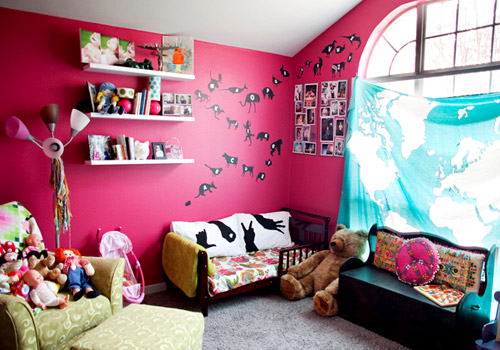 What a fun and stimulating space for a gorgeous little girl. Oh and the paint is Sherwin William's Hot. It's definitely poppy and fun. Kinda like Po.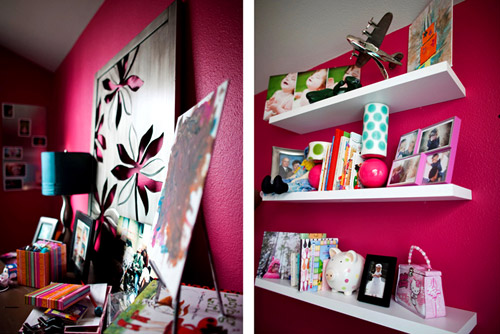 So there you have Kelly's astoundingly cool home. Thanks so much to Kelly and her family for letting us virtually snoop around and share the goods! Feel free to head over to her blog to learn more (or to ask any questions here, where she'll hopefully drop in). And let's play the what's-your-favorite-part game. My faves are that rich and glossy glass tile in the kitchen and that insanely inviting jumbo sectional. And Po. Ok, your turn.