When Lee sent over her Design Dilemma after pictures we couldn't wait to share them. We know that many of you are chomping at the bit to see how our mood boards turn out (believe me, we are too) so we're always thrilled to see how those spaces transform after some pretty major room makeover-ing. You may remember that we whipped up this custom mood board for Lee a while back when she came to us for help turning her hodge-podge of a room into a space to sort mail, do homework, and store a few things in a more appealing way. Since the room's visible from a plethora of other adjoined spaces, it serves as a pass-through but also needs to bring a lot more function and style to the table. Here's the before picture to refresh your memory: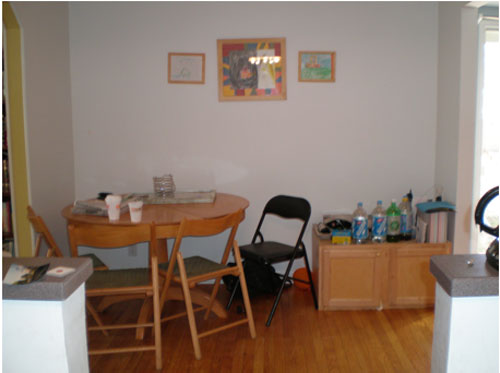 And here's the mood board that we created to inject order, balance and tons of eye-pleasing function to a formerly undefined and unfinished looking room (see more mood board details here).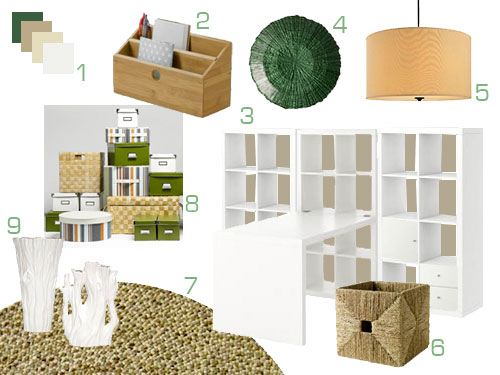 And now for Lee's big after pic. Here's her newly spiffed homework and mail zone right off of the front room and the kitchen: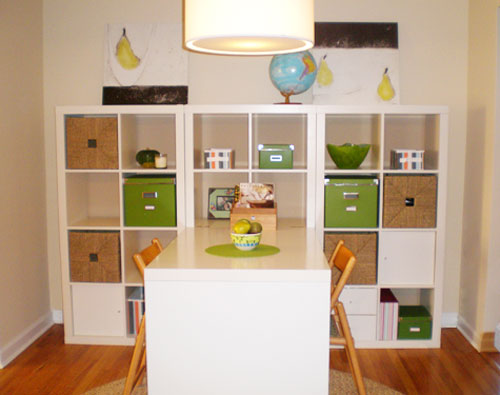 Isn't it endlessly more inviting and useful? We love everything from the big round pendant to the woven baskets that mimic the texture in the round jute rug under that great desk that stems from that fantastically functional wall of bookcases from Ikea. And here's what Lee had to say about her big room makeover:
This overhaul was so exciting! We got nearly everything you suggested and as soon as we built all of the Ikea stuff it immediately started to look great in there. Your ideas really did make for a big change. We love it. The bowl on the desk is always changing (sometimes it's full of fruit but I also love your crayon idea – we've got boatloads of those!). Brilliant work! Thanks so much! -Lee
No thank YOU Lee, for sending us your room update. You don't even know how excited we get when they turn up in our inbox. Didn't Lee do a fantastic job? We love that she added as many boxes and bins as she needed to meet her storage goals and that she's having fun switching out the desktop bowl depending on her mood. This is one of those great transformations that shows how just a few quick and easy changes (like Ikea bookcases that mimic the look of built-ins, and a simple pendant light along with a textured jute rug and some affordable Ikea art) can really pull a formerly mismatched room together and add lots of form and function in a snap.
Plus Lee's big presto change-o proves that you don't have to break the bank for a big room makeover either. The entire bookcase and desk system was just $317 while the pendant light was only $49 and the rug was a mere $84 (so all those major pieces only set her back a total of $450). Not bad for starting over practically from scratch, right? So let's all shower Lee with praise for being so wonderful and sending us her eye-pleasing pictures. And here's hoping more Design Dilemma after photos will be landing in our inbox very soon…
Update: We sadly can no longer find the time to take on client commissioned mood boards (and just whip up general inspiration boards instead) but if we ever reinstate them we'll make a big announcement!