First of all, I'm sending a huge wet internet kiss (yup, you'll need to wipe your mouth afterwards) to everyone for their awesome excitement and kind words about yesterday's announcement. We're freakishly giddy to share this new chapter of our lives with you guys. There may have been misty eyes going on…
Speaking of sniffling, can you smell that smell? It's spring Pinterest Challenge time (not sponsored by Pinterest or anyone else, just dreamed up by Katie Bower to make us stop pinning and start doing). The whole thing started nearly two years ago when Katie called me to say that she thought we should challenge ourselves to make one thing each season that's inspired by all the fun stuff we've pinned (and call it… wait for it… The Pinterest Challenge). So break out your painting flip-flops (am I the only person who has those?) and let's get this DIY party started.

The only rule is to do your own personal take on something inspirational that you've pinned (and link back to the original creator of the project that inspired you, be it a company like Anthropologie or a personal blog that got your wheels a turning). We especially love to pin things from sites that have "Pin It" buttons since it indicates that they enjoy popping up on Pinterest. The project can be anything: big or small; decor or sewing or cooking related – or beyond!
The first time around John and I made a clothespin light, the next time I tackled homemade ornaments, then I faced my sewing demons and made Clara a beanbag pouf, next I tried my hand at homemade art, then we built a leaning chalkboard, and last time we added some hallway board & batten. And this time around since my allergies are awesomely active spring has sprung, we thought we'd tackle something we've had on our to-do list for over a year: window boxes.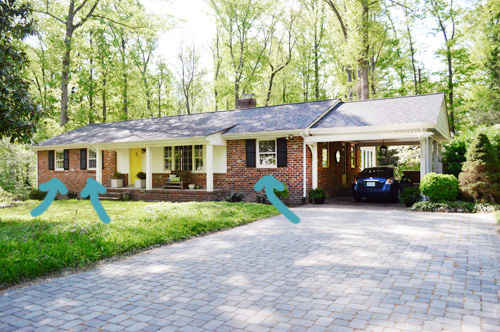 We think a few front window boxes will be the final touch to add some dimension and soft greenery to our long boxy ranch. Especially because now that our house is on the market (for all of one day, haha!) they'll hopefully attract people more than whipping up some Pinteresty art or a furniture makeover would this time around (we'll save those projects for the new place).
I've actually pinned two window-box related pics, this picture just for the eye candy of it (at $90+ bucks per box they're purely for inspiration) and this tutorial for making them (which we might do if we can't find ready-made ones in our price range).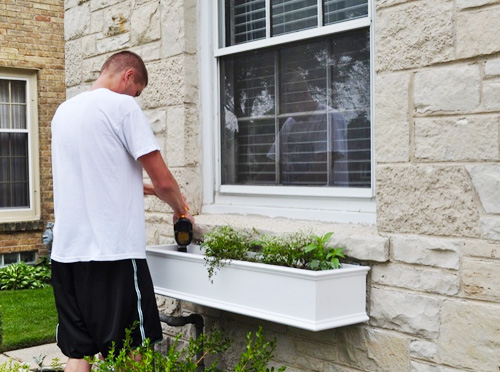 We've already started hunting for stuff, so it's on like Donkey Kong. Oh and you're probably wondering who else is Pinterest Challenging along with me and K-Bo. Well, we thought it would be fun to ask different folks to "guest host" with us each time (both of whom have done something fun in the previous challenge), so we're thrilled to have:

So here's the part where I smile at you with red itchy eyes and pollen in my hair and humbly invite you to join in on the spring fun by doing your own spin on something you pin. We'll reconvene next Wednesday morning (the 8th) to share our projects (you can check out all the amazing linked-up projects from past challenges here, here, here, here, and here). So just drop in next Wednesday to submit a link to your project and to see what we whipped up. In the meantime, do you have any idea what you'll tackle this time? Is it food, craft, sewing, painting, or furniture related? Perhaps a little outdoor action is on the agenda? Wait a minute, that sounds like it involves removing your clothes…