Many of you have probably heard that Sherry and I started Young House Love to help our family keep up with our kitchen renovation. We came up with the idea while walking Burger one evening last September and even picked the name before finishing our loop around the block.
That night I signed up for a free WordPress account, found an existing template I liked, typed up a quick introductory post (read it for yourself here) and thus gave birth to our blog. And it looked a little something like this: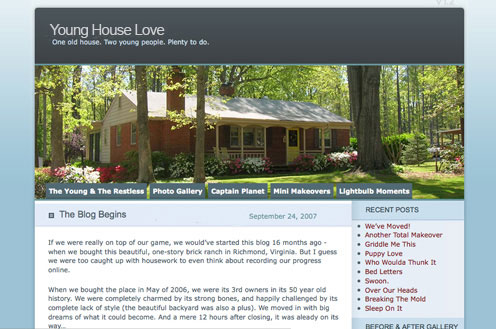 That steely blue template looks so funny to us now, but it was our pride and joy for the first 5 months of our blogging experience. It wasn't until the dust had settled in our kitchen that we finally considered giving Young House Love a makeover too.
I learned some basic web coding and together we designed a new homepage that felt a little more like home (we spruced up the site with the neutral palette and clean lines that you see throughout our house). On February 16 we launched the new design and haven't looked back… although we're always open to suggestions if you've got any!
Knowing our ever-evolving tastes, don't be surprised if you see YHL v3.0 someday. But for now we're just enjoying our happy little home(page)- and we hope that you guys are too.