Ok, I'm not really an egg or a man. But I have been obsessed with egg chairs for at least a decade since seeing this hanging one in Domino magazine back in college and this guy from Marie Claire Maison (their French house-related magazine) who has also been in my desktop inspiration folder for at least five years.
So as you can imagine, every time I'm in a thrift store I'm on the eternal egg chair hunt. I dream of hanging one in our sunroom next to the daybed for Clara (or me) to swing around in without killing ourselves. Not sure if we can handle it, but the universe has taken some safety measures and insured that every time I look I have no luck. Yup. So far, no dice. I did get close once (imagine me telling this story like a gal who leans in and whispers that she once nearly caught some mythological creature like Bigfoot or Nessie).
The year was 2011. I saw a picture on cragislist with a giant collection of items that were for sale at a local thrift store. There among the junk was the most amazing egg chair I ever saw. I dove for the phone, knocking books off my desk and pencils to the floor. I probably made some sort of sound like "gaaahhhhh" or "woooooooooo." When someone answered I said "Egg chair" and panted like a dog. Seriously, I momentarily lost my mind. The woman was very nice but said "oh yeah, as soon as we posted that it sold." I hope I said goodbye and thanked her but I honestly don't remember anything after that sentence. I blacked out.
Since then I've always been keeping an eye out – even from mainstream stores with higher price tags. For example, Pier 1 now sells this hanging chair for $280: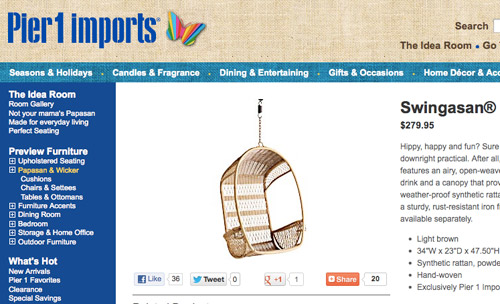 They also sell this Papasan guy for $80 (they're known to pop up in dorm rooms and is a little too "reclined" and "wide" to really be as egg-ish as I'd like). So let's just say the guy above is more my speed and the guy below is more in my price range. Such is life.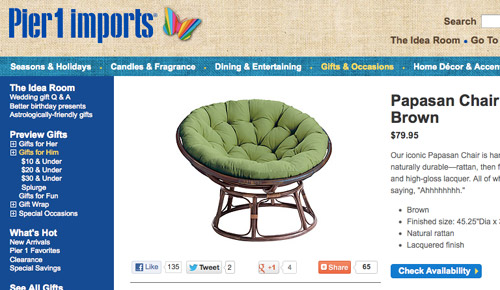 They also sell this guy, who is sort of like Sir Papasan's fancy cousin who spent the summer in Europe and came back with some swagger. The shape is definitely more egg-ish, but the cushion is a little too frumpy for me (is anyone else getting maxi pad?).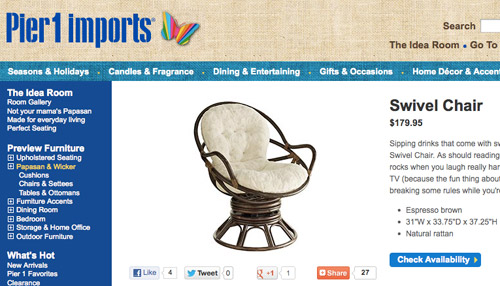 Fast forward to a recent thrift store run when we popped into about five of our favorite local places (I snapped lots of photos so we'll have to write that whole adventure up for you as soon as we can size all the pics). Anyway, at the third place I walked by this little set of two chairs and I took this picture. End of story.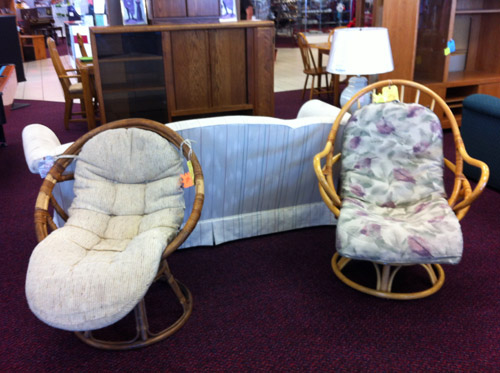 Then I got home and uploaded everything and had this "what the heck was I thinking?!" moment when I realized both of those guys above were:
very egg-ish
in my price range
in need of love (which is actually a selling point for me)
marginally harder to get hurt on than a hanging egg chair (which is a good thing, since something swinging might spell disaster for uncoordinated runs-in-the-family gals like me and Clara)
So I did the following:
lunged towards John who was typing at his desk next to me
probably made some sound like "meeeeeeeeeeeep" or "haaaaaaaaaaaaah"
pointed to the picture on my screen of the two egg chairs
said "can these fit in our car?"
convinced John at least one could fit in our car
grabbed the kid and ran to the car so fast that we were all strapped in and ready to go when John sauntered up a minute later and started the engine
Oh yeah, it was on. About twenty minutes later we were back at Goodwill and you're not even going to believe it. The guy on the right was gone. Sold. Sadness. But the guy on the left was still there! And very much egg-ish. And very much in our budget. As in: thirty beans total. And get this- it even swivels!!! So the wind can still be in my hair while the chair is safely planted on the floor of the sunroom. Basically it was very much like buying the Pier 1 Swivel Chair above for $179 but for 150 bucks less, and I'll get to freshen it up and put my own spin on it (pun intended) with some new pillows instead of anything resembling a giant feminine hygiene product.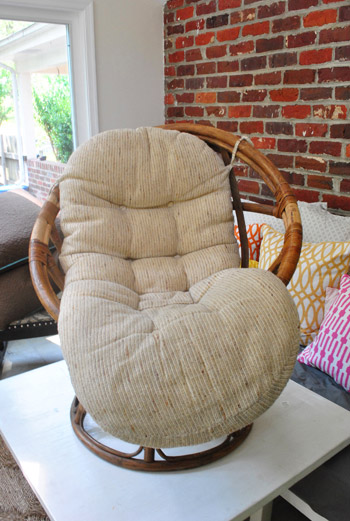 Sidenote: I totally made an omelette for dinner to celebrate my little egg chair coup. Is that sick of me? Like I was eating his ancestors or something?
I should have taken a photo of John sitting in it for scale, but the back goes up to his shoulder blades (and he's 6′ tall). So it's not a child-sized chair, although it'll definitely be Clara-friendly (and me-friendly since I plan to set up camp in this chair for the next 20-30 years). This picture of it on a low coffee table in the sunroom doesn't help with the whole scale thing, but you can see the potential right? He has good lines I think. Good egg-ish lines. Of course that cushion was grody and should not have even been brought into the house, but it has since been relegated to the carport. And you can see the shape even better without it. Me-ow, right?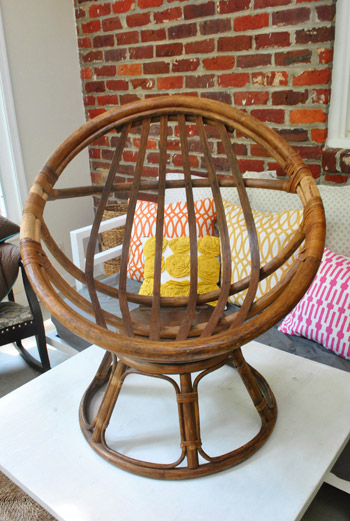 After playing around with some pillows (which look crazy, but gave me a general idea of what I think could work), I've decided I'll make or find a better fitting seat cushion and then just add a casual back cushion. But it'll be taller than the little pillow in the picture below because I want the back to be as comfy as the bottom.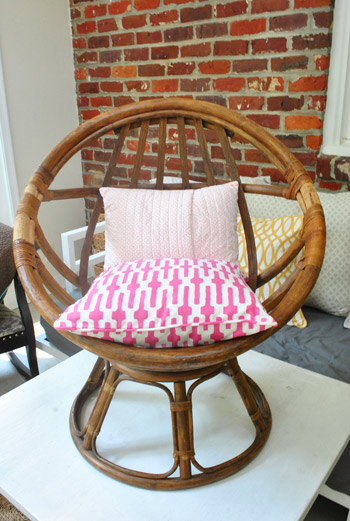 Will keep you posted for sure. Oh and you know I'm going to freshen this guy up beyond just adding some cushions right?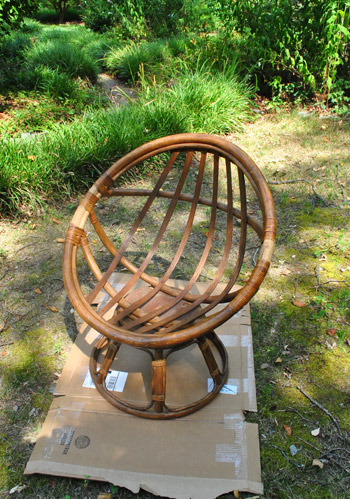 Might have already started on that actually. More details in a few days when he's all dry and ready for his close up. And of course amid egg chair happy dances work slowly continues on the deck…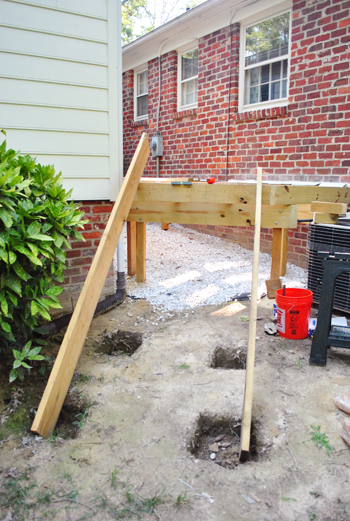 … so we should be back with an update on that front next week for ya. Inch, inch, inch…
Psst- We announced this week's big giveaway winner. Click here to see if it's you.