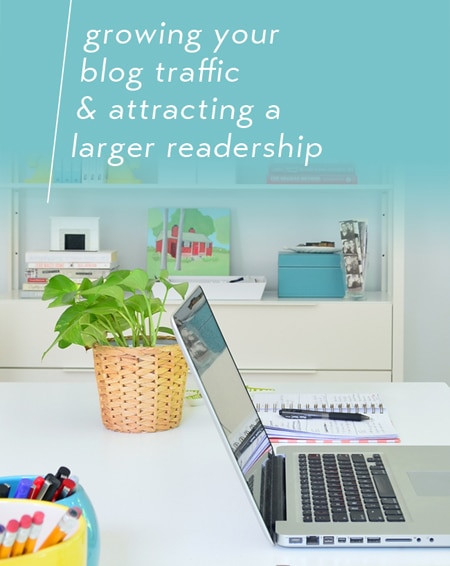 We'd say that our blog's growth from crickets to millions of page views per month was a combination of hard work and a series of lucky breaks. There's no single, clear answer why one blog becomes successful and another one doesn't, but here are some key ingredients that might give you a leg up – all of which we'll dive deeper into on this page:
Consistent posting
Interesting topics written in a unique voice
A social media presence
A relationship with your audience
Attention to detail and professionalism
Q: How often do I need to post to make my blog successful?
There's no secret formula to how frequently you need to post to your blog (or to social media). There are successful sites that post several times a day and some that post just once a week or even less frequently. The most important thing is to find a schedule that works for you. But yes, committing yourself to some sort of schedule that you try to stick to is probably the best place to start (both for your readers' expectations, and also for your own).
We decided from the start to post daily, initially to get ourselves into the practice of writing regularly (we'd switch off writing quick posts every evening after work). I think we thought if we stopped, we might never start again! And although we were just blogging for fun at the time, gaining and keeping that momentum really helped us get into the rhythm and stick with it for many years – which we certainly believe led to traffic growth and it eventually becoming a full time job. That schedule did fluctuate somewhat over time – sometimes going up to twice daily, and sometimes dropping down to every other day – but by keeping ourselves on some sort of schedule helped in a few ways:
Kept our juices flowing. It pushed us creatively to brainstorm ideas and encouraged us to discover new projects we'd like to take on or new topics we wanted to discuss with our readers.
Helped create committed readers. By posting reliably, our audience came to know when they should drop in to find something new. It took the pressure off of blasting social channels or re-attracting everyone each time there was something new because we demonstrated they could expect to see a new post at a certain time if they dropped in.
Gives you practice. Writing regularly creates more opportunities for you to find your voice, practice your writing, and develop your blogging style. Even if no one is reading (we have many early posts with zero comments), those posts are a valuable time to stretch yourself, experiment with your voice, try different styles of photography, expand your topics, or even just tweak things like post length or how many photos you'd like to incorporate.
Builds up your content. The more regularly you write, the more quickly you'll build up your site with content that can be discovered and shared. So there's no better time to just pull the cord and get going. A year from now you could have hundreds of posts in your archives, or you could keep putting it off and have zero…
Q: What should I write about? What if I can't figure out what to post about?
If your goal is to attract a significant readership, then the obvious answer is to write about a topic that a significant amount of people want to read about. We'd try to give an example of a really obscure topic here that might not be the best idea, but the Internet is a weird place so there are probably already 15 blogs and a Reddit forum about anything we could think of. So the good news is that there are probably tons of people who are passionate about whatever you're into and would love to read about it from someone who is equally enthusiastic.
As long as your blog encompasses topics that you love and that will be fun for you to take a dive deep into – well, the right audience will hopefully come. Blogging is something you might spend lots of time (and maybe even money) doing, so make sure your passion goes deep. In other words, don't choose to write about "Topic A" because it's so trendy right now, because if you could care less about it, that'll most likely show in your writing. Choosing a topic for any reason other than you love it will make blogging less enjoyable for you, less authentic to your readers, and more frustrating if it doesn't succeed like you'd hoped. Plus, if you come from a place of enthusiasm, that will rub off on your audience and keep them coming back to see what else you've shared.
It does help when you're setting your blogging parameters to choose a topic that has lots of avenues to explore or is rich with sub-topics, related categories, or other ways that will keep you from wracking your brain for things to post about after those first dozen posts or so. Take a moment to think about this – heck, even write it down! – to make sure you're not approaching (or naming) your blog so narrowly that you find it hard to keep writing only about that topic. For example if you love scrapbooking and crocheting and cooking, maybe don't name your blog "Scrapbooks 4 Eva." It could feel too narrow if you decide to cover all of those topics sometime down the road.
Q: How do I figure out my voice or writing style?
Just like writing about stuff you genuinely like, writing in your genuine voice and in a way that comes naturally to you is the easiest way to keep blogging for the long haul. It might sound tempting to try on a new persona or to attempt to sound funnier / nerdier / hipper / snarkier than you are in real life, but you may find that harder to sustain and less enjoyable over time.
Once you get to a natural writing place, you'll find you're able to hone your voice and writing style over time. You'll be able to fine tune how to best convey yourself and your feelings through writing, since it's not always the same way that you might explain something in person (with lots of hand motions, facial expressions, or subtle sarcasm for example). This is something that definitely takes practice and just spending some time writing (and editing!) yourself is the surest way to develop your voice.
In addition to writing naturally, you do want your blogging voice to feel unique and personal to you – so that your readers may even begin to recognize you amongst the crowd of other bloggers out there. Pay attention to other blogs (and just writing in general) that you enjoy and try to pinpoint what it is about them that you admire. Is it their sense of humor? Their supportive tone? Their sometimes brutal honesty? If any of those are things you'd like to convey in your own blog, think about how you can bring them to life in a way that is authentic to you (without sounding like you're just a clone of them). For example, if you love another blogger who celebrates their awkwardness, go ahead and let your freak flag fly!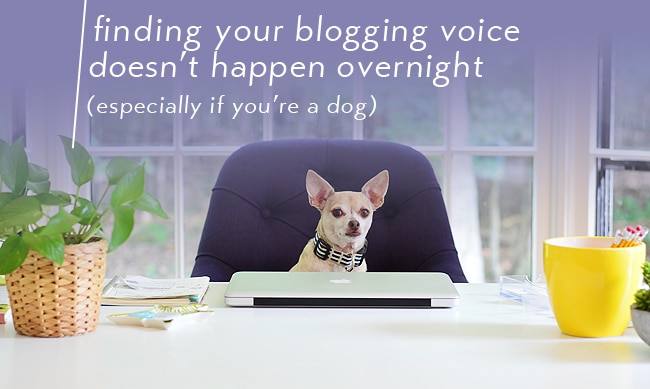 Q: How will people find my blog?
When we first started, we were just blogging to share our kitchen renovation with our family. So we weren't actively trying to grow – and it surprised us when we saw strangers dropping in to see what we were up to! But as time went by and we learned how much fun the community of blogging could be (connecting with like-minded DIYers who just love getting things done on their house was so encouraging and awesome) we leaned into two main ingredients to expand our audience in those early days: search engines and other bloggers. Those things are still key ingredients these days, but now that social media is on the scene it's a whole new ballgame. Or at least a bigger ball game.
Search engines: This is often referred to Search Engine Optimization or SEO, which is where you make sure your site is friendly to sites like Google and the algorithms they use to serve search results. Optimizing is a big deal and there's TONS of information out there (as well as people trying to sell you their services), so don't feel like you have to (or even could) learn it all. Luckily, WordPress and most themes have SEO features built-in and you can do things like include tags (there's a field for them at the bottom of a post, and you just plug in words that relate to each post you write). Also writing clear & descriptive headlines tends to help. There are also free plugins like Yoast to help you optimize your content. Lastly, Google rewards sites with fresh, frequent, and popular content, so that's something you can build-up over time, just by regularly posting about whatever you're passionate about.
Other bloggers: This comes in a few forms. We have made such great real-life friends through blogging, and the encouragement and understanding that you get from fellow bloggers who share the same passions is easily worth more than any traffic or growth you might achieve. You can foster friendships by commenting, emailing, and of course linking and highlighting other blogs that you love on your blog (we did this in the early days without really knowing that they could end up affecting traffic at all). We did learn over time that in return they might do the same for you (linking back, commenting back, etc), and you can end up sending a few readers each others' way. Take the slow approach of building up an honest and friendly rapport over time, not just immediately blasting everyone with requests to share your links.
Blogger groups: Blogging is a much more established business than it was a decade ago, so you'll find blogger groups on social media (some are secret Facebook groups, so you may need to ask around) as well as blog conferences or seminars. All of these are great ways to connect with other bloggers, learn more about your niche, and create avenues for your content to be shared (and to share other helpful content in return). It's great to have a place to post if you have a technical question or a tip you'd like to share with likeminded bloggers, and these relationships can even lead to creating content with another blogger (or group of bloggers) that can be shared across both of your sites.
Social media: Sites like Facebook, Pinterest, and Instagram are not only game changers for driving traffic to your blog, but many social media sites have usurped some bloggers' needs to maintain their sites at all (think YouTube stars or Instagrammers whose entire business runs through those platforms directly). So let's talk about those a bit more…
Q: Social media confuses me. Is that a must? What are the best platforms to be on?
Social media wasn't really around when we started blogging back in 2007, so you're already at an advantage for being able to incorporate them into your blog from the get-go. You DEFINITELY want to extend your blog's presence to social media in some form if you really are aiming for site growth and exposure to new people, but determining exactly how and where may take you some time.
Facebook is typically the bare minimum these days for bloggers who want to grow their site's presence. It has the largest usage worldwide and its interface supports the broadest range of blogs (Pinterest and YouTube aren't a great fit for every blog, but Facebook usually works for a variety of topics and types of content). You can start by creating a Facebook Page for your blog and including a link to it on your blog somewhere. Then you can use it to share links to your blog posts (whenever we post something we typically share the link on Facebook just to make sure our followers over there are privy to the new post) as well as using it to connect, interact, and discuss things with your audience.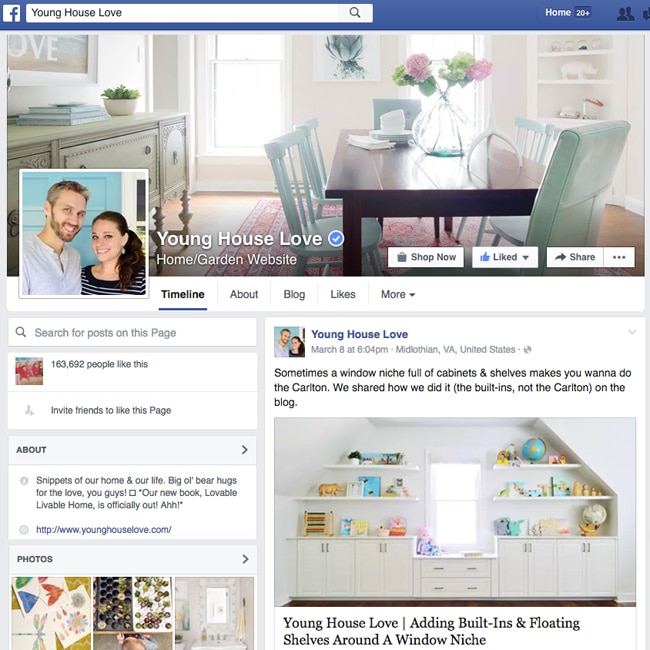 Beyond Facebook, our experience is that adding additional social media channels depends on what topics your blog covers and what you think is your best "social currency." Are pretty pictures a big part of your blog? If so, you may want to focus your efforts on visual mediums like Pinterest and Instagram. Is it writing? You might want to try Twitter as a place to show off your voice in bite-sized nuggets. Video? YouTube, Vine, Snapchat, Periscope, and Instagram can all help support/share the content you create for your blog, plus they give you platforms to make new content for people to discover.
Don't feel pressured to over-extend your social media presence beyond what you're comfortable incorporating. A quality presence on a couple of platforms will serve you better than a spread-thin existence on many (we typically share things on Facebook, Instagram, and Pinterest). And if you're new to or not comfortable with a certain type of social media, take it for a spin personally – posting privately to your friends, or just exploring what others are doing – before you take the plunge for your blog.
As time goes on, you'll discover which platforms are most successful for you – where you get the most followers, where you find it easiest/most enjoyable to share, and what best supports your blog traffic. At minimum they can become a place for you to share links to your blog content. At best they can become a place for you to stretch yourself creatively, grow your audience and blog readership, and create relationships with people you might never get a chance to interact with on your site itself.
Q: Any tricks for keeping up with all those social media accounts?
Managing social media accounts can seem like a full time job sometimes, but there are some ways to make it easier on yourself:
Simplify: Like we said above, a quality presence on two or three platforms is usually better than a sub-par presence on many. So don't feel shame in dropping any social media channel that isn't serving you well (or that you aren't feeling as inspired to keep up). It also helps to remember that not all platforms should perform the same function. Pinterest may be best for spreading links to your content, Facebook for discussing related news with your readers, and Snapchat for giving casual sneak peeks at upcoming posts. If something is serving an unnecessary or duplicate function, consider reevaluating, minimizing, or abandoning your activity there.
Centralize: We love Instagram because we can link other social accounts to it (like Facebook and Twitter) and reach all three without ever leaving the IG app. It's an easy way to reach audiences on each platform without doubling or tripling the work. Services like Hootsuite (which you can use for free, or on a paid plan) crank this up a notch, allowing you to customize a dashboard to monitor multiple platforms and even multiple accounts all on one screen. You can even use it to post and reply without jumping from app to app, or browser tab to browser tab.
Automate: No, we're not talking about hiring some robot to do your tweeting, but we've recently heard about pin scheduling services (one of the more popular ones is called Tailwind) that basically let you automate pinning to your Pinterest account. Pinning your own posts to a board like "Our Blog Projects" is a great way to be discovered by new eyes and grow your audience, and these pin schedulers allow you to queue up as many pins as you'd like and disperse them at peak times throughout each day. We do hear that Pinterest doesn't want someone scheduling 100% of their pins without ever pinning directly on Pinterest (it makes sense that they want users using their platform as well), so it's probably best not to do all of your pinning through a service – but it could help take some of the work off your shoulders. It also gives you access to additional analytics, like impressions, repins, and popular boards.
Develop A Reoccurring Feature: If you find yourself constantly struggling about what to share, it helps to come up with a few "themes" or reoccurring features that will keep you on track. For example, once a week you could share a before & after photo for "Transformation Tuesday" or a previously completed project for "Throwback Thursday." A friend of ours posted videos full of tips on a certain topic each Tuesday via Periscope, which she called "Tipsy Tuesday" which is yet another way to create a reoccurring feature that you're motivated to keep up with on a regular schedule (and that your followers will hopefully start looking forward to each week).
Q: Why is it important to develop a relationship with my readers? How do I do that?
Loyalty is valuable to any business – whether it's someone who always shops at the same store or buys the same brand of car. Not only do you waste less energy attracting and convincing new people, but you create fans who are going to tell more people about you and help support the growth of your site for the long haul. Sure, there are plenty of websites that subsist primarily on driving one-time traffic from search engines or social sites (think: click bait-y posts about celebs or random quizzes about what fruit you are) – but that model is typically more volatile and a lot less enjoyable for you, the writer.
Connecting with our readers has been, hands down, our FAVORITE thing about blogging. Posting to a group that's familiar with us – our story, our styles, our quirks – has made writing more fun and more fulfilling because it feels more like sharing with a collection of friends, not reciting facts for a faceless audience. Creating this relationship takes time and isn't easy, since it requires opening yourself up to them (think about the connections you try to build on a first date or with a new friend) and giving them an opportunity to do that back to you. And, just like that first date, it helps to demonstrate that you are willing to share things about yourself (read: be a little bit vulnerable) which is a definite risk, but the reward can be a surprisingly deep connection with people you may never have had the pleasure of meeting otherwise.
Q: What's one thing many bloggers overlook, but can help me stand out?
Proofreading! Okay, not only proofreading – but paying attention to details like spelling, grammar, nice photos, and pretty graphics all create a sense of professionalism to your site that will signal to new readers that this is a reliable source where the author cares about quality. Just like they say a typo can get your resume thrown out in a job hunt, readers may jump ship if they start to notice your writing is sloppy or your pictures are snapped in a hurry. We certainly have our fair share of terrible photos in the archives and the occasional typo definitely slips through, but we always do our best to reread everything at least once (and sometimes three times) before clicking publish. And don't just rely on spellcheck, since it won't catch any of those who's/whose or too/to/two, or alert you to any phrases that may be unclear.
Professionalism also extends beyond words to your images too, should your blog include photography. The photography bar for blogs has been raised quite a bit over the last few years, but fortunately cameras and photo editing software have become easier to use too. So even if you're just using the built-in photo tools on your smartphone, take the time to make sure any picture you share is the best it can be – a nice crop or brightening a dark shot can go a long way! Here are some more tips on photo editing if you'd like to learn more.
Q: I'm afraid I'll get bored or have trouble keeping up with my blog. How do I fight that? What if I get stuck?
Keep it fun! Make sure what you post and the process of creating those posts stays enjoyable to you – and if it stops being exciting and energizing, then maybe that's your cue to step back, reevaluate, or take a new approach. The easiest blogs for readers to connect with are the ones where it's clear the writer is doing it because they love it, not because they're trying to hit some traffic benchmark or pad their wallets.
If you need to get over a temporary blogging slump, try:
Writing a new type of post: Write a post as a bulleted list or write something in the form of a conversation. Try something without pictures, or with only pictures and nothing else. Disrupting your writing routine can break you out of a rut, and potentially create a fun and different type of post that may even turn into a new series on your blog.
Involving another blogger or creative person: Team up with a fellow blogger or your most creative friend for a new post or series of posts. This can breathe new life into what you do since it's always inspiring to work with someone who shares a similar passion and inspires you with their ideas and creativity.
Challenge yourself publicly: Like a New Year's Resolution-style, commit to trying something new or different (crafting something new every week? taking photos only with your phone for a month?) and post about the results. Public proclamations can help light a fire under your buns in a way that secret goals in your head don't – and it's always good to stretch yourself in new ways.
Take a break: Give yourself time and distance to remember what parts of blogging you love most, so you can return refreshed and refocused on what led you here in the first place. We don't suggest taking lengthy breaks too frequently, but if you have been blogging for a long time and you're struggling with where your blog is going, taking the time to step back and recalibrate is probably better than forcing something that's not coming naturally.
At the end of the day you want to feel passionate about what you're writing – that's truly what makes it magnetic to readers and sustainable to you. Blogging isn't for everyone, and that's okay. But if it's something you truly want to pursue for the long haul, keeping that passion and excitement alive is one of the best things you can do to fuel your blog.
And if you're looking to turn your blog into a business – whether it's as a full-time venture or just a way to earn some money on the side – click on the "Part 3" button below to learn from our experience and read our tips about how we monetized our site so our family of four could live on that income.
This is a three part series. Click the button below to learn about:

Or if you missed Part 1 of this series, click the button below: