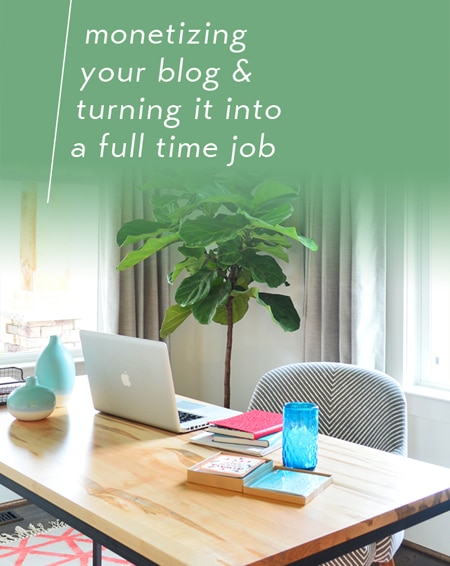 When we started our blog, full time bloggers weren't really a thing and we never expected to make a dime. But these days blogging is a big business, with ad networks, affiliate programs, sponsored content, and many other things that allow publishers to monetize their site and, in many cases, earn some serious income.
Like SEO, this is a topic that fills entire websites and takes up days at blog conferences, so you'd be hard pressed to find a single post that covers it all, or a simple one-size-fits-all rule for earning money from your blog. But on this page we'll cover a few important questions about how a blogger can start monetizing their site – and what you should think about when considering the idea of turning your blog into a business. Some of those topics include:
Basic monetization techniques
Where to start
What to expect ("can I make enough to cover small projects?" "can I make enough to buy my own island?")
What pitfalls to avoid
Where can I learn more?
Q: WHAAA? You really blogged as a full time job and made enough income to support your whole family?
A: Yes, we started our blog in 2007, and we started earning money from our site in 2008 (at first it was just enough to cover a can of paint or a yard of fabric). It took us about another full year for Sherry to consider stepping away from her primary job (which was still quite the pay cut). And by 2010, another year later, our site was earning enough that I (John) could leave my full time job too, which was good timing and a pretty big leap of faith, since we had a baby coming and we both dreamed about working from home together.
As you can see, it wasn't an overnight process to get our blog generating a full time income by any means. We logged many many months of creating content for very little financial return (which brings us back to rule number 1: do it because you love it and the rest will come). Our first day of trying sidebar ads earned us a whopping 11 cents, but the good news is that with so many newer ways to monetize these days – and with many different types of social media to help you promote posts that didn't used to exist – we know many bloggers who have been writing for a shorter period of time who can support themselves (and sometimes even several employees!) through their blogs.
So it's safe to say that these days it's not only easier than ever to create a blog, it's easier than ever to make money with one. But it still probably necessitates being patient, focusing first and foremost on creating good content, and then you can layer in some of these ideas for earning money.
Q: No really, why would anyone pay bloggers to blog? I just don't get how this whole monetization thing works.
A: Monetizing blogging works off the same principles as traditional media like magazines or TV. If you create content that people want to consume (blog posts instead of TV shows or magazine articles) then companies & advertisers will want to put themselves where they can be seen by those same eyeballs (for example, via sidebar ads and affiliate links instead of TV commercials or print ads). And just like TV shows and magazines work to increase their viewership/readership, the more visitors you attract to your site – the more compensation you can earn.
And to keep the metaphor going, just like there is product placement on TV (where an advertiser pays to have their product used/worn/eaten/driven by the characters or reality stars on the screen), bloggers are increasingly getting paid to incorporate an advertiser's product within the content of their blog posts (which legally must be disclosed so no readers feel like they're being duped). But we'll talk about sponsored posts more a bit later…
Q: What are some of the main ways bloggers earn money these days?
A: The business of blogging is constantly shifting, and one form of monetizing may work great for one blogger while another is perfect for a different style of blog or topic area. But here are what we'd consider to be THE TOP 3 AVENUES FOR BLOG EARNING:
Ads. Many say this is a dying revenue stream for bloggers, but it ain't dead yet (we know plenty of bloggers who still make the largest chunk of their income from this revenue stream). This means putting ads in or near your content (for example on the sidebar or at the bottom of a post). These ads will earn small amounts of money every time someone loads the page, and it's one of the most passive ways to earn blogging income, since it runs automatically once you've implemented a little bit of code. In other words, it's easy and it's fairly auto-pilot. Of course too many ads all over your site can be a turn off, so try to balance site function & aesthetics with the desire to generate more ad income.
Affiliates. If you frequently reference or link to products in your blog (or on your social media channels), like the dress you wore in that photo or the rug you put in your living room, you may want to consider using an "affiliate link." This is a specially coded URL that tells the company that you sent that customer their way. The company will then pay you a small referral fee or commission on the sale (without charging that buyer any more for the product). Although commissions can be small and it requires a bit more work as your write posts to incorporate those special links, sites like RewardStyle and shareasale.com are attempting to streamline that process. Our advice would be not to overuse them and potentially turn off your audience.
Sponsored Content. This is when a company will pay a fee to the blogger for incorporating a product or service directly into their blog posts. Sometimes called "native advertising," this is where many experts see the blogging industry heading because companies find more value in mentions within a blogger's content (rather than on their sidebar). These can be very lucrative for a blogger and they often get to try the product or service for free as well, although all bloggers are legally required to disclose when a post has been paid for by someone. They are the least passive way to earn, since you have to generate or tailor content around the sponsor (who usually requires that they get to pre-read the post and approve it beforehand), and some readers can bristle when too many posts are sponsored, or they feel that a sponsor has caused a blogger to veer off topic or away from their natural writing style. We preferred to blog about things because we liked them without anything being sponsored – but we know many bloggers who make 80%+ of their income from sponsored posts.
There are plenty of other avenues for monetizing your site – like selling a product (think e-book, Etsy shop, an app, an e-course, etc) or offering paid content (like special subscription-only posts or email blasts). That's not to mention other paid opportunities that may come your way, like speaking opportunities, book writing, or product design – three things that we've really had fun doing in the last few years.
Q: Great! I'm ready for the moolah to start rolling in. When do I get rich?
First, let's establish that your earning potential from your site is directly related to how much traffic you receive and how engaged your audience is (which usually correlates to how much quality content you have created – which typically builds up over time). So the truth is that blogging isn't usually a "get rich quick scheme" and it's typically more of a "build up a library of content over time and slowly that will grow your following and gradually add up to an income" scenario. All of the "Big 3" listed above will earn incrementally more as someone's readership grows – whether it's because more ads are being seen, more affiliate links are being followed, or more companies are attracted by your increased traffic (and the potential to reach more eyeballs).
So your first focus should be on creating content that's good enough to attract readers and earn you more traffic. You certainly can make some great little streams of "bonus income" as you grow your blog and create content in the beginning, but don't expect big checks until you have a large number of readers stopping in. We blogged for a long time without making a dime, and when we finally started monetizing it initially only offset the cost of a few supplies.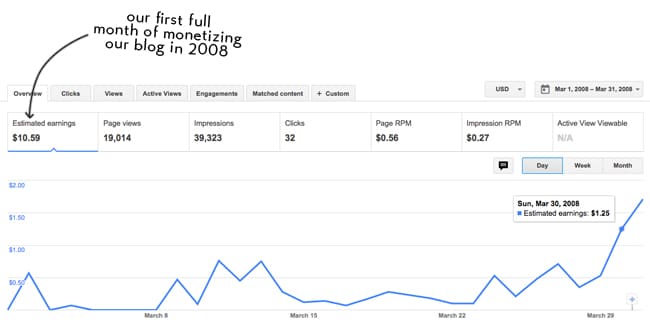 Slowly it grew from there, just as our traffic did over time – and it eventually became a full time job for one of us, and later a full time job for both of us. So once again, for the people in the back: blogging about something you're passionate about should be your driving motivation (not dollar signs or spiking traffic graphs). Write excitedly and regularly about something you're passionate about, and the rest will hopefully come.
Q: Ok, I'll take the bonus income and go from there. Where do I start?
The easiest place to start is with ads and affiliate links. Why? Because you can implement these from Day #1 (whereas convincing a sponsor to pay for a post usually requires proof of a fair amount of traffic, which you might not have yet). You still may be blocked from some advertising sources or affiliate programs until you reach a certain traffic threshold, so two great places that anyone can start are: Google Adsense and Amazon Affiliates. Both are free to start, straight-forward to implement, and they tap into some of the Internet's largest markets for advertisers and products. Although they may not pay as much for ads and affiliates as other "premium" networks, they are a great starting point and will give you a benchmark for your CPM earnings – and even offer good back-up options as your site grows (we still use both of them!)
Q: What jargon do I need to know? You just said CPM and I was all "say what now?"
Blog monetization can feel like jargon city, so here are some good basic terms to know (and throw around to show you're no newbie… even if you are one).
Impression / Pageview: Believe it or not, the term "hit" is a pretty vague term when it comes to website statistics. The more accurate term is "pageview" which means a single time your webpage was viewed (whether by the same person or a bunch of different people). This is different than "unique visitor," which only counts a person once whether they visit one page or click around to one hundred pages within your site. But the pageview number is typically the most important because it relates most closely to the advertising term "impression," which is how many times an ad is seen (whether that's by the same person or a bunch of different people).
Unique visitor: This may simply be referred to as "uniques" – and this statistic counts how many distinct people visit your site within a given time – no matter whether they click just one page (which leads to one pageview), or spend hours digging through all of your pages (which leads to multiple pageviews). This stat helps convey the size of your audience (since a million pageviews doesn't necessary mean a million fans) and can be helpful to potential post sponsors since they will want to know how many individuals your posts may reach.
CPM (Cost Per Impression): This terms means how much an advertiser pays for 1,000 impressions on your site, and is the best measure for what ads (size, placement, network) are most successful for you. Lots of factors affect the CPM you may earn – the size of ad, the placement on the page, and even the time of year – so many bloggers use this number to evaluate where and what ads earn them the most money. Let's say your site got 100,000 page views last month and you earned an average CPM of $1.00. Well, you'd just divide those 100,000 impressions by 1,000 and multiply that number by $1.00, which means you'd make $100 that month. And say you had four of those ads on your site, well just multiply $100 by 4, and that would mean $400 in your pocket.
Ad Placement: This refers to the place on your website an ad occupies. We have placements like our "Header" ad, which is 728 pixels wide and 90 pixels tall (a standard size, called 728×90), and sidebar ads that are 300×250 size and 300×600 size. Ads of the same size, like our 300×250 ads, earn different amounts based on where their placement is on our site – those that are higher on the page and closer to content usually do better. Premium placements often include those ads that are "above the fold" or ATF, which borrows from the newspaper world where stories on the top half of the paper (aka, above the literal fold) were more important. Above the fold of a website means it's visible before the user scrolls. Everything else is "below the fold" or BTF.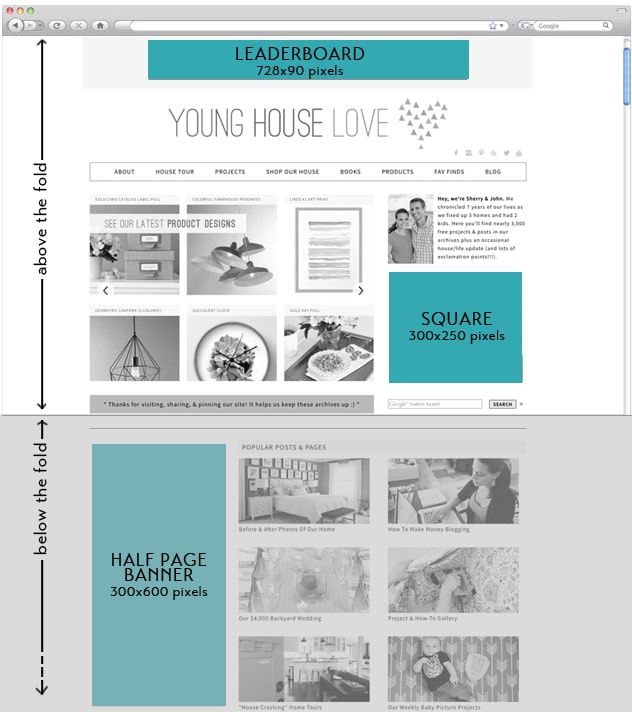 Ads can also earn more if they are capable of playing video or have special features like expanding to be larger, popping out, or remaining in one spot as someone scrolls (these are often called "sticky"). But just because a special ad pays more doesn't mean it's a smart choice, since overly intrusive or annoying ads can drive readers away.
Ad Network: These, like Google Adsense, are companies or services that take care of getting the ads delivered to your site. They save you the trouble of finding advertisers, negotiating ad rates, and collecting ad graphics yourself (of course, in exchange they automatically take a cut of your earnings). Some networks are content-specific and help you get advertisers geared toward your topics (we've used one called Martha Stewart's Circle that focuses on home/craft/food advertisers – since they've determined that our audience is also interested in those products) while others may be more broad. The broader the network, the less relevant your ads will be to your audience and therefore the less successful they may be for you. You can implement different ad networks in different ad placements or even use a free program like Google DFP to juggle multiple networks within one ad placement.
Premium vs Backfill: The goal is to get as many high-quality, high-paying ads served on your site as often as possible – ads that pay $6 or even $8+ CPM (which is no easy feat). In contrast to those, "backfill ads" are lower quality, lower paying ads that are easier to come by, so networks will fill your unsold premium space with them (think of them as a back-up option when premium ads aren't available). Premium networks will help you try to cut down on backfill, but ultimately you may have to accept some (especially as your page views increase beyond an easy-to-fill number) – so that's one good thing to remind yourself if you're still a relatively small blog. You might be making a lot more per click than a much bigger blog!
Backfill ads may be automatically provided by your ad network, or you can implement your own through Google Adsense, by using Google DFP (which can help you tier your ads so the ones that make you the most money will be served ahead of cheaper backfill ones). Fine-tuning your ad networks can be complicated and requires vigilance, so don't stress if it takes a while to understand. We've been in this for nearly a decade and there's still plenty to learn!
Q: How do I find ad networks for my site?
You can sign up for many ad networks on your own, right from day #1 (like Google Adsense or Amazon CPM Ads). There are soooo many out there these days that it's difficult to evaluate which are best since most work better for some bloggers than others. Many are invitation-only and may require you to hit certain traffic thresholds before you will be considered, so our favorite way of zeroing in on networks to pursue is to rely on blogs we admire. Some may disclose their ad network affiliates, either on an About or FAQ page, or based on a logo on their site (sometimes in their blog's footer). These are good indicators of networks that a blogger has liked working with. And if it's not readily visible on their site, feel free to ask them – just don't be surprised if some want to keep the information private. Why would anyone want to keep them a secret? Well, while having more bloggers on a network may help them attract more ads, it sometimes also spreads the existing ads more thinly – meaning more backfill and lower revenue for everyone across the board.
Once you know who you're interested in pursuing, find a contact email and let them know you'd be interested in learning more. You can also tell them a bit about your site/stats and inquire about next steps to test them out on your site.
Q: Should I do sponsored posts on my blog?
Back in 2010 we decided to run a site without any sponsored posts, just because we thought it would simplify things for us and because we decided that sponsored content might sway how the authenticity of the rest of our content was perceived (ex: "Are you just gushing about that because you were paid? And if you were, how can I trust anything you say?"). So ultimately it wasn't a monetization strategy that we felt comfortable pursuing, but we know many fellow bloggers who do (and love!) sponsored posts, and many readers who seem to be just fine with them – especially since they're a lot more common these days.
Sponsored content has become WAAAY more prevalent in the blogosphere (as well as sponsored social media posts, etc), so both bloggers and readers are much more familiar with seeing sponsored content in their feeds. And many bloggers are able to create helpful, entertaining, and inspiring content out of a sponsored opportunity (as opposed to it seeming like a commercial break to talk about something random).
Before you decide to attract sponsors, take some time to read a bunch of sponsored posts by other bloggers. Take note of what you liked about it and what you didn't, as well as what you think the sponsor appreciated (or didn't appreciate). You can also check the comments to see if readers offered any constructive feedback about the way this sponsored post was presented.
Q: How do I get sponsors for my blog posts?
The best case scenario for having post sponsors is when they're companies you already use and mention regularly. This means any paid content you write will feel like a natural extension of your usual content, rather than a forced pairing (think a food blogger who writes a sponsored post about her favorite cookware vs. a sponsored post about her favorite shoes). So the best way to plant the seeds is by blogging honestly and enthusiastically about the products and services you're already paying for, using, and loving. We know many bloggers who have developed lucrative sponsored relationships with companies they had been blogging about for years, simply because they love them and their product.
It may help get you noticed if you occasionally link to them when you mention them (so they might detect incoming traffic) or tag them in social media posts when it's pertinent – but you want to strike a balance that doesn't feel weirdly forceful. If it comes off as "brand-stalking" it might compromise your integrity and be a turn off to your most important audience: your readers.
You may be lucky enough for those companies to take note and reach out to you directly, but if not, try searching for an appropriate contact on their website. You may also be able to get a referral from a blog-friend if you notice that they're already working with them (but again, don't be surprised if this is information they'd prefer to keep private). Then just try making the case for your site to this potential sponsor by sharing your traffic stats, examples of posts that feature them already, and proof of your social following.
Other ways you may find blog sponsors is through your ad network (many premium ad networks also pitch sponsorship opportunities to their advertisers) or by attending a blog conference where companies that already see the value of blog partnerships may be in attendance (ALT, Haven, BlogHer, etc). That's a great way to earn face time with the companies that support bloggers like you.
Q: Okay, but I hate those disclosure statements about sponsored posts. Can't I make money without telling anyone?
Actually, you can't. The FTC released guidelines several years ago that require bloggers and other online publishers to "clearly and conspicuously" disclose when any of their content – whether it be a blog post or social media share – was paid for. This often comes in the form of a brief statement at the top of a paid post (ex: "This post is sponsored by XXXX. All opinions are my own.") or a hashtag like #ad or #spon on Instagram or Facebook. Not doing so can get both you and your sponsor in hot water, so it's also a good litmus test to see if a potential sponsor knows what they're doing based on whether or not they address this with you. If they don't double check that you'll be using a disclosure statement, you (and that company!) could get in serious hot water, so it might be a sign that they're not a reliable brand for a collaboration.
Q: How can I take my blog to the next level – like with a TV show, magazine feature, or book deal?
A: Many bloggers (us included) are very lucky to have had our online presence lead to other real world opportunities like books or product lines or television gigs, etc. There's not one specific path to follow that'll guarantee that you'll achieve these things, but here are some suggestions for giving yourself a little boost in that direction:
Think about your goal: This may sound like "The Secret" where you're told to visualize what you want to come true, but it really is useful in this application. If you make intentional goals – like "I want to write a book" or "I want to design clothes" – it's a lot easier to steer your work in that direction. Plus, pinpointing your goal then gives you the opportunity to evaluate it: what enjoyment will I get out of this beyond any monetary gain? What negatives might result in pursuing this? How will I have to allocate my time differently in order to achieve or manage this? Are the choices I'm making now leading me towards that goal – or taking me further away from it? All good things to consider.
Steer your content towards that: We're friendly with many bloggers who have goals of landing a TV show, so they (smartly!) start making more video content – either on YouTube or short clips on Vine or casual chats on Periscope. It gives them more practice in front of the camera, plus it demonstrates their skills in those areas to any potential producers. Similarly, if you want a book deal or magazine column, really focus on your writing (or photography, if it's a photo book) and start aligning your content with what you might put in a book. The more your blog reflects the talents you'll need for that next step, the easier it will be for the people to clearly see that – especially the people who might be able to make that dream of yours become a reality.
Say it publicly: Not only will stating your goal to your audience help you commit to it, it may help the right people recognize those skills in you. Who knows what connections your readers may have to the industries you want to be in, but unless they know you want it they may never reach out to help.
Ask for advice: Try to locate another blogger that you're friendly with who has achieved that step and ask for some advice or mentoring. Or even reach out to a non-blogger who works in that field and ask for suggestions for breaking into it. We've put numerous good friends and trusted colleagues in contact with our book agent – so we're happy to vouch for them and help them get a foot in the door. Sometimes all you have to do is ask :)
Q: So I read all this, it's been 3/6/9/12 months, and my blog hasn't taken off yet. What am I doing wrong?
A: Without being able to diagnose every blog individually, the most likely culprit is just time. Unless you are fortunate enough to break a story or experience a post going viral, it's unrealistic to expect blog success overnight (or even over a year). The blog world is cluttered right now and standing out can be difficult, but here are some last thoughts to try to bring renewed energy to your efforts:
Try a new audience: What might be a secondary audience for your blog? If home design enthusiasts aren't as interested as you had hoped, what about moms? If foodies haven't stuck, what about bakers or restaurateurs? By thinking about a related sub-group that might find your content interesting and searching for the places (Facebook groups, Pinterest boards, message boards, etc) that they go to for information, you'll still get to write what you're passionate about – just think about it as distributing it to a secondary audience.
Share in a new place: If sharing links on Facebook and Twitter have fallen flat, have you tried pinning to Pinterest? Or sharing short videos on Instagram or YouTube? Create content that fits these other networks and see if you can catch different eyeballs.
Mix up your content: If the lengthy tutorials you're posting aren't gaining momentum, challenge yourself to make quick posts – maybe bite-sized tips or easy-to-share graphics. Or the other way around, try diving deeper into the topics you've been sharing with more robust content if you typically just graze the surface.
Take on something timely: Is there a news story or popular trend that you could offer your insight or opinion on? Look for topics that are trending on Facebook, Twitter, or even Google to see what areas might fit your blog's area of expertise. Don't start chasing fads and being click-bait-y, but if you love a topic and something newsworthy is going on in that niche, talking about it could attract new readers who feel the same way. For example, if cronuts are a big thing and you're a food blogger, whip up a recipe – or try three and share your favorite (and why you think it's the best).
Make new friends: Seek out new blogging peers in a few Facebook groups or message boards. Become active on another site's comments or social media where you might find like minded people. Don't roll in trying to being all business, just make friends and help each other out. These organic connections can lead to awesome blogging collaborations, sharing ad network info, etc, etc.
This post is Part 3 in a three part series, so click either of the banners below if you'd like to read more about:


Still want more? You can also check out a roundup of additional posts by clicking on the image below, which will cover more information about: how our blog grew, how it makes money, how we schedule posts, what a typical day in the life of a full time blogger looks like, the top ten things we've learned about blogging, our top traffic numbers, and all that other stuff that seems to come up when we say "go ahead, ask us anything!"