We made some pretty awesome progress on the deck this weekend – even with a big water main break right in front of our house, which resulted in gallons of water rushing down the road until we discovered it and phoned it in. The result? Five men working for around seven hours (with our street's water turned off) to fix it via a giant hole that they dug in the corner of our yard/the road. Yikes!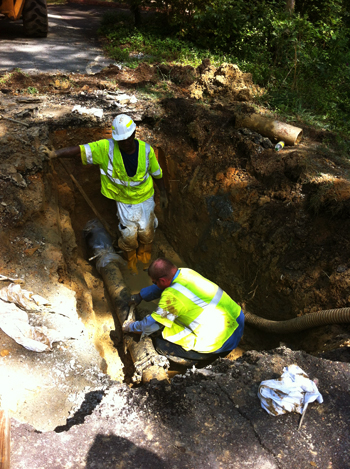 But they got 'er done, and the neighborhood rejoiced (running water is totally one of those things you take for granted until it's gone – like electricity and Oreos). So all is right with the world again (the water's back on!) and we'll be back with a full deck update tomorrow!
In the meantime, we're pretty much in love with this house. Which is why it's especially heartbreaking to me that I didn't get to snoop around in the flesh. We tried to arrange a house crash with Meghan back when we were in Atlanta for Haven, but with our crazy schedule (and her crazy schedule) we just couldn't make it work. But since Meghan takes some pretty great photos herself – and because I was so in love with her space – I had to share the eye candy with you guys – busy schedules be darned. So let's go for a virtual house crashing, shall we? Here's Meghan now, at the front door to greet us: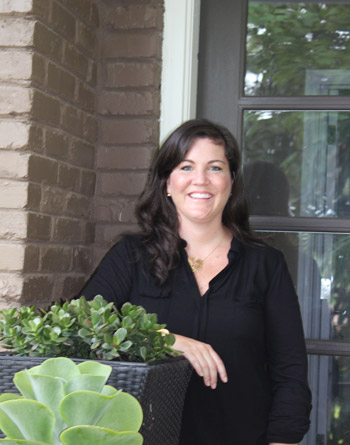 Meghan actually used to do hotel design in Atlanta (fun, right?) but now does residential interior stuff. So although she's a bonafide expert, we loved how affordable and inspiring her house was, so anyone could steal a tip or two. Let's start with her gorgeous living room/dining room. I really like how there's lots of texture and neutral tones, accented with a few pops of color, like that charming orange accent table (a cheap find from HomeGoods) and the yellow tray on the coffee table. And see that Buddha head next to the lamp? It's bronze and Meghan carried it back by hand from her honeymoon in Bali. Her husband was not pleased at the time, but thanks her now.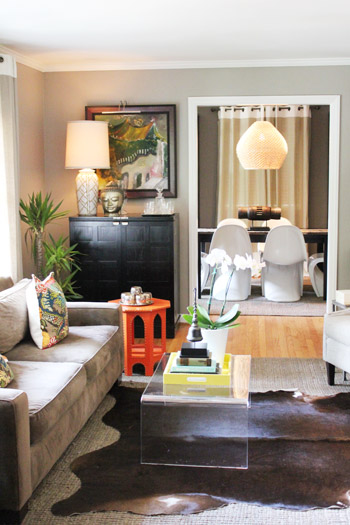 Here's the other side of the living room, complete with a gleaming grid of mirrors on the wall to toss around even more light. I especially love how there are sleek items (like the acrylic coffee table, which is from CB2 by the way) happily hanging out with more textured and nubby things (like the jute rug and those linen-ish chairs).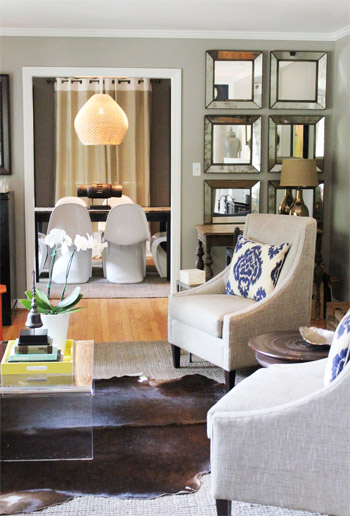 Speaking of texture, here's the dining chandelier. Hubba hubba, right? It's from West Elm.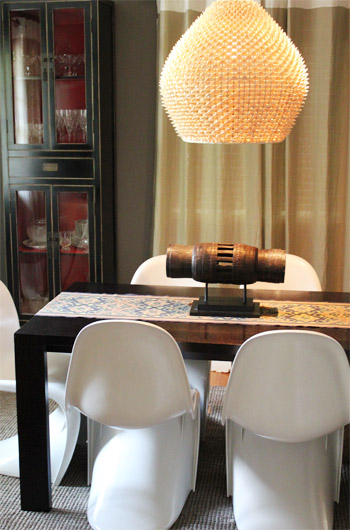 Once again Meghan mixed a few sleek items (like those sculptural white chairs) with more rough and textured pieces (like the pendant light and another natural fiber rug) for a balanced and collected-over-time effect.
Now let's check out the den. Isn't the grasscloth wallpaper (from a company called Innovations) so gorgeous? Especially paired with the dark sofa, iron coffee table, and the dark frame of the art. I love how this room feels so moody and inviting with warm pops of spicy orange and red to keep things interesting.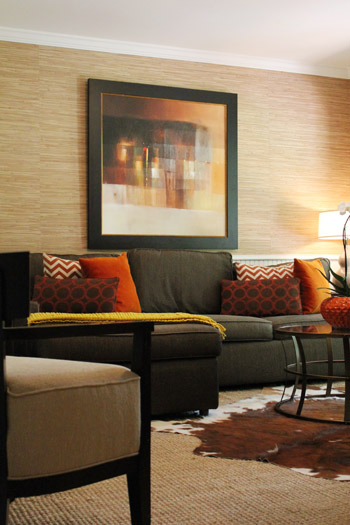 Here's a detail shot of a pretty little collection of vases that Meghan has on display. Once again there's some awesome texture going on (in the wallpaper, those sea fans from Etsy, and even the vases themselves, which are from Williams Sonoma).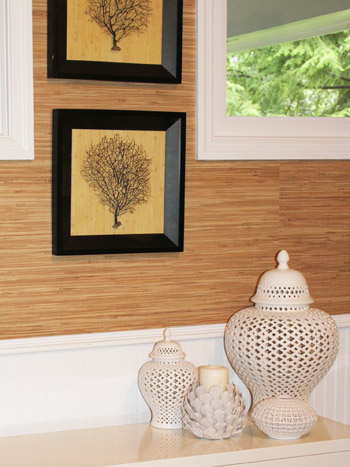 Here's Meghan's kitchen, complete with sleek stainless cabinet pulls and appliances. But once again there's a great dose of rustic texture thrown in there for balance (in the shade over the sink, the tone on tone backsplash tile, and the rug). Speaking of the rug, it's actually a hand-me-down from Meghan's husband's family.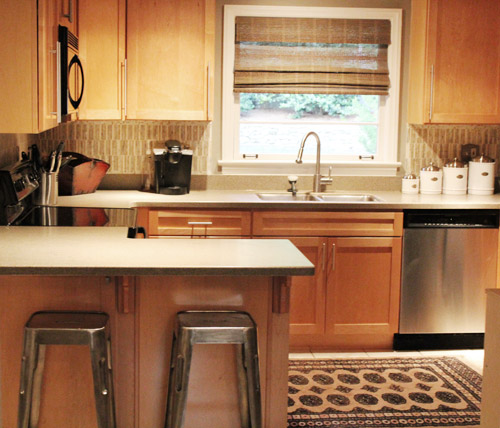 Here's the bedroom, with dark moody gray walls (you know we love gray walls in the bedroom…) and a gorgeous upholstered headboard that looks pretty darn inviting. Once again (just like the den) there are a few hits of warm reddish orange, and a few sophisticated patterns – like the striped pillows and the graphic rug from Crate & Barrel, which seem to add even more depth and interest to the space.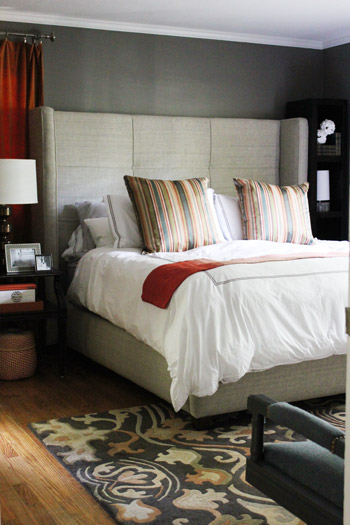 And if this outdoor space isn't the bees knees, I don't know what is. In love. With everything. From the giant sectional to those charming little white lace-like lanterns. Wish I could have soaked up this space in person… I bet it would have been even more amazing. Those blue pillows are from Target and the white lanterns are from HomeGoods by the way.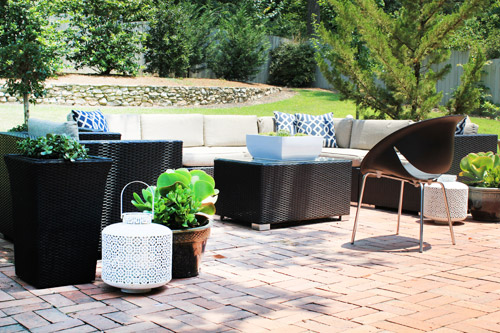 So that's Meghan's beautiful house in Atlanta. We're so thankful to her for inviting us inside to take a peek, and even though we couldn't make it work in person, we're extra thankful that she was able to take so many photos for us and describe each room in detail so I could share the goods! Oh and you can give Meghan a holler if you're in ATL and want her help with your house (her email is [email protected]), but first let's play the favorite part game. Mine is definitely that cozy den and the inviting outdoor area while John's is the dining room – specifically that awesome textured pendant light. What's yours?
Psst- You can check out dozens of other House Crashing adventures that we've shared right here.