Dude, my last trip to Ikea made me weak in the knees (especially since they rolled out a bunch of new stuff) so I took a bunch of photos for ya. Not for compensation or anything – these sprees are just for fun. So here's a little virtual store tour for ya. Let's get down to bid-ness.
Check out this gorgeous chair. I want him. Bad. This guy is the Storsele and it's $119. The black lacquer-ish finish had me at hello.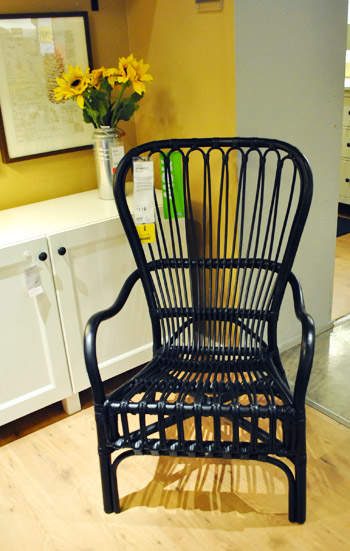 There were also these beauties: Hogsten ($89.99) & Storsele in yellow ($119.99). Doesn't that sound like a fancy store that sells… ties? Or cigars? Welcome to Hogsten & Storsele. It has a nice ring to it, right? And on a different subject, I totally want two yellow Storseles in my sunroom. I need me some Storsele, stat!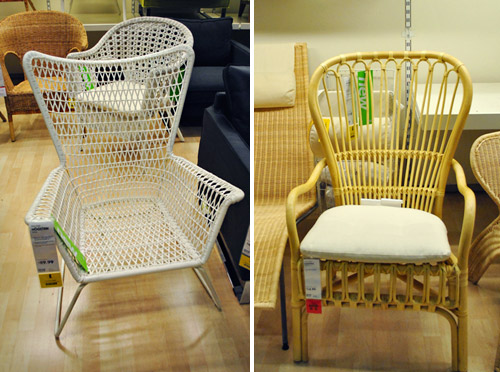 Then there are these guys. The name? Vittsjo (the small one is $40 and the big is $70). There have been some pretty awesome blogosphere makeovers with these guys (sprayed gold, white, teal, etc). Love that.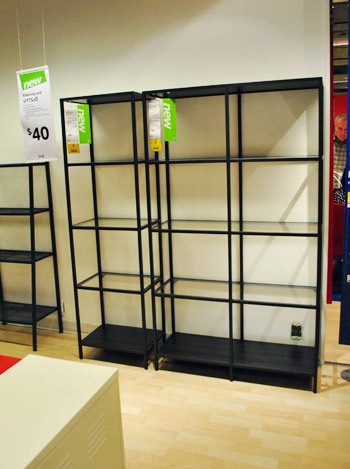 We also gave this little Stockholm Sofa Table ($199) a few looks. It's charmingly mid-century-modern-ish. Nice legs ya got there girl.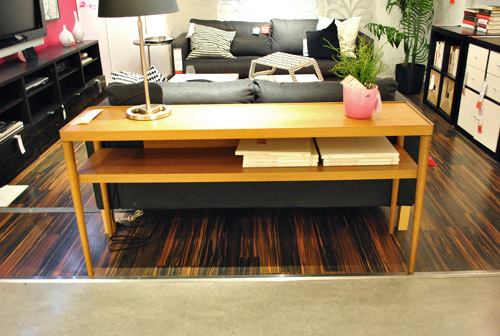 They also had these new colored Malm dressers, which were $49.99 for the small one and $79.99 for the large one. I thought the teal color was nice and muddy (not too neon, sort of moody and smokey).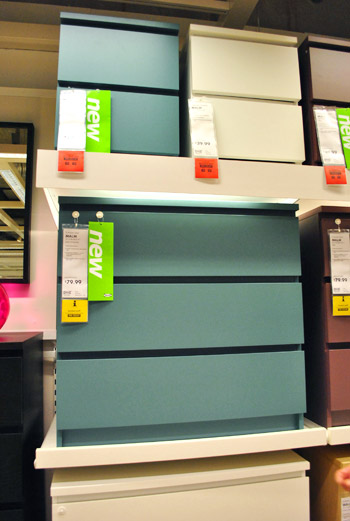 There were also these Slatthult stickers for $9.99, which could probably look pretty sweet in the right application (I'm picturing them in girl's room with light light light pink walls and a bunch of white furniture and bedding) so it's a pretty little pop of flower power in an otherwise understated space.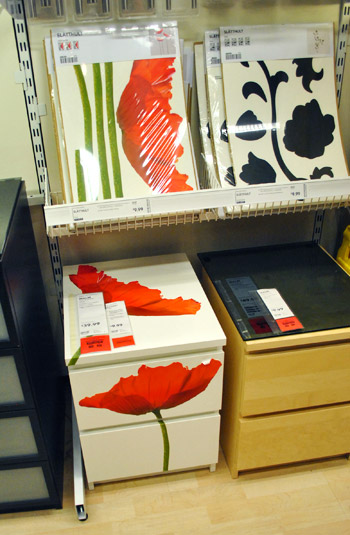 We tried to link to as many things as we could find on ikea.com in this post, so if you don't see a link/price it's just because we couldn't find it (but if you love something I would just go to ikea.com or the store to see if you can find more info). No idea what this table's name is but I thought he was charming. The price was good too, although I don't remember it. I know, I'm useless. Haha.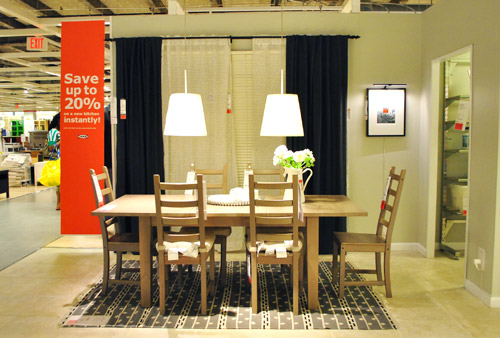 Oh yeah and I liked this little pantry. Probably because I have a pantry obsession (someday I WILL have one!). It was just a small room they added shelving to (the Broder series) and made it all organized and pantry like. Cuteness.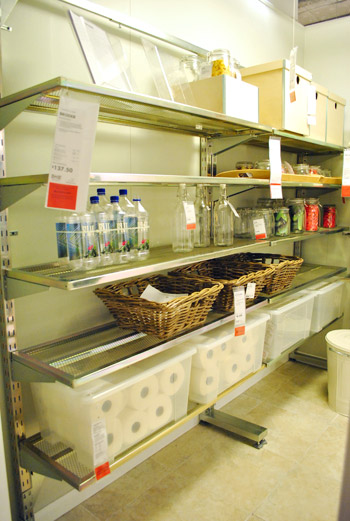 Then we stopped to watch the cabinet drawers open and close a million times like a big kitchen robot (it's a little durability demonstration). Clara was mesmerized.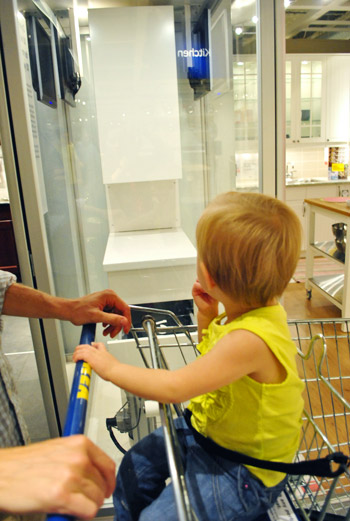 Speaking of Clara, I thought this cute kid bedding was sweet. I could totally picture the woodland duvet on the left working in a rustic space with a faux sheepskin rug and some raw wood floors and beams. And the modern green duvet on the right would be sweet in a room with dark charcoal walls and sleek white furniture.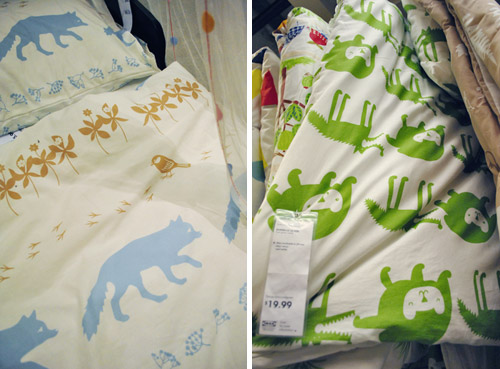 When it came to adult bedding, this Malin Blad duvet ($19.99) was cute. It was sort of inky, like someone sketched it with a ball point pen.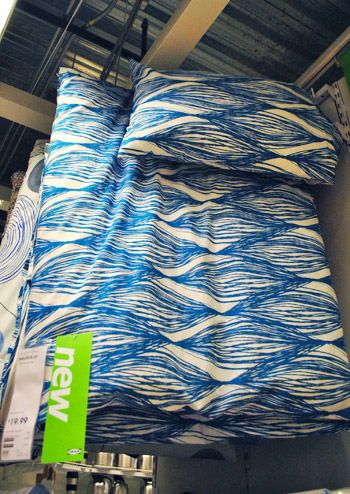 I grabbed two of these $7 pillow covers (Malin Figur) – couldn't resist them. I could totally build an entire big girl room for Clara around them. Completely smitten.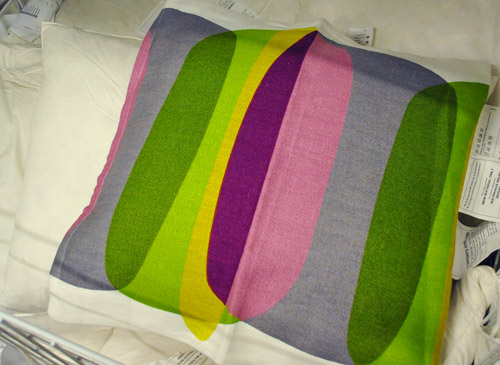 This map pillow was cute too (Benzy Land, $12.99). Might look dapper in a navy den with lots of wood furniture and a brick fireplace. Kinda cozy meets pirate. Is that a decor style?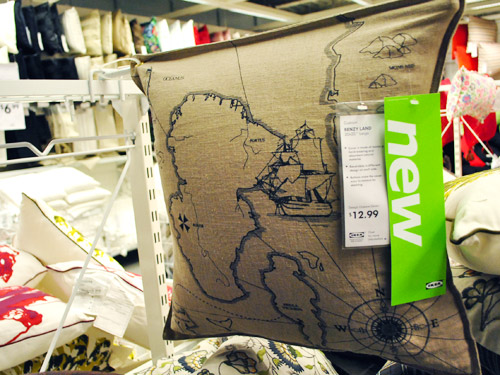 Of course I stopped to gaze up at all the fun fabrics (here's their fabric page). These two were my favorites. The one on the left felt like a very very abstract ikat with the same soft colors as the pillow covers I got. Pretty. And the one on the right was sort of a modern floral illustration. So cool.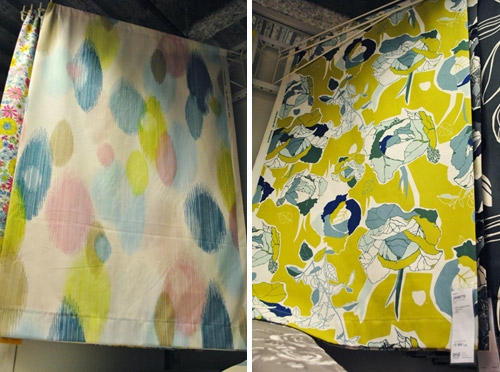 I'm also forever in love with these curtains. I'm pretty sure I take a picture of them every time we go.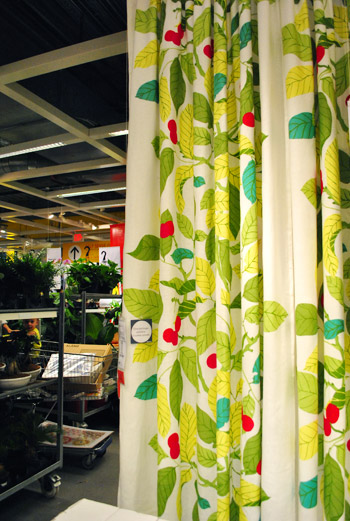 John and I aren't the only ones who check out curtains, here's Clara completely immersing herself in curtain hunting. She was hilarious.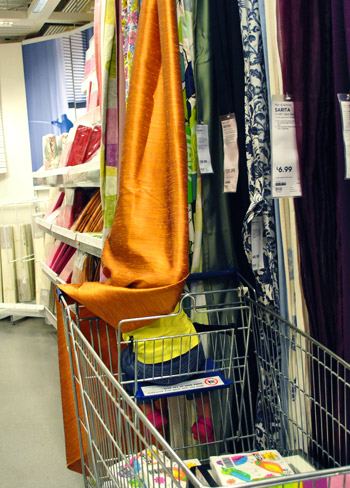 This kids light was also pretty funny (Ikea PS) since you could fill it with anything. So from matchbox cars to finger puppets or whatever else your kid is into, it's kinda fun. Heck, it would be sweet full of colorful spools of thread in a craft room or playroom too.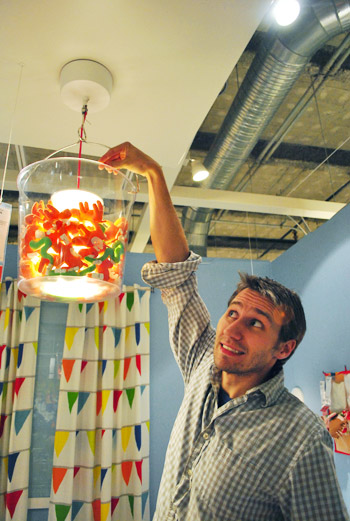 This $10 poster was cute too (Bild, cosmos 4). Might have jumped in our cart since it looked so cute with my pillow covers. Yes, apparently I'm already well on the way to completing Clara's big girl room (meanwhile the playroom is completely full of secret book stuff and unfinished projects that we have to deal with first). Oh well, at least I'm ready when that day comes…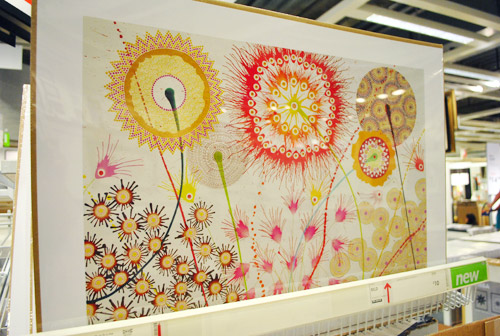 This new little potting/storage bench was pretty cute too (Applaro, $126.96). The colorful blue planters on the top shelf = my kinda pots.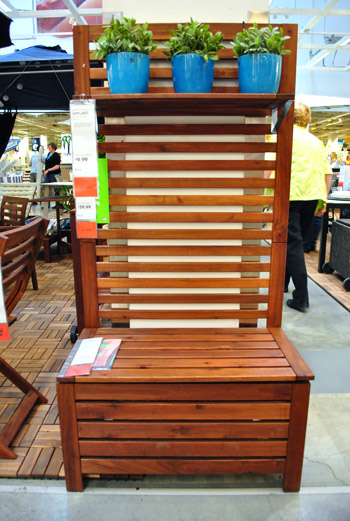 We also checked the As-Is section for deals and saw this guy sitting there waiting for someone to take him home. It looked new and was 33% off (and already assembled, which can be a huge plus if you have a big enough car to cart him home like that).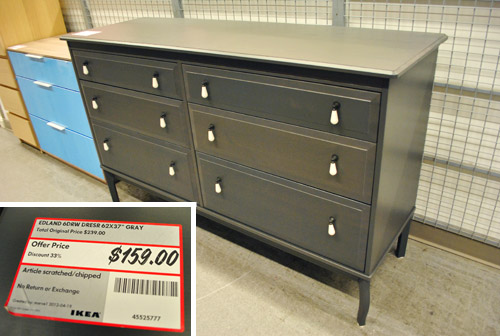 And so ends our Ikea adventure. Anyone else been there poking around lately? Were you as smitten with Hogsten and Storsele? Did you indulge in a delectable ice cream cone on the way out?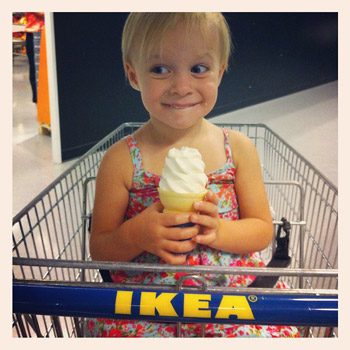 Notice we (and by we I mean Clara) had a little outfit change since we were heading to see the family? Probably should have done that after the ice cream cone…
Psst- Once again for the people in the back, we weren't paid or perked for this post, I just like taking you guys shopping with me. Check out all of our other Window Shopping sprees (both here in Richmond and on the road, in big box stores or small local shops).
Pssst- We're over on Young House Life talking about Burger. Specifically, what he doesn't like. Dude's got opinions.