After Sherry revealed her deep, dark design secrets last week (i.e. cringeworthy photos of her childhood and college bedrooms), I figured it was only fair that I cough up some of mine. I tried digging up pictures of my childhood bedroom (think royal blue carpet that served as the "ocean" to my Lego islands) and my high school bedroom (color scheme = gray on gray on gray) but had little luck.
But I couldn't dodge the reveal-my-past bullet when it came to college. In fact, when you see how diligently I documented my dorm rooms, it's like I practically fired that bullet at myself point blank. As you can see below, I not only photographed my freshman dorm room – I COLLAGED it into some weird makeshift panorama art piece (click to see it larger on Flickr).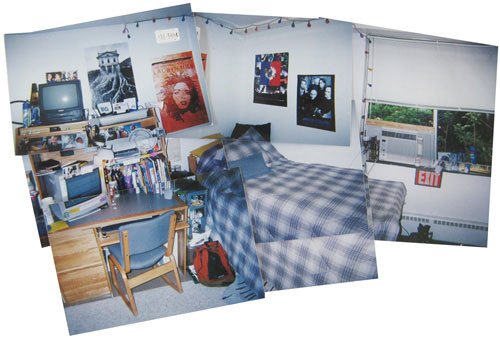 This is the corner of a room I shared with a roommate (for all those UVA folks out there: I lived in Dunglison, and yes, I know I should've said "first year" instead of "freshman" earlier but I'm translating for non UVAers). Some items to highlight (besides that oh-so-teenage obsession with taping pictures everywhere):
You can see my favorite high school color (gray) followed me to college
My interesting choice in music posters: Third Eye Blind, Dave Matthews Band and… Lauren Hill (one of these things is not like the other)
Above Lauren Hill, the license plate from my recently-deceased first car (a Dodge caravan with wood paneling). I still have this license plate in case Sherry ever wants to break it out again for some amazing home decor project (to this she replied: not likely).
Dorm room staples: string lights and a lava lamp (ladies love them… don't they?).
Not one, not two, but three page-a-day calendars (clearly I had a problem)
And perhaps the first indication that I would become fond of hidden storage & repurposing: my silver trunk-turned-nightstand.
But as if one weird photo collage wasn't enough to document my undergraduate design sense, I apparently repeated this collaging process to forever memorialize my senior year apartment as well. Only by this time I had upgraded to a digital camera so I assembled this visual masterpiece/mindfreak in Photoshop, meaning you get to a complete 360 view of the room. I know, I'm fancy.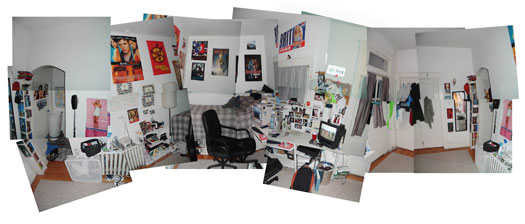 Oh and again you can click to enlarge it. This apartment was in an old house which had been made college-kid-ready by basically designating any room with a door as a bedroom (except for the bathrooms, of course). So there were 10 of us living under one roof, each with our own room. It was, in a word, awesome. My room was the former mudroom so it very long and narrow, plus it featured exhaust hookups for a washer/dryer and a door directly to the outside world (this was a huge perk at the time). You'll see that my style did not evolve much from my previous dorm room:
Gray is still the color of choice, now including the "custom" curtains I fashioned out of sheets and pillowcases (not unlike Sherry's old sleepwear-turned-pillow project… we were meant to be)
Music posters still rule, though Britney Spears became the new lady of choice (obviously not for her musical talents)
My trusty license plate continued to qualify as "creative art," joined also by an NYC subway map, some illustrations torn from playbills and – oddly enough – my previous dorm photo collage (you'd really have to squint to see it).
My love of hidden storage continued. That bed was the top half of my childhood bunkbed from Ikea so it sat with about 2 feet of storage underneath it (sadly, it later became a victim of my bed bug infestation). I also bought an Ikea bookcase, laid it on its side and used it to house all of my schoolbooks and computer equipment. But my long bedspread covered it so I never had to keep it clean. Perfect for a messy 21-year-old guy.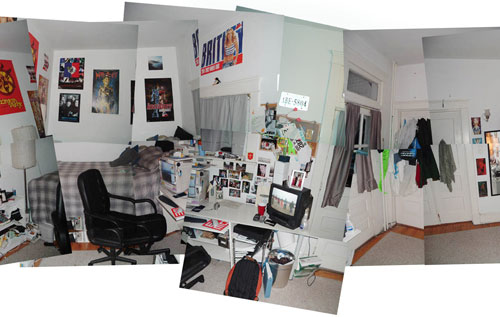 At most, I would say there were subtle hints (very, very subtle hints) in there that I would someday actually enjoy space planning and design. Maybe my preference for gray led to our love of neutrals? Perhaps my trunk-turned-bedside table indicated the plethora of storage ottomans that would someday fill our abode? Maybe my obsessive documenting of every angle of my room foreshadowed a future in documenting my home for the world to see? Little known fact: I was the one who started this blog to document our house and Sherry was initially less than thrilled at the idea. Funny how things work out, eh?
Oh, and since I manged not to snap any photos of myself in my rooms while wearing airbrushed winking jeans, it's only fair to share this Flickr group full of some less than flattering photos of me (bonus: you get to see Sherry in all of her previously-blonde glory).