HOODWINKED! As in, we did the hoodwinking. After months of having our eye on a stainless steel chimney hood for above the stove in our new kitchen, the $1579 price tag was still hard to swallow. And then something that can only be described as a miracle happened. We found one for $350.
It turns out that a high-end European brand wanted to break into the US market, so they offered their swank chimney hood exclusively to Home Depot at a staggering $350 price. Home Depot gladly accepted and within weeks it had sold out. But not before we snagged one!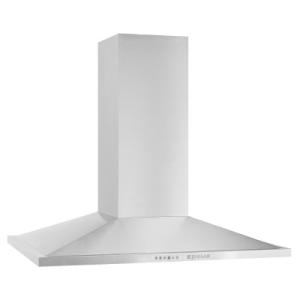 And get this- according to the salesman, the company is so known for its top of the line products (and top of the chart prices) that they CHANGED THEIR NAME to Arietta for their Home Depot line, so their European clients wouldn't become enraged over the insanely low prices being offered in the US. Victory is ours!