"Not funny." That's what I said when a tree branch across the street fell and took out our power yesterday, a mere two minutes before Richard-the-mason and his crew arrived. Luckily, widening a brick wall is mostly manual work – and chipping out bricks and cinder blocks isn't contingent upon electricity. When the power hummed back on about an hour later, the crew hardly noticed (picture me jumping for joy in the background while they continued to chip and hammer away).
By the end of the day, the brick doorway was finally widened to a glorious 5 foot opening…and the house didn't fall down in the process! Check out the end result of a project that had some contractors running in fear (as viewed from the kitchen looking into the den):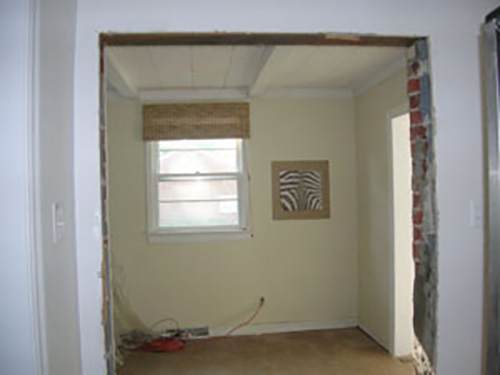 Now the crew's here framing out the opening and it's just amazing to see how HUGE the living room, kitchen, and den feel now that they're all so open to each other. Here's a photo taken from the living room that demonstrates how the new, wider openings into the kitchen and den make all the rooms feel a lot more 2007 (as opposed to 1956).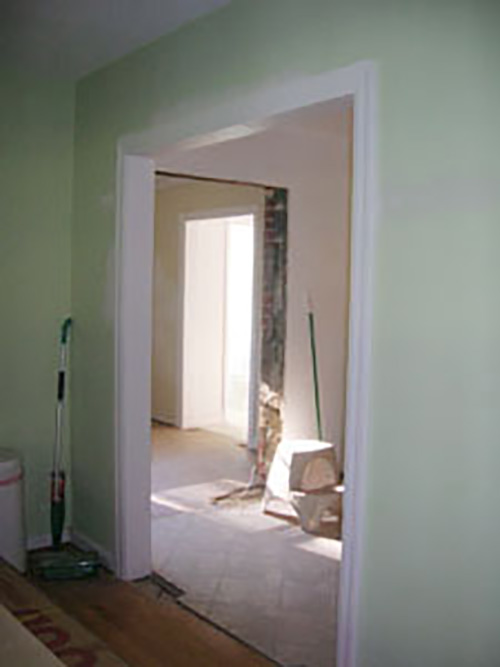 You used to see only a tiny doorway leading into the kitchen from the front door of the house. Now you can see through the kitchen into the den and even beyond the den into the hallway that leads to the sunroom. Totally worth all the dust and demolition.