So… the living room. First it looked like this: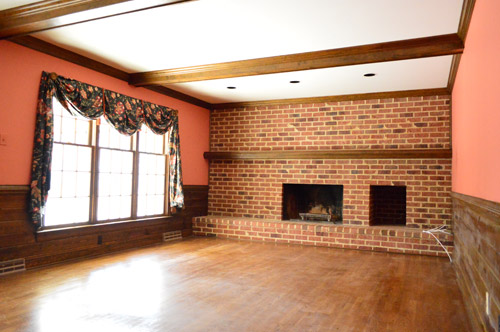 Then it looked like this: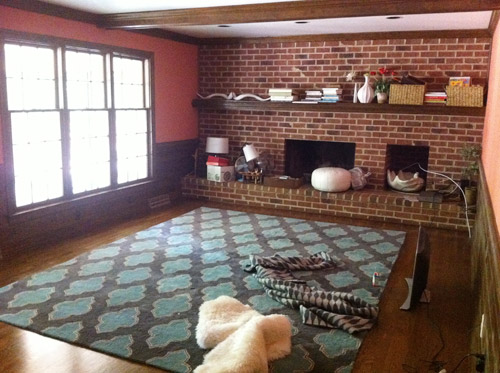 Then it looked like this: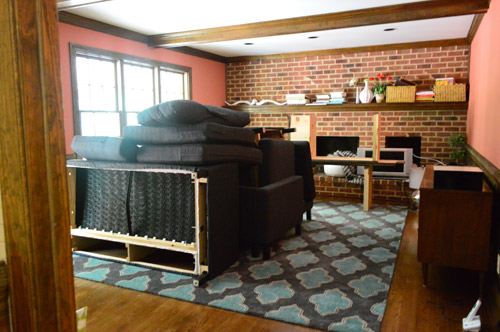 And now it looks like this: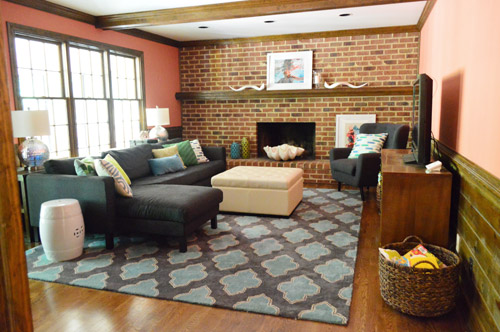 Although the salmon pink walls, orange-brown bricks, and all of that dark wood trim & paneling is a far cry from our vision for this room down the line (we keep changing our minds, but today we're dreaming of something like this for the brick, coffered ceilings like this, and this for the paneling someday) it definitely feels a lot homier already. You know, with a couch to sit on instead of a pile of non-sit-on-able furniture.
Oh and we shared this picture on Instagram/FB a few nights back, but don't you think salmon is Burger's color? That is one good lookin' chihuahua. Not that I'm biased or anything.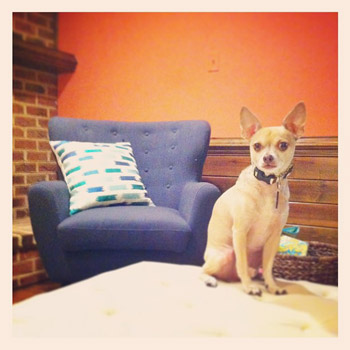 As for our sectional shrinkage (I'll pause while you titter) we needed a giant sofa for our last house's giant 25′ long living room. Pictures truly didn't do that room's colossal size justice, but the sectional was thirteen feet long and almost that deep (the average sofa is usually around seven feet long for comparison).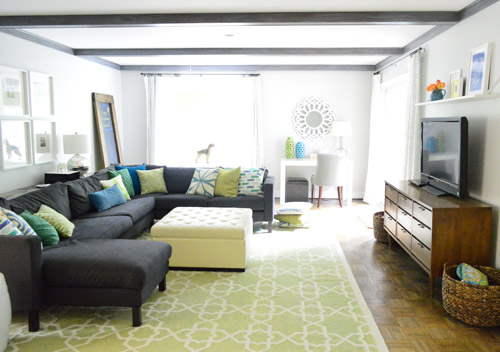 And while some folks love giant rooms and giant sofas, our first house's cozy den was the room we missed the most…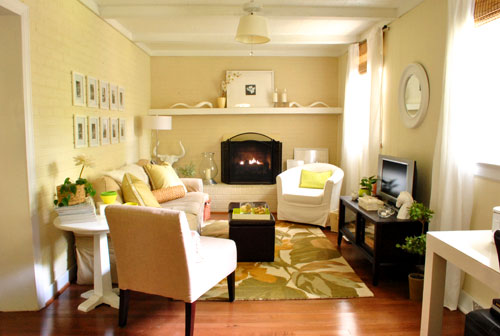 … so we pretty much thought it was fate when we saw our new house and the living room reminded us of that cozy room. I think they're cousins. Here's the before shot of our first house's den to compare with the first picture in this post.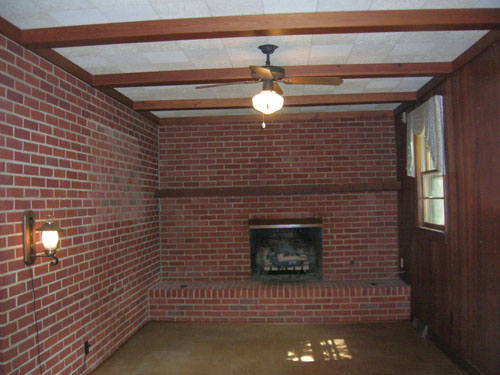 Anyway, our Karlstad sectional from Ikea (Karl for short) came in four switch-around-able pieces, so we decided that keeping the sofa + the chaise (and losing the loveseat and corner seat that made it into a giant U-shaped couch) made the most sense for our new living room.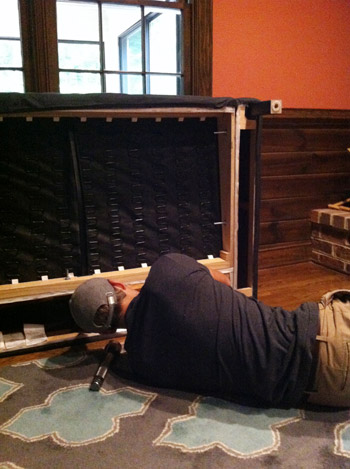 So without buying any additional pieces we were able to just connect the exterior arm that used to live on the end of the sectional to the sofa part and remove the extra stuff in the middle (corner piece and loveseat). Only took about fifteen minutes. And as for the unused two pieces that we removed, we stuck those up in the unfinished storage room with a plastic drop cloth around them. Why didn't we craigslist them? We just figured selling the corner and loveseat to a sofa that's incomplete without another end piece that someone would have to purchase might fetch us $20 tops, and it's worth more just to hold onto them in case we get a new living room couch in a decade or so and decide to use Karl up in the bunkroom/movie room when we finish that space down the line.
We also built the console behind the sofa two years ago, which we made in three interlockable pieces. And the cool thing is that we realized that if we left out the middle piece it almost fit perfectly behind the freshly shrunk sofa. Almost is the key word since it's still about 6″ too long (over on the fireplace side there's some overhang) but it works for now, and we're planning to shorten it so it's completely fitted for this room.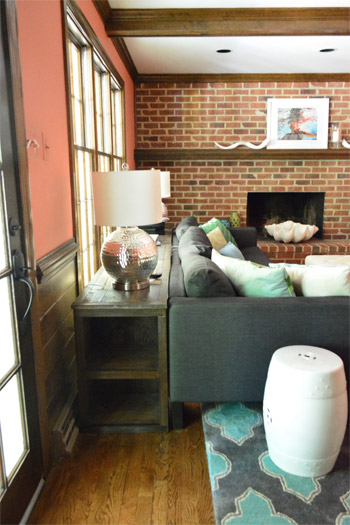 After a few years of living with a big padded storage ottoman instead of a coffee table and a console that spans the width of the sofa, we've just learned that it's really functional for our family to have the console (for things like tea at night) and an ottoman (for hiding toys and for Clara to lounge on during the day).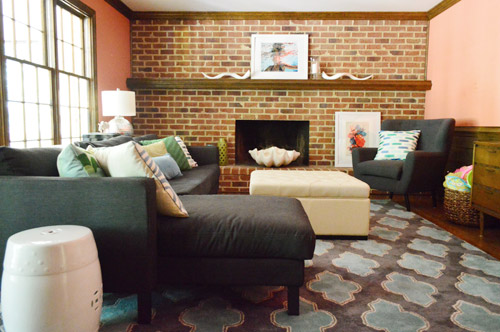 Oh and you might notice that the second hole in the brick fireplace wall, which was meant for firewood back in the day, has been covered by a leaning frame. It just felt like a big dark hole whenever I glanced at it from the sofa, and since this fireplace is no longer functional (we'd love to slip a gas insert into it down the line) we didn't need it staring at us while we gasped over the last four minutes of last week's Game Of Thrones episode. Seriously, I audibly gasped at least a dozen times in that span of about four minutes.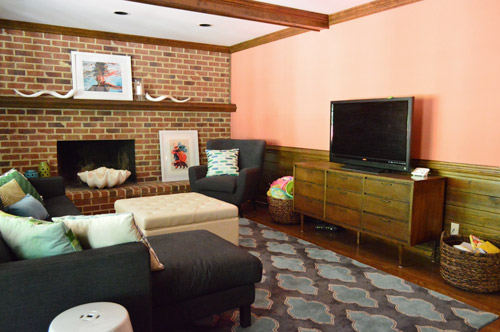 As for the other side of the room, we're keeping the 80's wet bar closed off with doors for now (we'd love to expand the doorway to the kitchen into that area down the line since we don't really have a use for it) but I did have some fun putting things on the built-ins in the corner.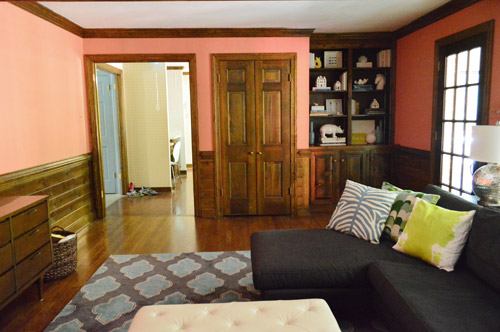 Yup, it turns out when my house is full of freshly deposited moving chaos, I like to putter around with books and ceramic animals. So while it looked like this on moving day…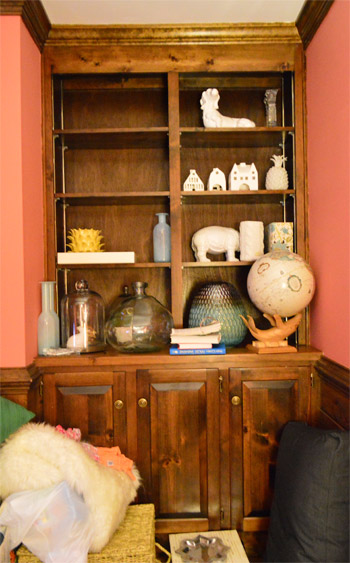 … within 24 hours it looked like this.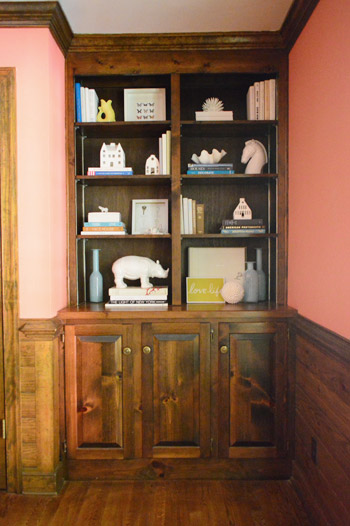 The rest of the house still looked completely trashed, but this little corner was happy. #smallvictories
Oh and we took down a bunch of doors on the first floor that blocked off spaces that we prefer to be left open for better flow (the doors on the right block the foyer from the kitchen and the doors on the left block the kitchen from the living room).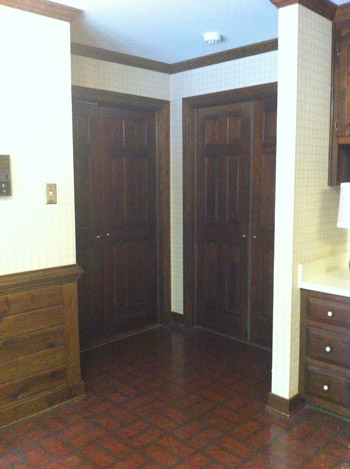 Now we can peek in on Clara in the living room while we cook in the kitchen, and there's a nice view of the big bay of windows in the back of the kitchen from the foyer instead of staring at two dark and heavy doors about ten feet from the entryway. Clearly there's still some crazy color going on when you catch a few rooms in one view, but you gotta start somewhere…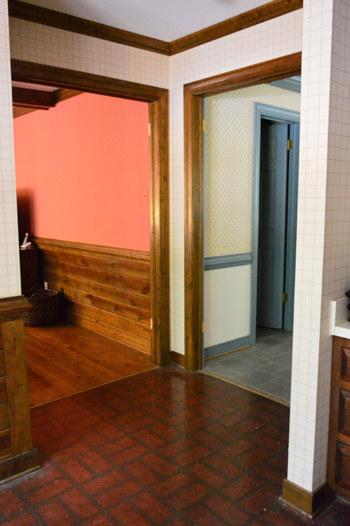 We also took down the doors that blocked off the kitchen from the dining room. It's amazing how much breezier it feels – even with a bunch of rooms full of dark blue trim, wood paneling, and a boatload of wallpaper (there are at least five different types of wallpaper going on in our house). Speaking of wallpaper, that's pretty high on my attack list. I think I'm going to test out a bunch of different techniques for you guys and rate them all (should be fun to see which are urban DIY legends and which ones work the best). And… that's the kind of thing that gets me excited. Yup. I'm grinning at the computer right now. Get a hold of yourself Petersik.