Happy Friday, y'all! What is it about sunroom ceiling demo that gets me all hyper and clammy? Yes, that's continuing today (we're still opening things up and waiting on some expert advice) but I promise we'll have an official update for you guys on Monday! And now, just for good measure, more exclamation points!!!!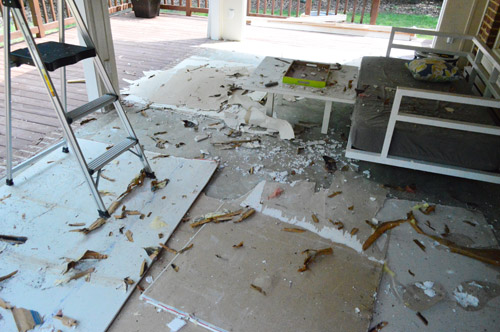 In the meantime, I figured after a big week of sunroom demo, whitewashing, sunroom rebuilding, and more sunroom demo, it was high time for a budget blooms post. We used to do these every month, and then I fell off last year. And then I got back on the wagon and fell off again later last year. But I'm baaaaaaack! Not with one, but four different arrangements. #livedangerously
We had a shoot at our house a little while ago (more details on that as soon as we're allowed to spill them) and that meant there were some fresh grocery store flowers floating around. There was one bouquet of white roses, one bouquet of tulips, and one mixed bouquet – all bought at Kroger (although Trader Joe's also has great, cheap flowers). For the roses, I cut them all the same length, and stuck them in a glass cup, which I slipped into an old woven basket from Ikea. It's cute and pretty darn error proof (with flowers if it's not easy, I can't do it).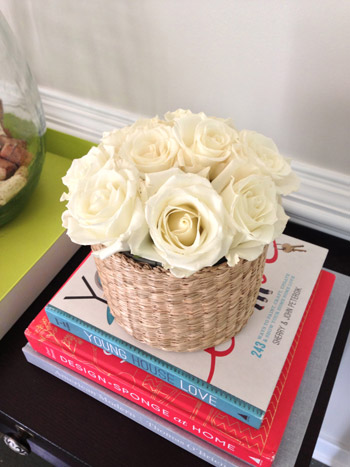 For the tulips I went with a red pitcher from World Market a while back. I have a thing for flowers in pitchers (both the clear glass kind or colorful ceramic ones like this). I did remove some of the extra leaves, just so they weren't as crowded, and I dropped a penny in the water since that's rumored to keep them from getting too droopy.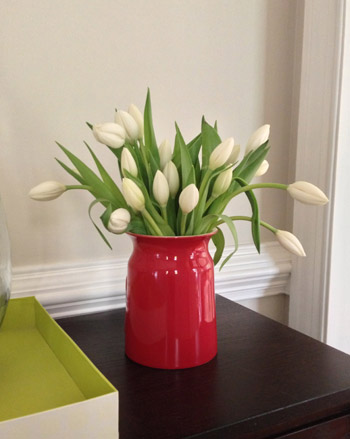 The mixed bouquet got trimmed a little and paired with a traditional glass vase. I get nervous about dealing with lots of different flowers (all of the same type seems more idiot-proof, which is my flower love language) but one thing that's fun about mixed blooms is that you can just spin the container around until you like the view.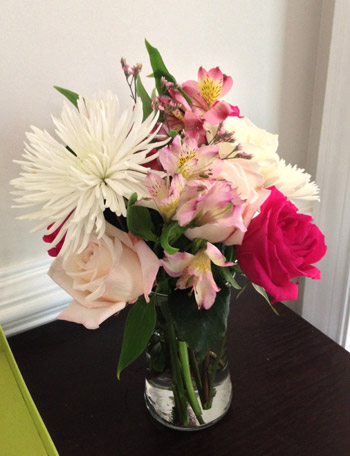 You know, because it keeps changing as you rotate that vase like that round bed in Austin Powers.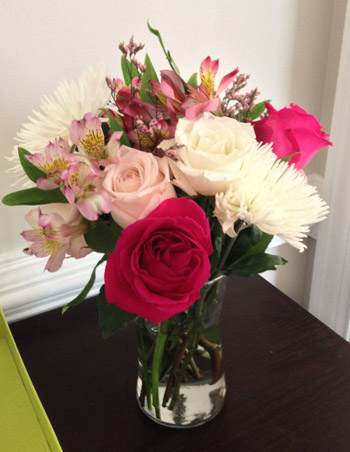 Here's the last arrangement (let's call this one Flower Lite). I just stole a lily stem from the mixed bouquet above and stuck it into an antique milk jug that I found at a secondhand shop in Cape Charles (we were there for a day trip a little while back).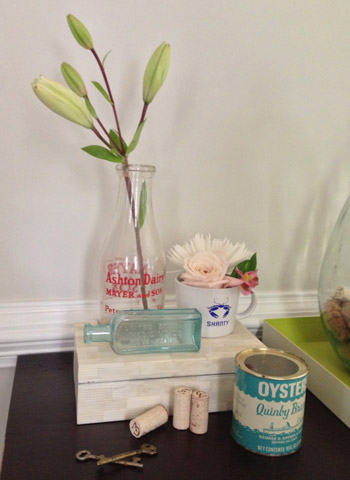 That's also where we bought that old turquoise oyster tin and the cool blue bottle (it's an old NYC medicine bottle). We also got the mug that says "Shanty" on it while we were there (we ate at Shanty for lunch and I couldn't leave without buying a crabby little mug), which I filled with a few more flowers stolen from the mixed bouquet.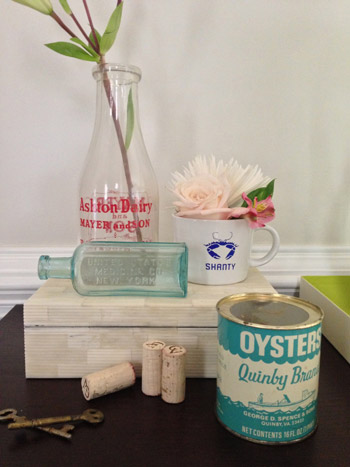 Happy Friday, guys! Hope it's full of flowers and flying demo dust!