The deed is done. Behold, our freshly painted foyer: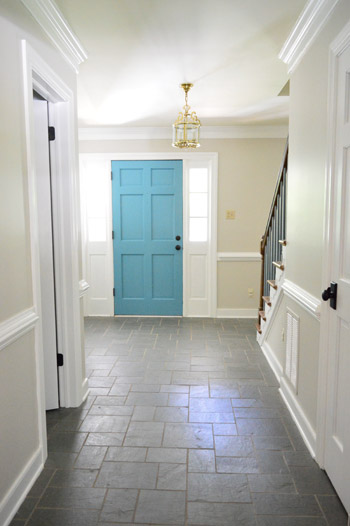 It feels about a foot taller and at least two feet wider than it did before. Ah, the power of paint.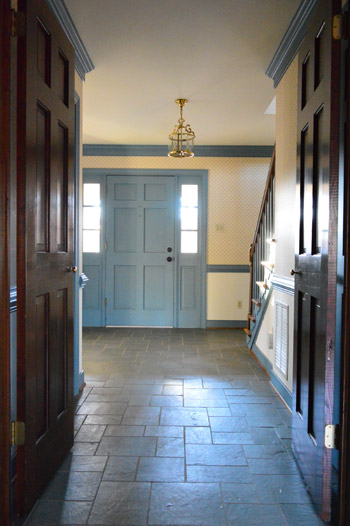 This shot's probably the most accurate when it comes to color. It's definitely one of those soft neutrals that shifts throughout the day, but I'd say it's one part sand and one part greige. Not too cool and not too warm. And pretty darn beautiful with white trim.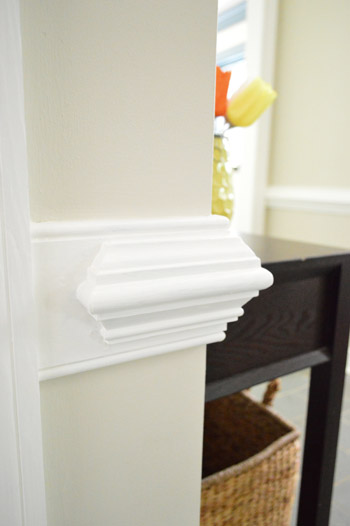 As for choosing the color, we mentioned a bunch of swatches we were loving in this post, and shared this little makeshift palette: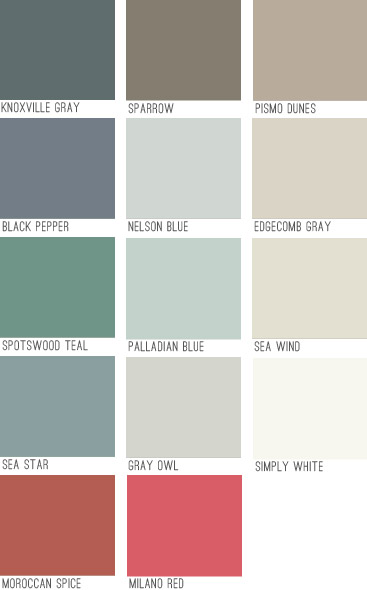 Can you guess who ended up in the foyer?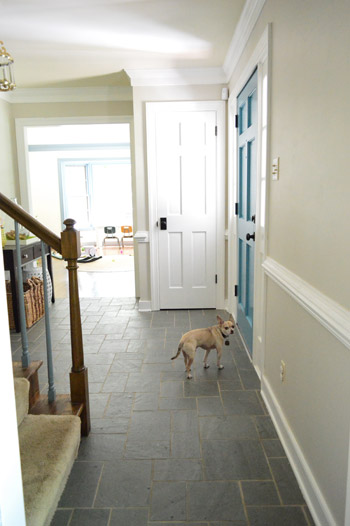 Good ol' Edgecomb Gray. The funny part about that swatch is it's not really gray (it's warmer, like a soft milky tan). Another pretty hilarious thing about it is that it looked terrible in our last house, but here it's gorgeous (it's crazy how differently a swatch can read depending on the lighting situation, what direction your room faces, etc). So in a sea of paint chips it was an easy choice. Which is nice because it's a pretty big commitment.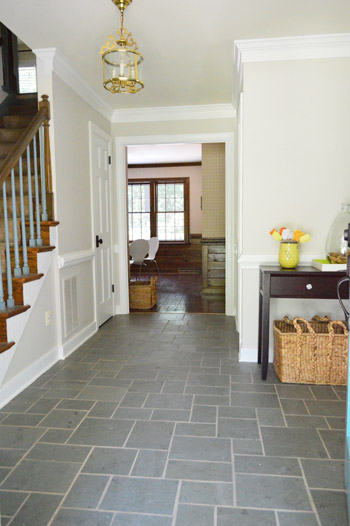 The foyer leads to four downstairs rooms as well as flowing up the stairs and into the hallway up there which leads to six additional rooms – so we knew that whatever we chose would have to work well with any other wall colors we'd be choosing for all ten of those spaces that will connect to it.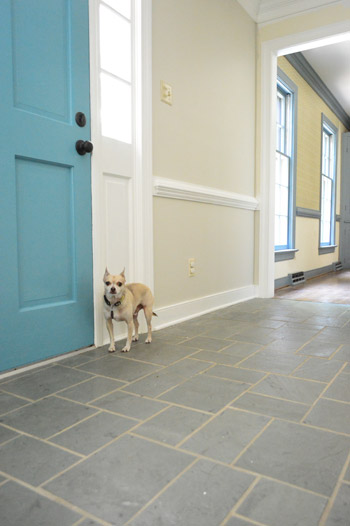 As for getting it up on the walls, first we filled in a few nail holes with spackle and then primed those spots as well as any areas that had raw drywall (from our wallpaper peeling adventures).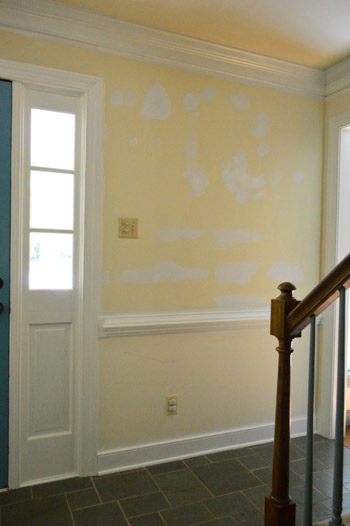 Then it was painting time. It thankfully only took two coats (as opposed to the trim, which took four). We went with an eggshell finish in BM's no-VOC Natura stuff, so John got his roll on and I cut in – yes, around chair rail, crown molding, baseboards, and seven (!!) doorways.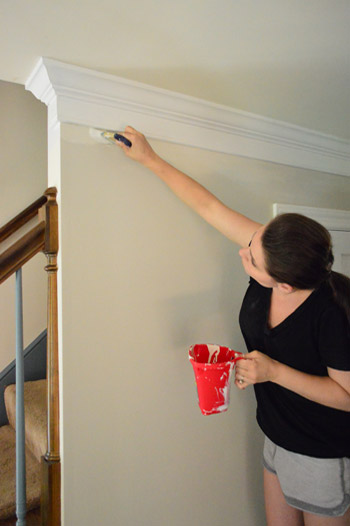 As you can imagine it took John about one tenth of the time to roll that it took me to cut in around all of those edges, but it was totally worth it. I love the new wall color so much that I could do a musical number about it. (Seriously, don't tempt me – I'm a terrible dancer).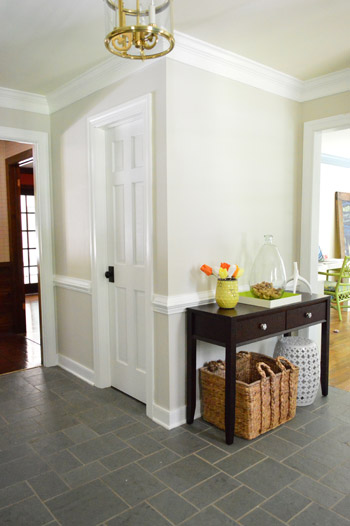 It's one of those colors that changes throughout the day and feels so airy and breezy, like the sky at the beach. Some moments it's like the lightest part of a platinum cloud, and other moments it's warmer and richer – like coffee with lots of milk swirling around in there.
Oh and after our paint job, we switched out the old yellowed outlets and switches for crisp new white ones. Such a cheap fix, but just like fresh paint, they go a long way in making the room feel updated.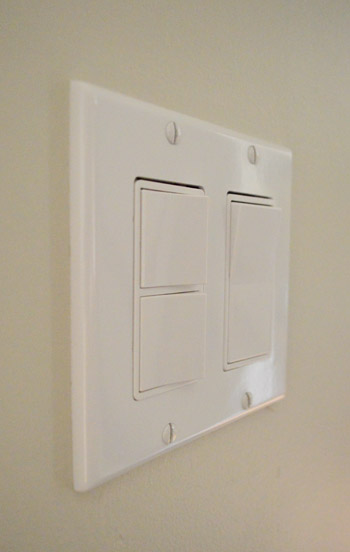 Can't wait to get some art going on. Oh yeah and paint the other fifteen rooms in our house (note to self: don't think about that, just focus on your musical number).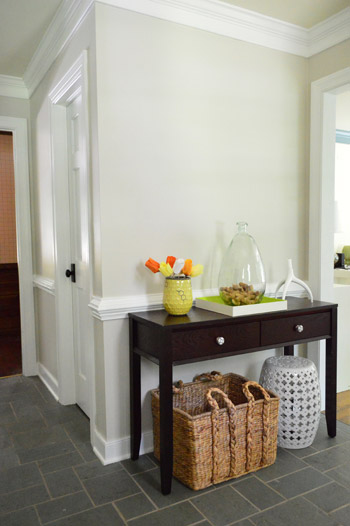 It's nice to have a pop of color in the door since all of the white trim and doors around it seem to temper it while the neutral walls and the dark floors and door hardware ground things. And you know the light fixture is on my ORB list.
I like this shot because the blue spindles leading up the stairs almost look black instead of periwinkle blue. Although I think we're leaning towards white for those spindles (when we can work up the energy to do four coats on them) and eventually we'd love to ebonize the top part of the railing to go with the dark door hardware everywhere. Sort of like this or this.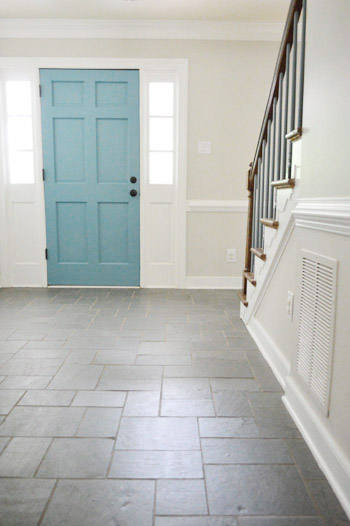 In the meantime we're just soaking up the victory of completing a whole lotta trim, doors, chair rail, crown, and getting some fresh paint on the walls in there.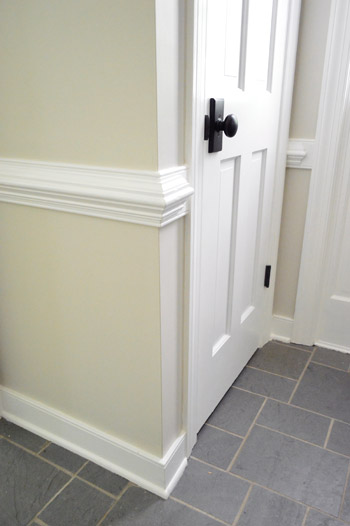 Change is good.
Psst: Chop Suey Books is a great local bookstore here in Richmond, and they're selling signed copies of our book for 10% off until the end of the week (they take phone & email orders and can ship overseas).