***This giveaway is no longer accepting entries – see who won below!***

And the randomly selected person who's starting their new year off with prize is… Jennifer (who answered this week's question with a Canadian folk lyric – which I had to look up, mind you: "Lukey's boat is painted green, Ha, me boys!"). Congrats Jennifer!
Raise your hand if you know what a bathymetric chart is. I didn't before this giveaway, but it's basically like a topographic map for what lies underwater. But the more important thing to know is that the married duo behind Below the Boat turns these charts into gorgeous, laser-cut, hand-assembled works of art. They're beautifully intricate and fascinatingly detailed. And they've got lots of bodies of water from the east coast, west coast, and even some lakes in between. One of you is gonna win up to $300 worth of bathymetric chart-y goodnesst this week. So… ahoy!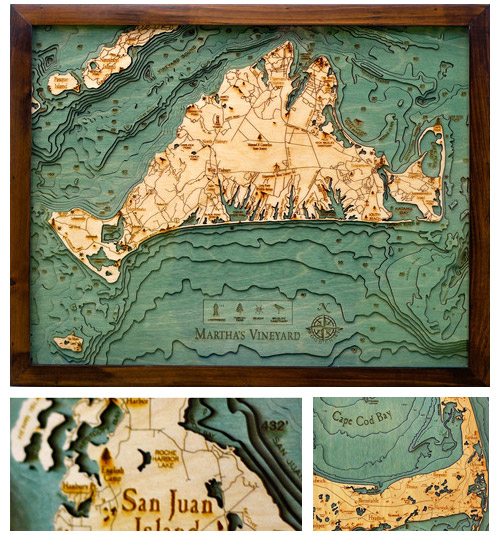 PRIZE: Any single framed map up to $300 (or any combination of two maps that add up to $300) from Below The Boat.
TO ENTER: Comment on this post with the words "BOAT ME!" and tell us…
BONUS QUESTION: …if you had to venture out on a boat, what kind would it be? Would you opt for a luxury cruise? Venture out on a sailboat? Are you more into kayaks or canoes? Maybe you'd like living on a house boat? Or perhaps any kind of boat is your ultimate nightmare?
GIVEAWAY CLOSES: Wednesday, January 2nd at 8pm EST or at 10,000 entries (whichever comes first)
NUMBER OF WINNERS: One
PRIZE SHIPS: This giveaway is available worldwide!
DISCOUNT: 15% off with code YHLNEWYEAR (valid through Father's Day, which is June 16th, 2013)
USUAL STUFF: One entry per e-mail address is permitted. The winner will be selected using random.org and announced on Thursday as an update to this post. That's right, come right back here on Thursday for the announcement of our winner. Good luck…
***COMMENT ISSUES? If you're trying to enter but keep getting a "duplicate comment" warning, click here to see how to solve it!
Note: We aren't paid or perked for hosting these giveaways, we just do 'em to thank you awesome folks for stopping in. See our Giveaway FAQ page for more info. Pics courtesy of Below The Boat.