UPDATE: Entry for this contest is now closed. Thanks to everyone who's entered… all 500-some of you. The winner will be announced on December 18th.
Calling all handymen and handywomen, we've got a giveaway that's just for you: the brand-spankin-new TrackSaw from DeWalt (which retails for $500 by the way).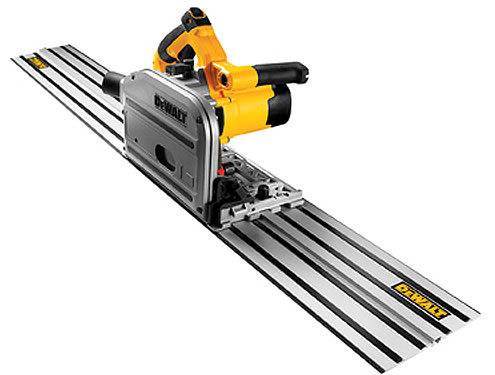 I'll be honest, Sherry and I are a little basic when it comes to the power tools (we've only got a combo screwdriver and drill) so I was a bit clueless when I heard the word "TrackSaw." But what we've since learned is that this baby combines the portability of a circular saw and the accuracy (i.e. straight cuts) of a table saw. And since we didn't have any hardwood flooring, kitchen cabinetry or door installation projects in our near future (just a few of the jobs that a TrackSaw can help you tackle) – we're letting one of you take it home instead.
Oh, and if you still don't quite follow what this thing does, just check out the video below:
Wanna snag this saw for yourself (or your favorite toolhead)? Just comment on this post with the phrase "I CAME. I SAW. I [fill in the blank with something fun]." by 8pm EST on Wednesday, Dec 17th. In case you don't know the drill (oops, unintentional tool pun), we accept only one entry per e-mail address and our winner will be randomly selected using random.org.
So comment away, cross your fingers and starting hunting down a bunch of wood to cut. We'll let you know later in the week which reader will be getting an early Christmas present. Oh how we love playing Santa.
Take a look at our Freebie FAQs for more info about our giveaways.