This weekend we had a grand ol' time touring ten fabulous and elegant homes in Richmond's historic Fan district. And of course we wanted to share the eye candy. Once a year a few fantastically brave homeowners open their doors for all to see their stunningly spiffed and stylishly spruced homes just in time for Christmas. Oh how we wish we could share all the dee-lightful interior decor (Christmas trees so full of ornaments that the branches were hardly visible, potted pointsettias with beds of glittering ornaments, fresh garlands snaking down staircases and over mantels) but there was unfortunately a strict no-picture rule inside each home (boo!). Not to be deterred, we took lots of festive front door pics for ya, which ended up being just as inspiring. Let's go door to door, shall we?
Here's one of the ten featured homes (this one just happened to be over 100 years old and chock full of fabulous period detailing).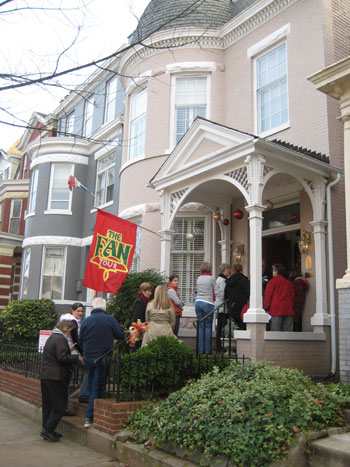 Another one of the featured abodes was actually an old church that had been converted into a luxury apartment complex complete with stained glass bedroom windows and a toilet in the turret (literally- there was a decadent bathroom in the round walled niche). Certainly one of our favorite stops, this unbelievable effort in repurposing left our mouths ajar from the moment we stepped inside (and oogled the amber colored interior room dividers that were once stained glass church art- stunningly swank).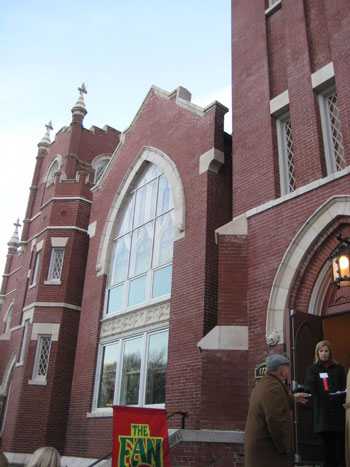 This sophisticated facade belongs to a local interior designer who not only allowed people to tour the first floor, but also invited people upstairs to his spacious dressing room, den, guest room, and bedroom. Everything from the faux-sueded walls (waxed to perfection) and the oversized bedside tables in the larger than life bedroom suite were over the top in just the right way. Even his large weeping evergreen was adorned with giant gleaming ornaments.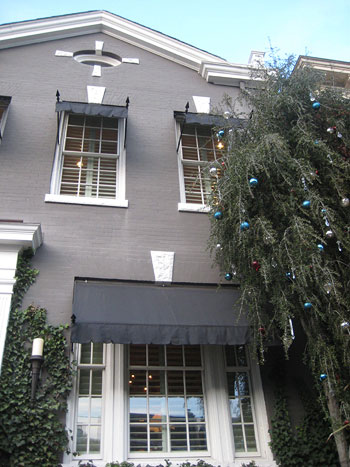 And although taking pics of the inside was off limits, we got the ok to snap a shot of his fabulous gourd-riddled back patio (he illuminates 'em with votive candles for parties) and his canopied sunroom that boasts a grand glass pedestal table adorned with giant clam shells and other beachy decor. Delish.
Here's another home we enjoyed along the tour route, this one showcasing a heartstoppingly fab tree festooned with well over 2000 glittering glass ornaments and 2200 lights. And although we couldn't snap a shot inside, we happily settled for a pic of the simple wreath on the front door- which actually appeared to be two wreaths, a smaller red ornament wreath attached to a larger fresh fir wreath for glitz and classic style (and that yummy Christmas smell).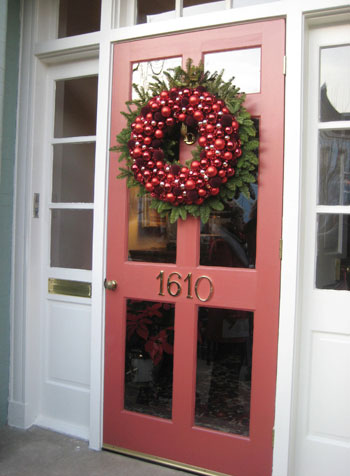 And after the tour was over we continued to troll the streets for more holiday curb appeal. This house's seasonal decor was almost unbelievably intricate. The owner used an arch of green floral foam, some toothpicks and some fresh (yeah, it's real!) fruit to create this delightfully delicious holiday treat above the door. Best of all it looks fresh for quite a while thanks to the cold weather and the extra durable fruit choices: apples, lemons, and pineapples.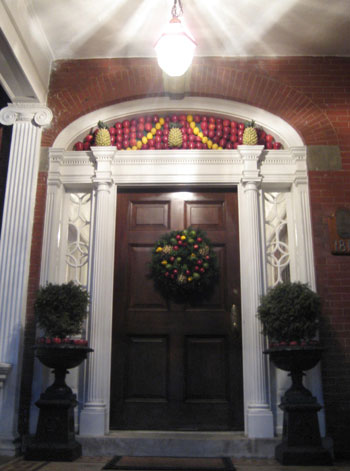 This home looked playful and jolly thanks to numerous oversized ornaments suspended with ribbon above the front door. Simple "c" hooks in the porch ceiling were all it took to float the glittering accents of all colors and sizes. Such a simple yet stunning result.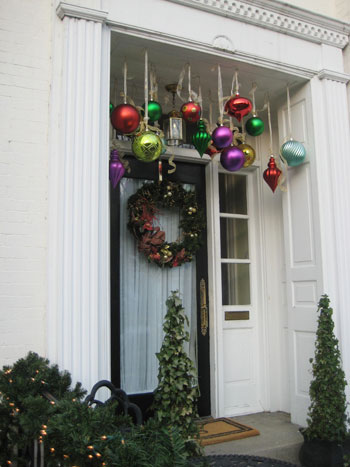 We also loved this cute casa that we spotted sporting a holiday greeting in gilded block letters. Fun, memorable and oh-so-easy (they were adhered with hidden loops of duct tape). Gotta love the creativity (and the ingenuity)!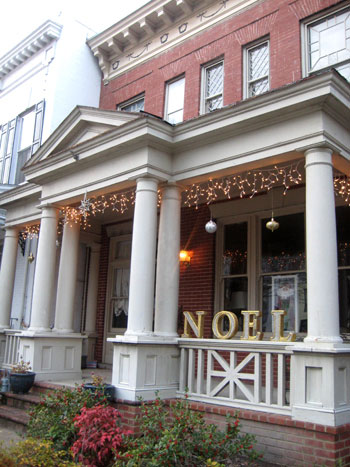 And speaking of creativity, we loved these oversized ornaments not only bound by the bunch along the porch railings, but also corraled in the window baskets for extra glimmer and gleam.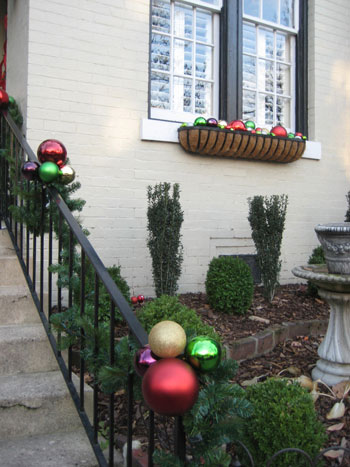 Richmond is often know for its Mardi Gras inspired holiday decor. Loose layered strands of beads and festive blues and pinks are a reasonably common sight, but this homeowner got it juuust right with fresh garland, a plethora of ornaments, and just a few gold strands of beads for that subtle party-vibe that looks sophisticated and never sloppy.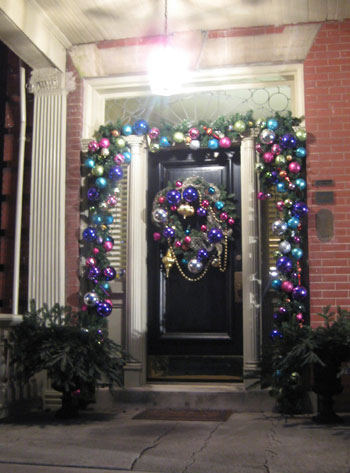 That concludes our little ring & run through Richmond's historic Fan district all gussied up for St. Nick. We hope you enjoyed the virtual tour. Happy door decor to you and yours!