***This giveaway is now closed – see who won below!***
Over the last few days, the special referral account we set up has grown from $100 to over $300. And we're about to turn it over to our winner… Crystal Anderson (who says she needs wall art "like no one's business.") Congrats!
Last spring we curated a sale on Joss & Main, and we were psyched when they invited us back again this year – and agreed to a special perk for you guys (more on that in a sec). Getting the opportunity to reopen a little virtual decor store of sorts over there is always fun, and although we didn't set the prices ourselves, we did our best to find a variety of things in a nice wide price range (we picked 27 items that are under 27 bucks). If you're not already a member, just click here for instant access. Then you can find your way to the sale by clicking here (this mood board's just a sampling of a few things):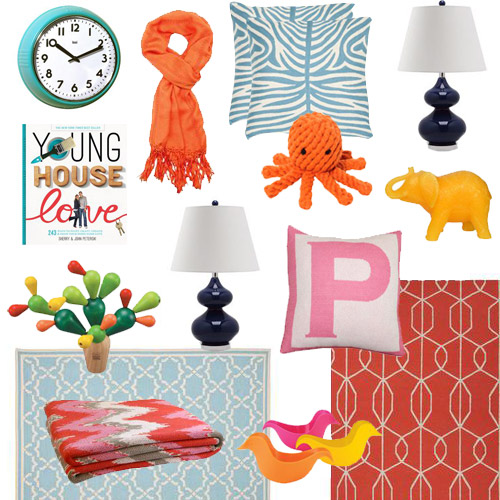 And because we like to be 100% transparent with you guys, it's Joss & Main's protocol to offer a small commission to their curators, so it's just like any other side gig that helps us pay the bills (like a magazine column – you can read more about general blog income here). But here's the twist. Joss & Main also offers small referral credits to anyone who refers someone, but just like last year, instead of keeping those we wanted to pay 'em forward to create a prize for one lucky reader.

So for every person who signs up using this link and buys something anywhere or anytime on their site, Joss & Main will put $15 into a special account. When the giveaway closes, we'll turn over that account (and all of the money it has collected) to the winner. Joss & Main has already put $100 in the account and it'll continue to collect referral rewards even after the giveaway is over – last year the giveaway account earned over $500 in less than a week!
PRIZE: Ownership of the special Joss & Main referral account, which already has an $100 credit to start
TO ENTER: Comment on this post with the words "JOSS ME" and tell us…
BONUS QUESTION: … what would you snatch up first if you won? Are you in the mood for a few bold accessories? Some new sheets and pillows? A cozy chair or sofa?
GIVEAWAY CLOSES: Wednesday, April 10th at 8pm EST or at 10,000 entries (whichever comes first)
NUMBER OF WINNERS: One
PRIZE SHIPS: We always beg every vendor to ship internationally but some companies are not legally able to vend things beyond specific areas (more on that here). This giveaway is available to the continental 48 United States.
USUAL STUFF: One entry per e-mail address is permitted. The winners will be selected using random.org and announced on Thursday as an update to this post. That's right, come right back here on Thursday for the announcement of our winners. Good luck…
***COMMENT ISSUES? If you're trying to enter but keep getting a "duplicate comment" warning, click here to see how to solve it!
Note: We aren't paid or perked for hosting these giveaways, we just do 'em to thank you awesome folks for stopping in. See our Giveaway FAQ page for more info. Pics courtesy of Joss & Main.