***This giveaway is now closed. See who won below!***
Happy Thanksgiving everyone! Our lucky winner this week is… N Shirley (whose favorite dessert "to both make and eat is Virginia Apple Pudding – even makes the whole house smell good!") Sounds delicious. Congrats!
We've had a few questions about why all contests aren't open to international readers, so here's that info for you. We actually ask every single vendor who approaches us to do a giveaway if they'll ship internationally and we remind them that the more folks are included, the more exciting it is for everyone. We LOVE you all and always want to open our giveaways to as many people as possible! It unfortunately comes down to each company's policy (some folks are set up to deal with customs/shipping internationally while some companies are not legally able to vend things beyond the US – even if it's just a book or a gift card). Sadly, we can't change companies policies, and if we held out for international prizes and rejected everything else, we could no longer host weekly giveaways – which we've done for years. Hope that makes sense! We'll continue to do our best to include as many of you guys as we can (we're so glad this cookbook is open to Canadians too!).

With Thanksgiving just days away, think of this week's giveaway as a warm up to all of the delicious food you'll be stuffing your face with come Thursday. The mother-daughter team behind Philly's Brown Betty Dessert Boutique is celebrating their new cookbook, The Brown Betty Cookbook, by giving away a copy along with $100 towards Terrain, whose wares appears on the cookbook's pages. So if you're like us and drool equally over amazing desserts and stylish kitchenware, you're in luck. Seriously. I think I got a sugar high just by looking at some of the pictures.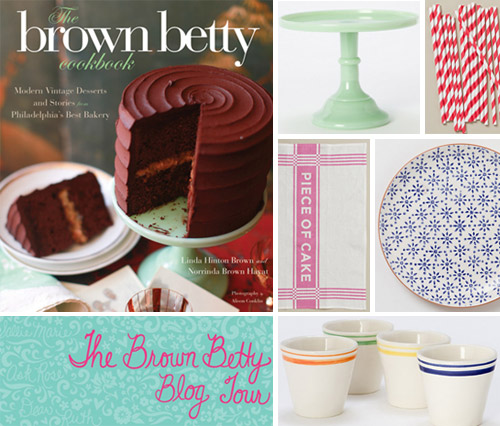 PRIZE: The Brown Betty Cookbook and $100 towards Terrain
TO ENTER: Comment on this post with the words "CAKE ME!" and tell us…
BONUS QUESTION: … what's your all time favorite baked dessert? Are you a sucker for a chocolate layer cake? Or could you eat warm chocolate chip cookies 'til your stomach bursts? Maybe you're dying to stuff a cupcake in your face right about now?
GIVEAWAY CLOSES: Wednesday, November 21st at 8pm EST or at 10,000 entries (whichever comes first)
NUMBER OF WINNERS: One
PRIZE SHIPS: This cookbook giveaway is open to The United States & Canada (anyone in the US or Canada is eligible to win the cookbook, although the gift card is only valid in the states).
USUAL STUFF: One entry per e-mail address is permitted. The winner will be selected using random.org and announced on Thursday as an update to this post. That's right, come right back here on Thursday for the announcement of our winner. Good luck…
PS: And if you're looking for more info and even excerpted recipes from the book, check out some of the other stops along The Brown Betty Blog Tour: Martha Stewart Weddings – Daily Candy Philadelphia – Oh Joy! – Poppy Talk – The Culinary Life – Sweet Paul – Style Me Pretty – Serious Eats
Note: We aren't paid or perked for hosting these giveaways, we just do 'em to thank you awesome folks for stopping in. See our Giveaway FAQ page for more info. Pics courtesy of Brown Betty Cookbook and Terrain.