*** This giveaway is now closed. See who won below!***
Sorry for the late notice (travel is messing up my winner picking mojo!), but the random winner of this stencil prize is… Jen (who once "made a chevron painting with instructions I found on Pinterest and it turned out great"). Congrats Jen!
The love of stencils that first blossomed when we did our office walls only grew stronger when we tackled a couple of stenciling projects for our book (on pages 26 & 282). So in the spirit of sharing the love, this week's prize comes from the maker of the very stencils that we used in all three cases – Royal Design Studio. We're longtime fans of their modern shapes and patterns, and they're starting you off with a $100 stencil gift card and throwing in a $100 "Stencil Success Kit" that includes the essentials for executing your stencil project. You'll get a roller set, 7 brushes, and your choice of five stencil crémes. And to top it all off, how about a $50 paint allowance to the paint store of your choice? That totals a $250 kick in the pants to get your stencil on.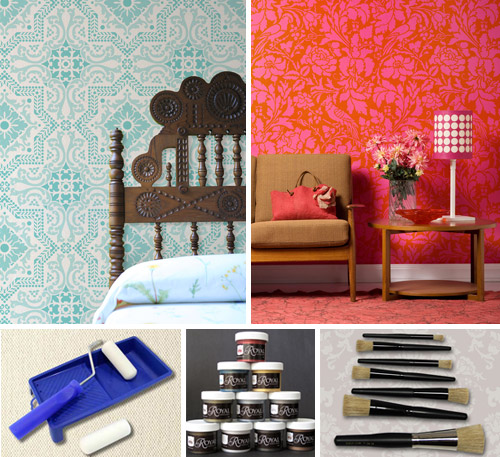 PRIZE: $100 stencil gift card to Royal Design Studio, plus a "Stencil Success Kit" and a $50 paint allowance to the paint store of your choice
TO ENTER: Comment on this post with the words "STENCIL ME!" and tell us…
BONUS QUESTION: … one DIY project that you've tackled once and are dying to try again. Is it a paint project? Something building related? Are you itching to take another whack at a crafting or sewing project?
GIVEAWAY CLOSES: Wednesday, Nov 14th at 8pm EST or at 10,000 entries (whichever comes first)
NUMBER OF WINNERS: One
PRIZE SHIPS: We always beg every vendor to ship internationally but some companies are not legally able to vend things beyond the US (more on that here). This giveaway is open to The United States.
USUAL STUFF: One entry per e-mail address is permitted. The winner will be selected using random.org and announced on Thursday as an update to this post. That's right, come right back here on Thursday for the announcement of our winner. Good luck…
Note: We aren't paid or perked for hosting these giveaways, we just do 'em to thank you awesome folks for stopping in. See our Giveaway FAQ page for more info. Pics courtesy of Royal Design Studio.