***This giveaway is no longer accepting entries***
Paint a smile on your faces people, because that's what we're giving away this week! Paint, that is, not smiles (though hopefully smiles sort of come along with getting a prize, right?). This week we're giving away a room full of paint from Olympic (that means 2 gallons of Olympic Premium Interior Paint and 1 gallon of primer) to THREE people. Woo hoo! We love this stuff because now no matter what color you get mixed, it's still 100% VOC-free. Can't beat that, right? And that's exactly why we used it in our bathroom remodel earlier this year. Plus, Olympic just launched a new, free desktop application called ColorClix to help inspire your perfect palette.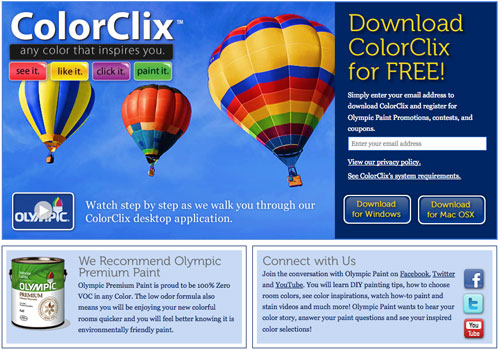 Once downloaded, the little ColorClix box invites you to click anywhere on your desktop – a photo, a video, an icon, whatever – and syncs that color with one in the Olympic catalog. Like if I wanted to build a room around the adorable picture of a snoozing chihuahua I'd just have to click anywhere on his fur to get an Olympic paint color (apparently Burger's eyebrow is "Stony Creek"). It also displays the rest of the colors on the virtual swatch as well as recommended complimentary colors.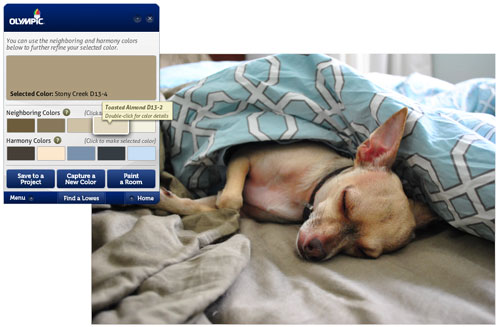 The program also lets you save all of your inspiration colors in projects sorted by room and then you can use those saved projects to virtually paint rooms on Olympic.com. You know, if you really wanted to go as far as to let your dog's coloring determine the coloring of your walls.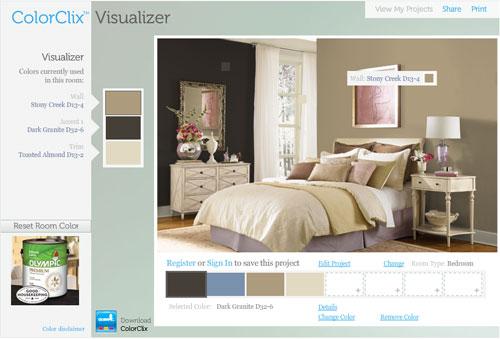 So go have some fun playing with ColorClix and check out the rest of this week's details:
PRIZE: One room of paint from Olympic, including 2 gallons of Olympic Premium Interior Paint and 1 gallon of primer
TO ENTER: Comment on this post with the words "PAINT ME" and…
BONUS QUESTION: … tell us about a photo, object, or other inspiration item that you'd love to draw some paint palette inspiration from. Did you photograph a stunning landscape recently that could lend itself to an accent wall color? Have you spotted a vase or pillow at the store that could inspire a whole room?
GIVEAWAY CLOSES: Wednesday, September 8th at 8pm EST
NUMBER OF WINNERS: Three
PRIZE SHIPS: The United States
USUAL STUFF: One entry per e-mail address is permitted. The winners will be selected using random.org and announced on Thursday. Good luck…
See our Giveaway FAQs page for more info. Pics from Olympic Paints.