Well, it's not really epic. More like Not So Bad Fail. Or No Biggie Fail. But we like to share our trials along with our triumphs, so here ya go.
We were in HomeGoods scouting night tables, rugs, pillows and whatever else wanted to come home with us when we spotted this baby for a mere 12 beans.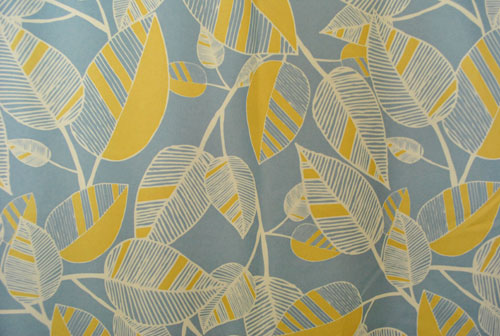 It's a shower curtain.
Fun modern pattern? Check. In line with the gray & yellow color scheme for our guest bathroom? Check. On sale? Checkity-check-check. So we brought it home (our only purchase of the day, actually, but that's another story) and threw it right into place.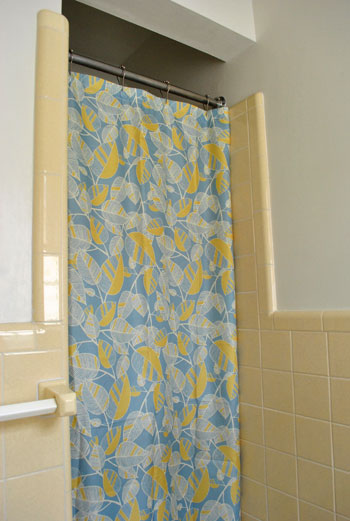 At first it felt like the perfect step it waking up the vintage yellow tile of yesteryear and making it feel more current. But then we looked down…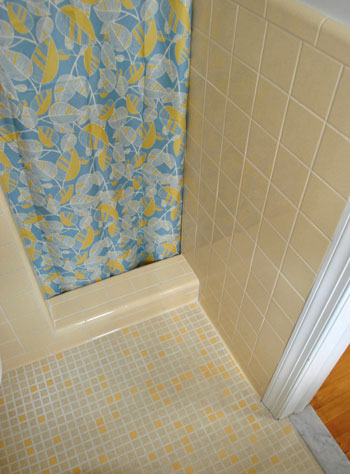 Something about the busy Scrabble-esque pattern on the floor combined with the gridded wall, combined with the semi-small-scale busy modern floral pattern just felt like too much going on. Oh well. At least we gave it the ol' college try.
So we took it down, packed it back up, relieved our bathroom of its pattern-y overload, and returned it to HomeGoods (on the bright side, we grabbed some pillows for the bedroom while we were there – more on those later). We're thinking we need to find something plain (like a white or soft gray waffle knit curtain) or something with a very simple or subtle large-scale pattern (tone on tone wide gray stripes maybe?) so it doesn't compete with all that tile. But since we don't have any overnight guests in our near future (knock on wood) we're in no rush to hunt anything down tomorrow. Maybe we'll even take our time and DIY something with a stencil or some fabric dye. We promise to share every detail when and if we do…
Psst- Wanna see something we don't regret buying? Check out our BabyCenter post this week (with another Clara video, because we're those people).