We love being able to look back at the empty photos of our first house, because while they're definitely bittersweet, it's so much fun to reminisce. They're a great reminder that a house is only a house, and it's the moments that you've shared with the people (and the chihuahuas) that you love that really make it a home. So we wasted no time snapping empty photos of our second house. And although I thought "without furniture all these rooms will pretty much look the same" the funny thing is that none of them do. So it's nice to know that we left our mark on this sweet home of ours.
Here's the dining room/office before: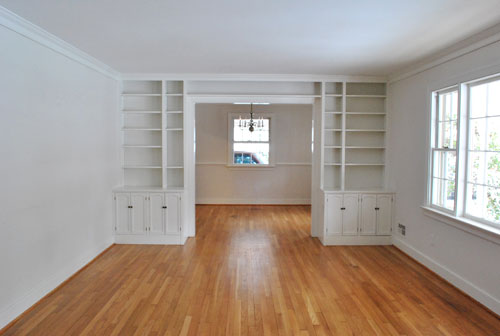 And here's the empty after.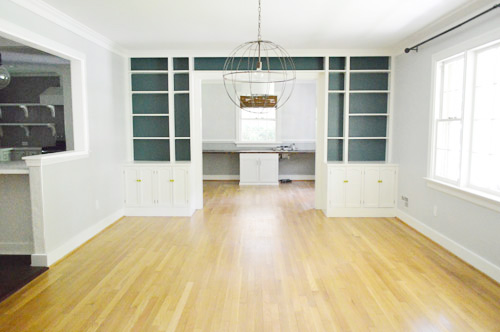 Here's the office all empty (wish I had a before picture from this angle).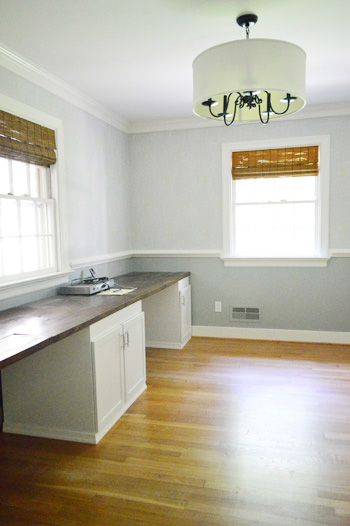 Here's the frame hallway all cleared out.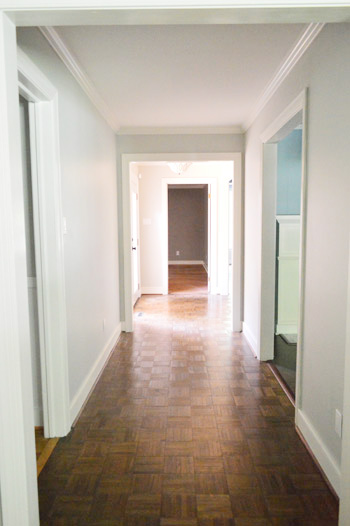 And we can't forget what the kitchen looked like when we moved in.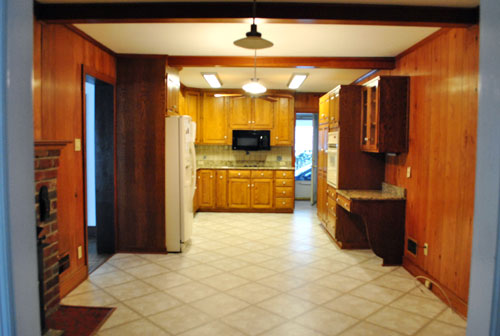 A lot has changed in there for sure.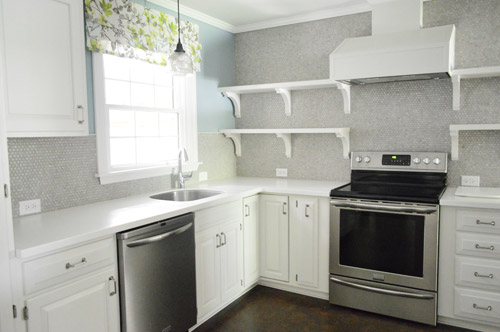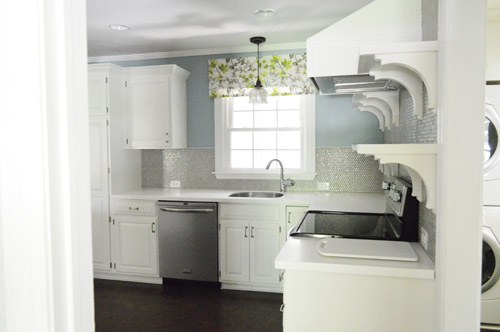 Here's a before photo from the other side: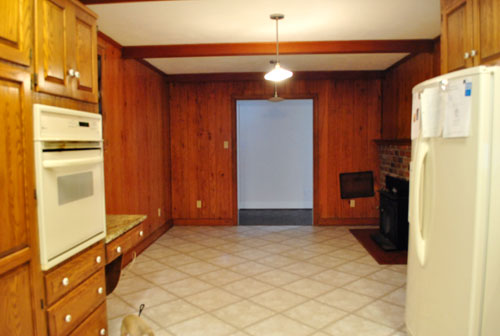 And a clean and empty after.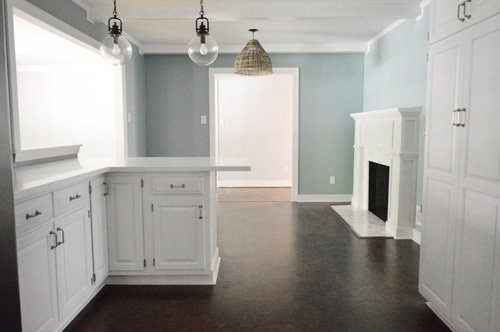 Here's the laundry room before: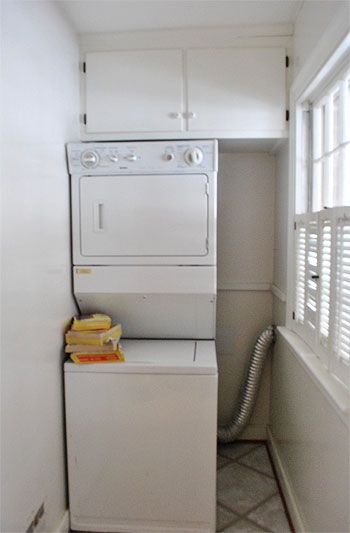 And the room as we left it.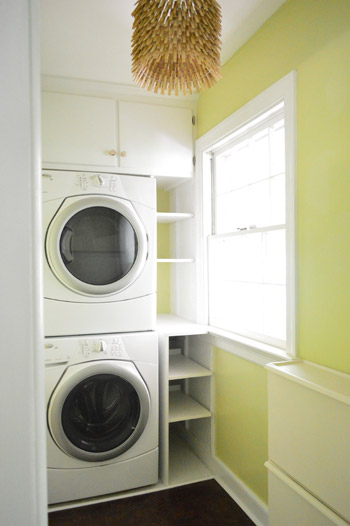 A lot of people asked us what we sold with the house, so the short answer is "all the stuff you see in these pics." Apparently it differs greatly by region, but in our area it's typical for anything that's "attached" (light fixtures, curtains, blinds, open shelving, bathroom mirrors) to stay with the house unless it's otherwise outlined in your listing/contract from the start (for example, we indicated that we wanted to take the curtains in the playroom, guest room, and dining room with us in our flyer but everything else stays). We didn't want to strip this house and leave it with a bunch of boob lights and naked windows, and every home has a different layout/number of windows anyway (so I'm sure if we took our blinds they wouldn't fit our new windows anyway).
Even the light fixtures might not work as well since they were selected for the rooms/spaces in this house. For example, our new house's laundry area doesn't have an overhead light – so we'd much rather know that our clothespin chandelier lives on in this house's laundry room. In our area it's also typical for houses sold as "turn-key" or "move in ready" to come with all of the appliances. A fridge from one kitchen might not even fit into the nook in the next kitchen, so we don't mind leaving them – especially because we love buying "fixer uppers" instead of "turn-key" homes for a lot less money (which means we can afford to upgrade the appliances there).
Anyway, back to the before and afters. Here's the living room as it looked when we moved in.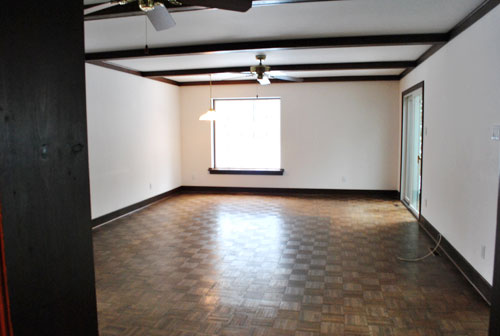 And here's how it looked when we left.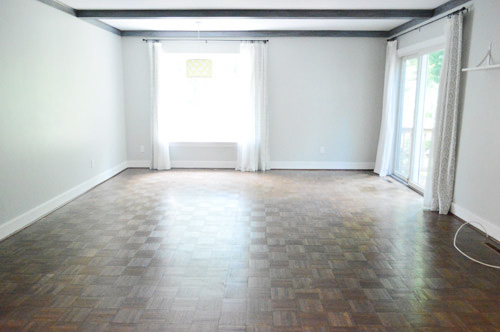 Here's the sunroom before.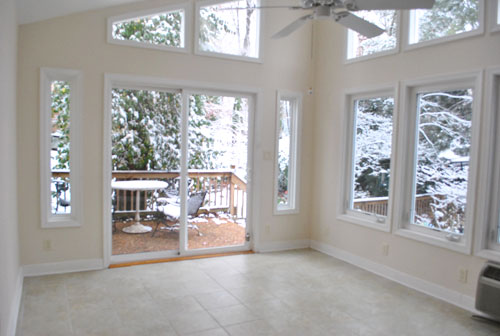 And the sunroom after.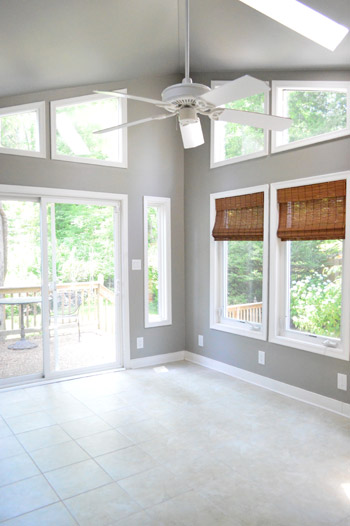 Our bedroom changed a lot too. Wish I had a before photo from this angle.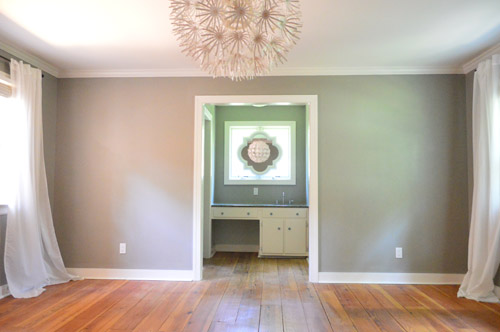 We do have this before shot of the sink nook…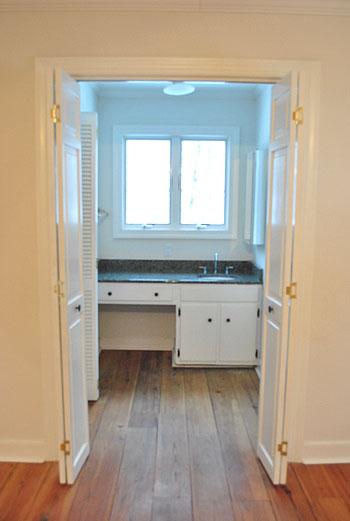 I wish we had a shot of the hallway as it looked on move-in day, but at least we snapped an after to remember it by.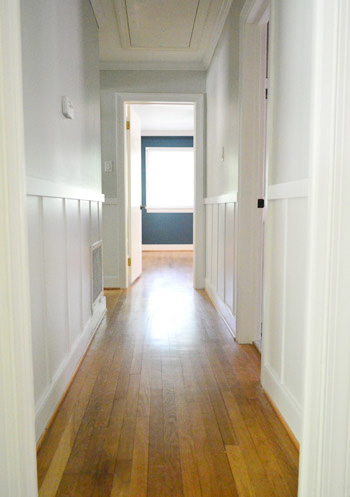 Here's Clara's room as it looked when we got here.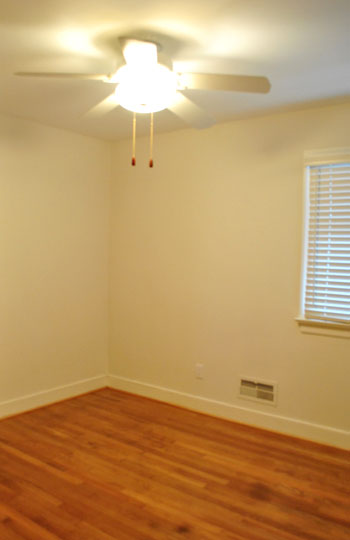 And here it is as we left it (Clara came with us though).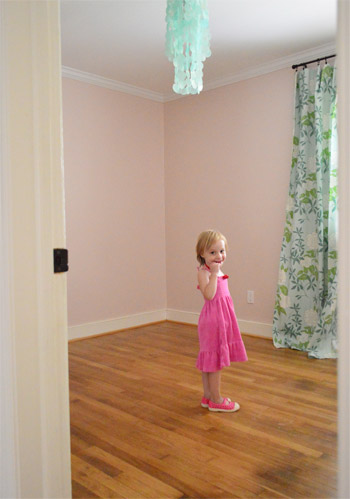 And of course the guest room looked a little different…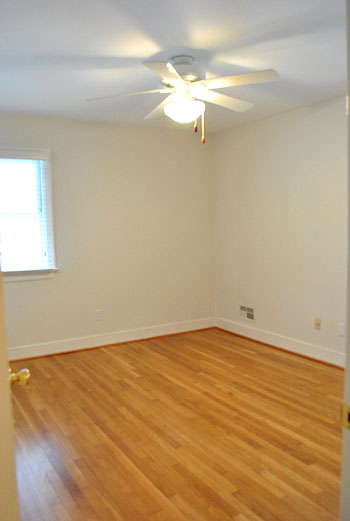 … after the dark teal paint (and crown molding) came into play.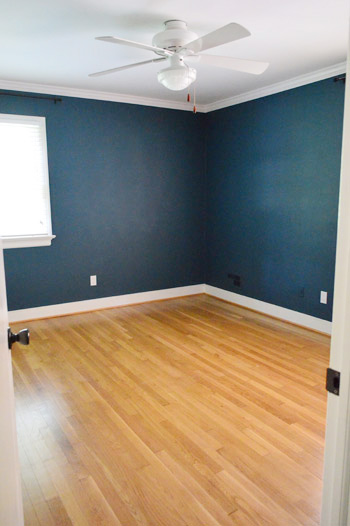 Our biggest regret was not refinishing all of that old orange oak and faded brown parquet in the same rich mocha color as the cork floors in the kitchen. Oh man, that would be delicious. I'd bet money that the new owners will do that… (fingers crossed for a house crash someday!).
Oh and here's a closer shot of the frame hallway. Look ma, no holes.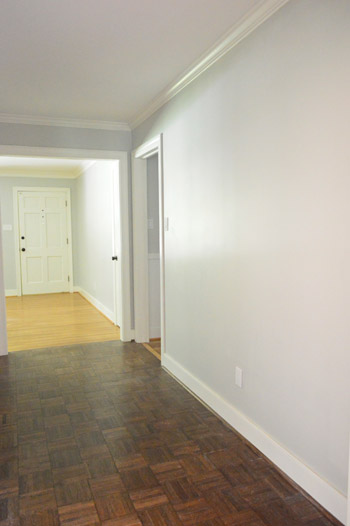 All hail spackle, king of DIY!
We're going to miss this house of ours. But we'll never forget all of the amazing things that happened here (three Christmases, all three of Clara's birthday parties, writing and shooting our entire book, watching Clara crawl and walk for the first time). Lots of memories to take with us for sure. Now somebody get me a tissue.
Psst- We have a pretty funny picture comparison on Young House Life today too. Holy cow, time flies.