Remember when we cut four curtain panels that we loved from Ikea (which were sadly discontinued) right down the middle to make eight of them for our living room? Well, here's that story, but to refresh your memory, here are a few pics: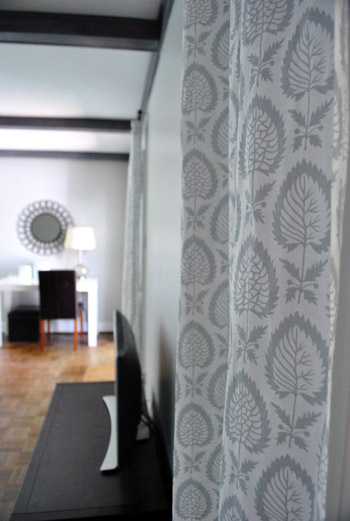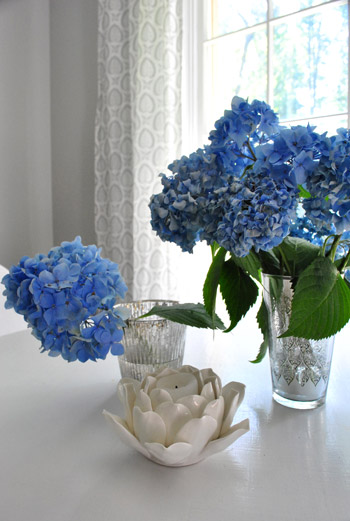 We loved the added height, texture, and pattern that they brought to the room, but I always wondered if layering some breezy sheers in there someday might make my curtain-loving heart sing. You know, so they'd be fuller and airier and sort of layered and soft looking. So I lived without 'em for a while but kept my eye out for some cheap fabric or sheers that I thought might do the trick. And then one day in Ikea… I pounced. Two already made 98″ curtain panels for $9 was enough of a deal to make me jump, so I grabbed four packs of white breezy curtains with my living room windows (and glass sliders) in mind. I wish I knew the name for you guys but the packaging got tossed before I could take note and I looked online and didn't see anything that matched what I got (in price and look). I don't think they're Vivan panels since we had those in our last house and these are lighter/thinner, and they're definitely not Lill curtains (those are super sheer and mosquito-net-y). Update: We think they're called Wilma. Hope it helps!
Anyway, the first thing I did was toss the panels in the wash (to pre-shrink them so that when I hemmed them they wouldn't later get washed and be too short if there was any shrinkage). Then I grabbed some ring-clips from Target (the same ones I used to hang the original 8 panels)…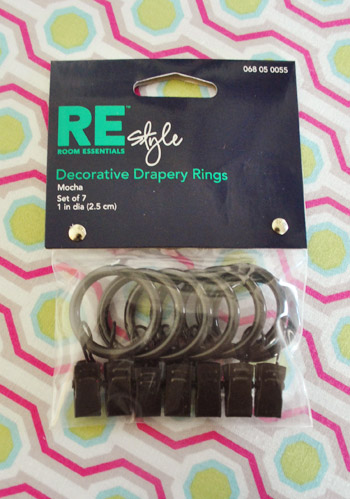 When my sherr-ish panels came out of the dryer I cut the tab tops off (since I could just clip them along the top with my ring-clips to hang them). Oh the tab tops might be a clue if you're looking for which curtains they are (if they have a rod pocket, like the Vivan panels, it's not them).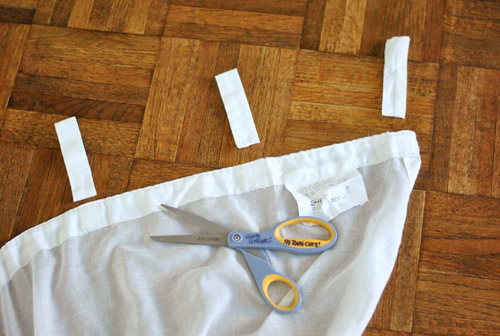 Then I hung them all up using the additional ring clips on the same curtain rod with the patterned panels. To make both curtain panels flow into each other I actually overlapped them a smidge with the ring clips.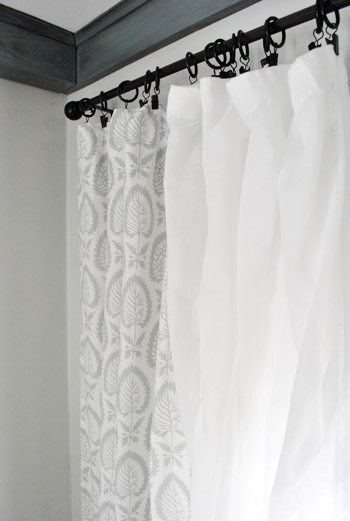 Basically the two left-most clips on the patterned panel below also have the white sheers clipped behind them. That way there's no gap between the curtains and they all move as one unit (ex: if I pull the sheer out both curtain panels extend). Not that we move our curtains. Haha. They're really more for softness and height. Especially in a giant room like this one – adding anything soft and breezy makes it feel less like a gymnasium and more like a real room.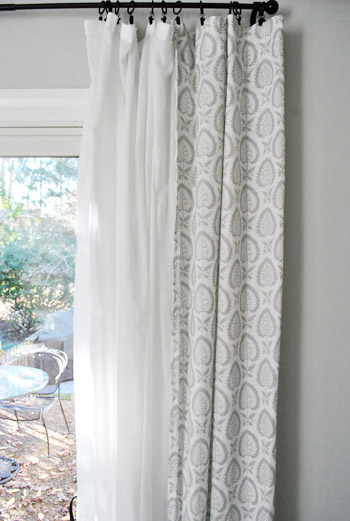 So I got past the tab-cutting/washing/hanging steps and then I stalled. I had been meaning to hem them and share them for a while but other projects and book stuff popped up so I left these guys unhemmed and a few of you even noticed them in posts like this one, to which I replied "ack, still have to finish that project and then I promise I'll blog all about it!" Haha, which brings us to this post.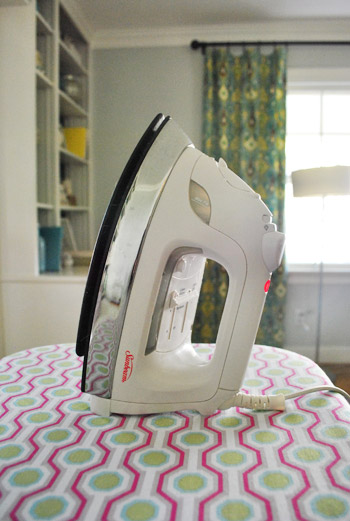 Yup, I finally hemmed them all using heavy-duty iron-on hem tape (Heat N Bond from Michael's) which I did while they were still hanging right on the rod (see more about that method in this post). I just used a scissors to cut off the excess (there was actually about a foot of it on each one) while leaving an extra inch to accommodate the hem (so once it was hemmed up they'd just graze the floor).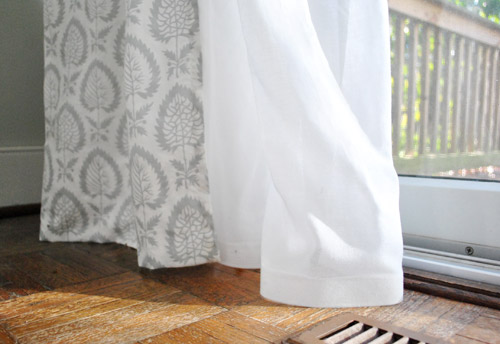 Don't mind the dust bunnies. Let's zoom out, shall we?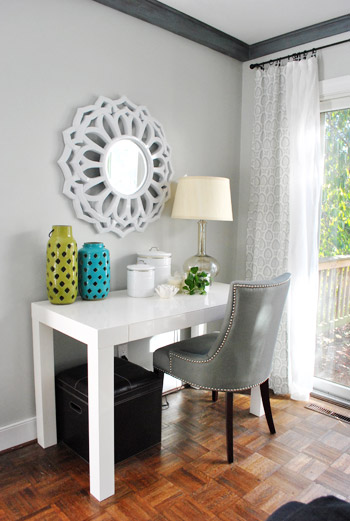 It's hard to really see the curtains when ya pan way out thanks to all the light coming in, but here ya go. We can't wait to tackle a big media cabinet build, by the way. Probably after we conquer the kitchen…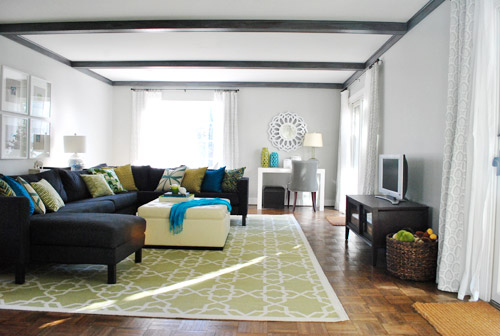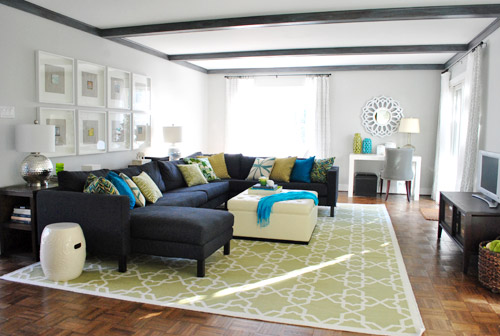 Oh and for anyone wondering where the last two curtain panels hang (since it's easy to see the other 6 in the pics above), we have this slider right off the living room so that's where those live: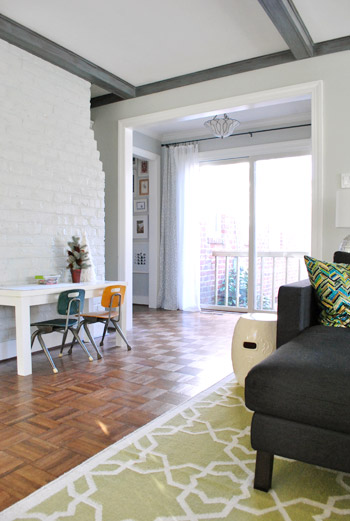 Aw and look at Clara's little homemade coloring desk. It's been getting tons of action (she's either cooking in her kitchen or going nuts with stickers and crayons at her table). Ah to be 20 months old and living it up with tiny furnishings and fake fruit.
But back to the curtains. I really like the breezy layered look and there's something about a double dose of ring-hooks on each side of those curtain rods that feels kind of posh. At least to a weirdo like me. So that's my pretty quick (except I took forever to hem them) curtain upgrade. What have you guys been clipping up/sewing/hem-taping these days?