We're back to share our latest "Try This" column in Richmond's R. Home magazine…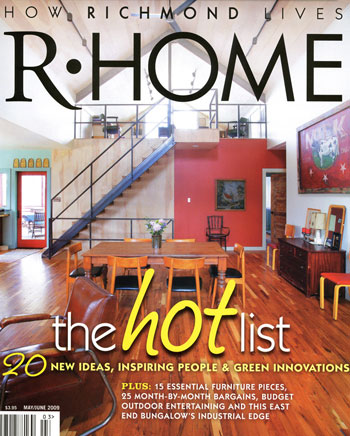 This time we offered up a slew of backyard entertaining ideas for our three page column, but the hijinx always begin when we have to shoot something months in advance- like hunting down Christmas ornaments in September, or in this case, shooting our not-yet-blooming backyard in March.
We worked with the photographer to place the patio table so that there was as much greenery in the background as possible (thank goodness for evergreens). It made sense in the close-up photograph that made the mag, but here's a behind-the-scenes shot to demonstrate just how not-normal the table placement really was. Do you see the left leg in the mulch?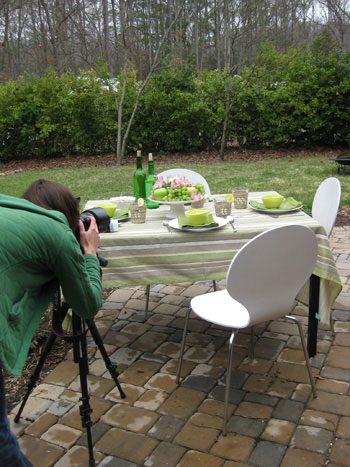 We also switched out our regular black patio chairs with white indoor chairs for a lighter look (which would actually work if you're having an outdoor party on a dry summer day). And speaking of dry, you may notice that the ground is anything but. Well it rained for three days straight before the shoot (in fact, we ended up using our rain date since the first scheduled shoot date got rained out). And what does moist grass mean when you're also shooting a picnic scene? For us it meant laying out layers of cardboard under the borrowed picnic blanket so it wouldn't get muddy before being returned after the shoot.
We usually get a few questions about the process of being contributing editors and how our columns come about, so here's a general rundown. The editor in chief calls us and tells us the theme for the upcoming issue (travel, architecture, the holidays, etc). In this case she wanted to see something having to do with outdoor parties and gatherings since she knew it would be coming out in May. After we learn the theme we take a few days to brainstorm a bunch of ideas and "pitch" them back to the editor in chief. For example we came up with the idea of doing a patio table setting and a casual picnic set-up and we shared a few of the individual suggestions that we'd include in our piece. For example, using a cake stand with fruit on it as a centerpiece…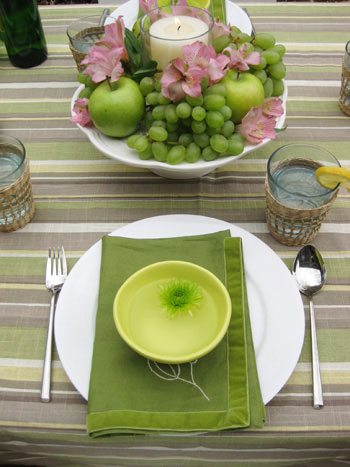 … and making cheerful cheese labels to cute up your picnic…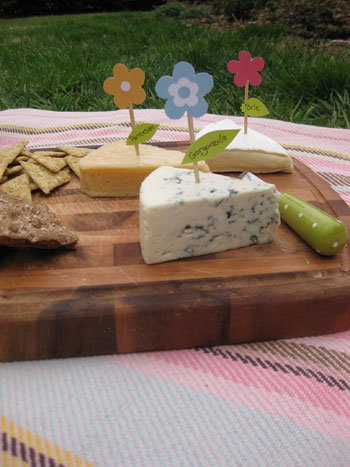 … and filling a metal silverware caddy with ice and using it to serve cold beverages…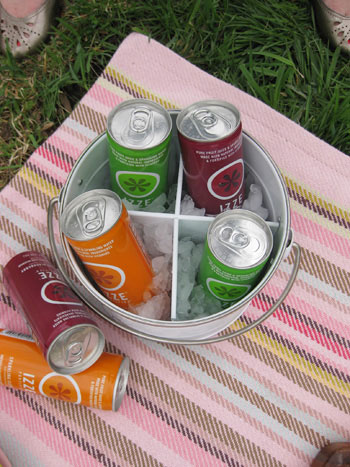 From our brief descriptions of each idea, the editor in chief then selects her favorites and approves our concept for the column. At that point the shopping begins. We run out and purchase supplies "on approval" (which means stores know we're with the magazine and loan us things that have to be returned in mint condition or we're in trouble with a capital T). Then we set up a shoot date with the photographer who comes out to our house where we have everything set up and ready to go. It's just us and the photographer (there's no prop stylist or lighting specialist) so we often find ourselves blocking a glare by holding up a sheet or even crouching under something to subtly hold it in place while the photographer snaps away. It's really fun to see things come full circle, from an idea that we pitched to a bona fide magazine spread a few months later.
We also like to have a trial run with our propping in advance (realizing that a certain set-up is too crowded or bare in front of the photographer is a lot more stressful than being prepared in advance). Here's our little practice run for this issue (laid out on the dining room table since it was raining cats and dogs outside):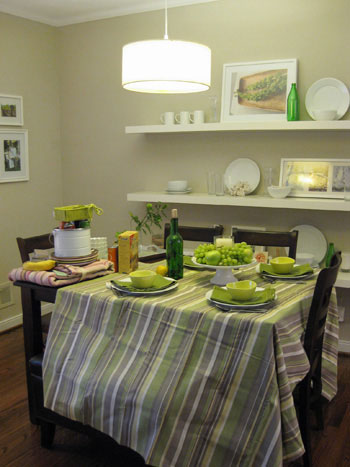 And here's the finished product- our cheerful little magazine spread (we highly recommend picking up a copy at a local Barnes & Noble to see it in all its glossy glory, or even subscribing if you're not a near-Richmond resident).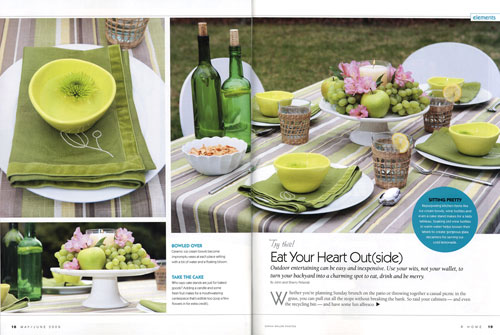 Thankfully the strange placement of the table and the layers of cardboard under the picnic blanket are nowhere to be seen. And everything that we borrowed was safely returned the weekend after (although it was a bit sad to say goodbye to that fun striped little picnic blanket).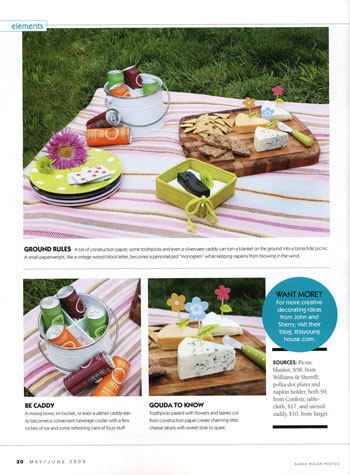 So that's how it all went down with our outdoor entertaining article in R. Home. Oh and you can check out a bigger (readable) JPG of it right here (just click to zoom). Of course we've already shot another column that will come out in July (it's SUCH a fun theme) so stay tuned…