You may recall that back in April when Sherry's belly was still full of baby we had some visitors stop by Clara's nursery, including one wielding a big camera.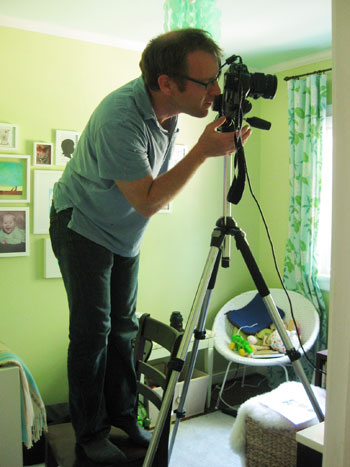 Well the pics from that double-duty photo shoot for Do It Yourself magazine and Kitchen + Bath Makeovers have finally seen the light of day. At least the ones for Do It Yourself have (the others will be popping up later this year). In fact, a bunch of you have already mentioned seeing them in the Fall 2010 issue that's out now.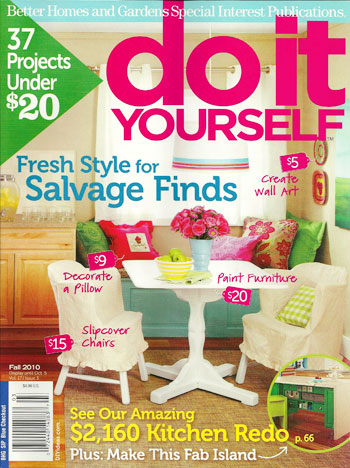 Our usual "He Said, She Said" advice column took a one-issue hiatus in order to share those photos of Clara's DIY-riddled nursery. There's even a never-before-seen angle that necessitated a ladder outside of Clara's window to capture the shot. To check it out and read all the fine print, just click the image below for an enlarged version (and click it again to zoom):
Of course there's plenty else to see in the issue. We love that they're calling it their "second chances" issue since it's all about breathing new life into old salvaged items. Feel free to check it out at Barnes & Noble or even Home Depot.

In other magazine news, I'm pleased to share that my little lady – well, not my littlest lady – was featured in the latest ReadyMade magazine. See that mention of "Speed Clean Your House" at the very bottom of the cover? That's where Sherry comes in…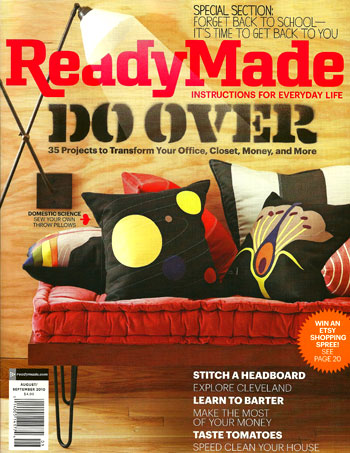 Just flip to page 30 for Sherry's interview (or click the image below to see it larger). You can also read it over on ReadyMade's website if that's your preferred method of mag absorption. We hope cleaning up is even easier thanks to the roundup of quickie ideas. Oh and the tip about chlorine bleach was added by the writer, just in case anyone who knows about our bleach aversion was wondering.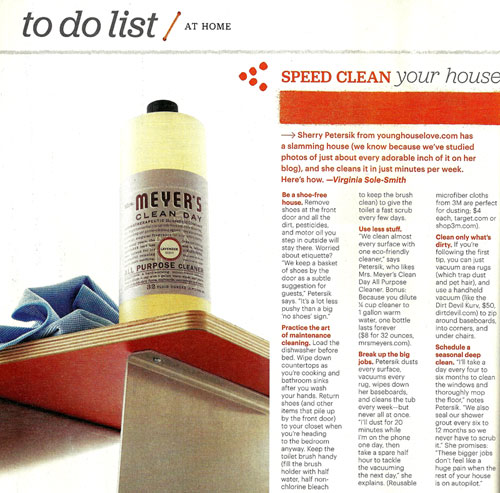 As usual, the issue has a bunch of other cool projects and why-didn't-I-think-of-that ideas in there (like the green-roofed doggie digs on page 38). It reminded us how much we enjoy reading ReadyMade. So feel free to check the rest of the mag out whenever you get a moment!
But enough about us, what are your cleaning shortcuts and secrets? We're always looking to get 'er done even faster/easier, so spill it.