File this under fab and almost free mini-makeovers anyone can do. We had two yellow chairs (relics from our three months in an apartment with a balcony) that looked sweet enough with our yellow door but looked more than a bit mismatched with our current red one. Nothing two cans of Rustoleum Universal All Surface spray paint couldn't solve.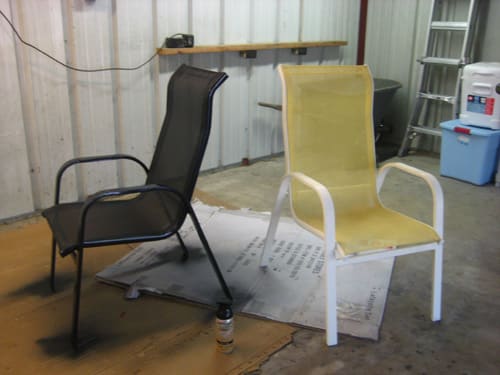 The stuff is new, and compelling for many reasons: it can be sprayed at any angle (no more straining to keep the can upright while you spray), it covers ANYTHING (from plastic and wood to metal and wicker), and it has a nice trigger spraying device (which is much more comfortable than those older buttons on the top of the can). And at around $6 a pop, the entire chair transformation was super cheap.
Check out our fabulous "new" porch chairs. Aren't they so much better? We love the look of the glossy black with our classic looking rancher (they tie in with the black shutters, trellis and even our oil rubbed bronze light fixtures and door hardware). And it really was a super quick project (plus it feels pretty good to recycle stuff instead of investing in entirely new pieces all the time).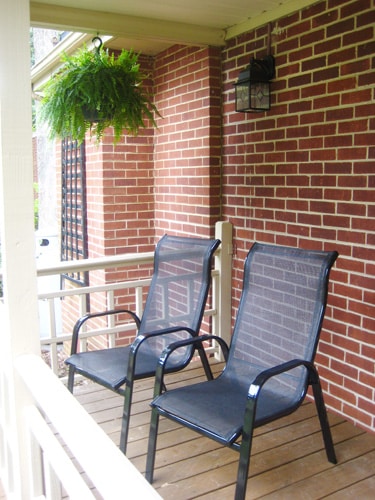 But speaking of eco-friendly things like recycling, this spray paint is insanely toxic (probably because it can bond to anything, so it's chock full of chemicals). I sprayed both chairs in our two car garage with the door open and although it only took a few minutes I left with a headache, a bit of nausea and even felt a little woozy/high for a while. So let this be a warning to you: they're not kidding when they suggest a ventilated area. If I could go back I would have sprayed the chairs on top of some cardboard on the lawn for even more airflow. And one more helpful hint: DO NOT attempt this project barefoot. I made that terrible, horrible, no-good, very bad mistake and had to use about a half a bottle of paint thinner to pry the thick black tar-like build up from my poor feet. The overspray settles on the ground like other spraypaint, but instead of being dusty and harmless, this stuff is sticky and bonds like superglue- creating layers upon layers of black goo as you step in more and more of the dust. So wear old flip flops but prepare to exert some serious effort when moving your feet (they literally get stuck to the floor). It's exercise meets home improvement.
But don't get me wrong. The fabulous chair makeover was totally worth the effort, and there's no need to be scared off by my warnings above. I just wanted to make it even easier on the next person. So now that you're armed with all the knowledge for a fast and fabulous furniture makeover of your own… happy spraying!