A month ago Carla and her husband Evan hit us up for some suggestions to take their wood-on-wood kitchen to new heights. They wanted something vibrant, polished and a lot younger and fresher, so we tossed out a slew of ideas (painting the cabinets & chairs white while the table goes black to echo the backsplash, bringing in pops of fresh green with dramatic curtains and other accessories, adding a round jute rug under the table for texture, etc). Then we sat back and anxiously awaited the after pictures…. and they actually came pretty quickly! Here's their letter:
We couldn't wait to send the kitchen after pictures to you just one short month after our consultation. All we can say is WOW!!!! We honestly cannot believe the transformation- it's like a brand new kitchen and we freaking L.O.V.E. it!!!! As you can see, we took a lot of your advice and I was able to talk my hubby into painting the table, chairs and cabinets- I think he's still in shock! He was very apprehensive, as you know, but my smooth talking, good looks (haha) and the fact that I promised to do most of the work myself (even took a day off of work, thank you very much!) got him to love it AND help out too! We still cannot believe how different it all is. WOW! And all for around $800 (including primer, paint, curtains, rugs and every last plant, pot, accessory, and dishtowel). It was so great to be able to do this project with you and the best part is that we feel like we're really making this house our home! You guys are an inspiration– keep doing what you're doing! -Carla & Evan
Here are the before pictures for your viewing pleasure: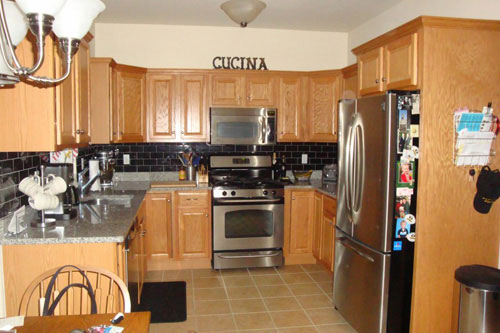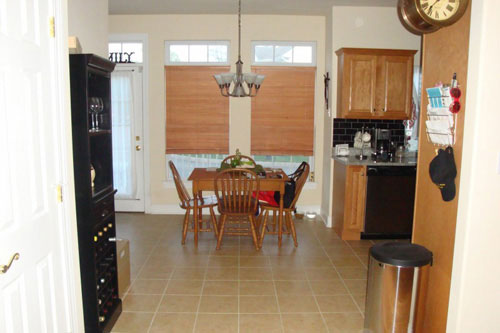 And the jawdropping afters thanks to some paint and a slew of accessories: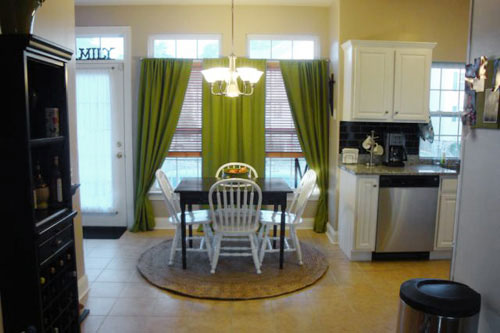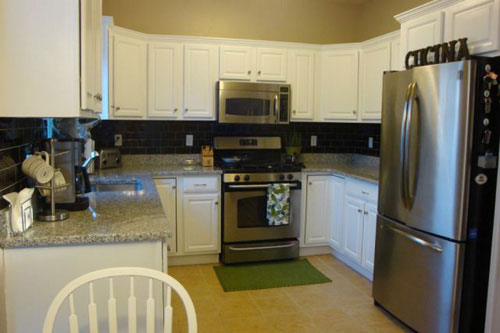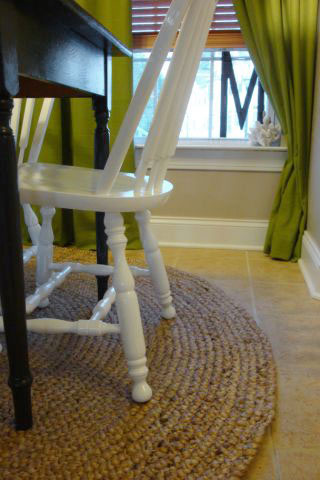 Is that not an amazing makeover? We love how much lighter and more cheerful the room is (we've said it a hundred times, but paint and curtains really can completely transform a space). We're so glad that we convinced Carla- and Carla convinced her understandably nervous hubby- that painting those cabinets along with the table & chairs was the way to go (before the room was one big tan-on-tan blur, even the floor blended with the cabinets which blended with the blinds and the kitchen table). Plus tying the table into their sleek backsplash (with a dash of black paint) really added cohesion and updated what was once a country piece into something you'd find at Pottery Barn. And aren't those punchy green curtains and that round jute rug the icing on the cake? We can't get enough of 'em.
Oh an here's a source list from Carla and Evan:
Paint for cabinets: chairs/cabinets- Valspar's Ultra White, table- Olympic Black Magic, walls- Benjamin Moore Ashen Tan (you were so on the money w/ those colors)
3 Curtain Panels: Crate & Barrel (thank you for suggesting 3- it makes all the difference!)
Table & Chairs: free! (painted black & white at your suggestion)
White Placemat on Table: Pottery Barn
Blowfish Fruit Bowl: Anthropology (seriously, isn't this awesome!?)
The "M" in the window: Urban Outfitters (painted black)
FAB Round Jute Rug: Pottery Barn (LOVE it!)
Coral: Pottery Barn (every room needs a piece of sea life, right Nate Berkus?!)
Dishtowels: Crate & Barrel
Rug at stove: Crate & Barrel
Fabulous job guys! We love that you went all the way and the transformation is seriously stunning. We especially appreciate this makeover because it's a great reminder that "new" kitchens don't always have to call for major demolition and mucho moolah. Let's play one of my favorite games: whats-your-favorite-thing? I'm on the fence between that amazing jute rug and those lively and lovely curtains. Yummy.
Update: We sadly can no longer find the time to take on client commissioned mood boards (we now whip up general inspiration boards instead) but if we ever reinstate them we'll make a big announcement!