Oh man, we were busy little yard bunnies this Sunday. As in, we probably logged about four hours out there. We started while Clara napped, which ended up being three hours (woot!) and then we each switched off watching Clara while the other finished a few things up. The mission? To have more than a few tiny slivers of grass in our backyard. See how that giant weedy-looking planting bed robs the yard of some great Burger & bean-friendly running-around area? The pictures don't do it justice, but the planting bed is at least fifteen feet wide and the giant stick-like butterfly bush is around eight or nine feet tall.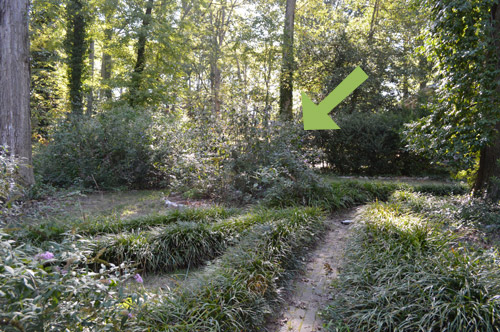 You think I'm kidding, right? So here's a shot of my 5'2″ self standing in the middle of that giant butterfly bush. Not kneeling. I'm totally standing up.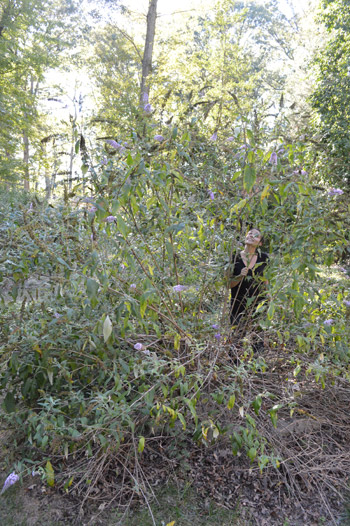 Here's the same planting bed as seen from a different POV (the other side of the yard). Although we love the butterflies that come to visit The Biggest Butterfly Bush in the World (<–not a legally substantiated claim), we thought transplanting it our best bet at reclaiming the yard.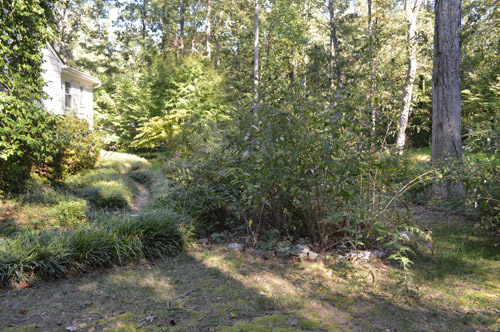 So the first step was to clip things waaaay back. This doesn't hurt them (they die all the way back in the fall/winter anyway), but it makes digging it up a lot more manageable because you can actually see the roots without taking a stick to the eye.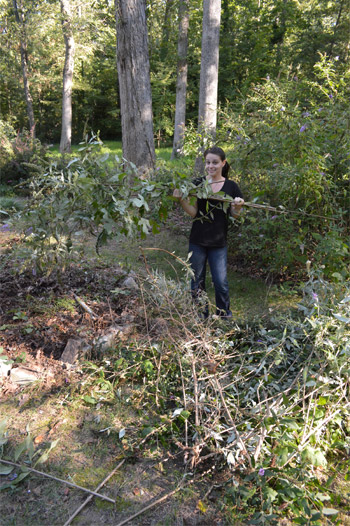 When we got things clipped back we actually learned it wasn't all one big bush, it was actually a series of smaller bushes that had joined forces to create The Biggest Butterfly Bush in the World. You know, like Transformers, except in bush form. So after we made that discovery, it was pretty simple to dig them out at the roots and transplant them all in the way-back part of our yard (which is a wild & woodsy area that we'd love to make a butterfly haven).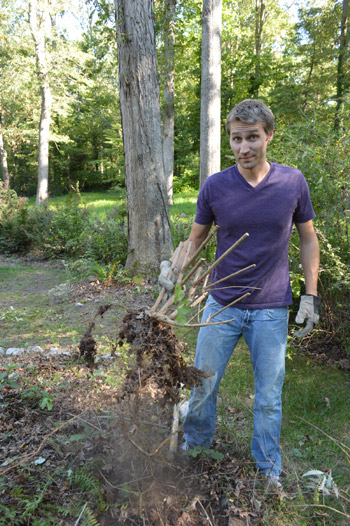 Then we had to dig out all the little weeds and roots to get the ground flush with the grass around it (so it won't be all bumpy and raised after we seed it with grass). Oh and while we were digging, lookee what we found: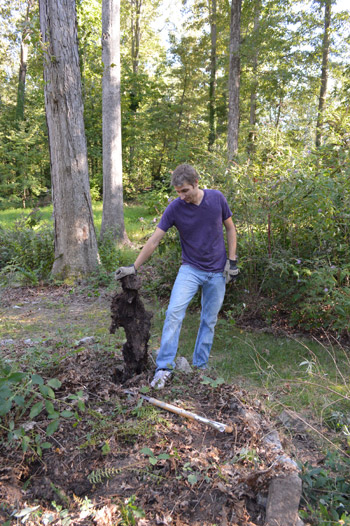 It's a giant tree root, so we think there used to be a giant tree in this insanely giant planting bed, which makes slightly more sense (a big ol' tree might have matched the enormous bed's proportions).
Oh and as we were digging things out, John discovered this tiny guy on his shovel (snake warning! If you're skeeered, don't scroll!). He was only about as big as a worm, so he wasn't too intimidating.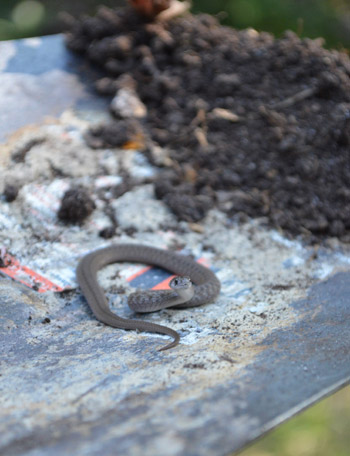 And see all of these border stones that once lined that planting bed's perimeter? Picture me transporting them all from the backyard to the carport with my own brute strength (and daydreaming about Madonna arms the whole time – but so far, no dice on those). We've had some luck selling them for a buck a stone to some sweet neighbors of ours (apparently they're $3 a pop at garden centers, so they're happy to grab them for a dollar each), so that's the plan. Here's hoping we break even after buying grass seed with our hard-earned border-stone profits. Haha.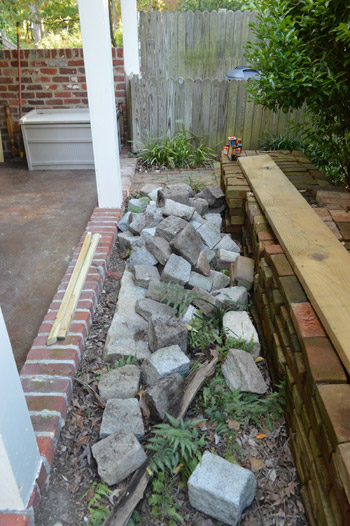 Then we got to work trying to level the dirt, which we did with flat shovels. It looked a little something like this: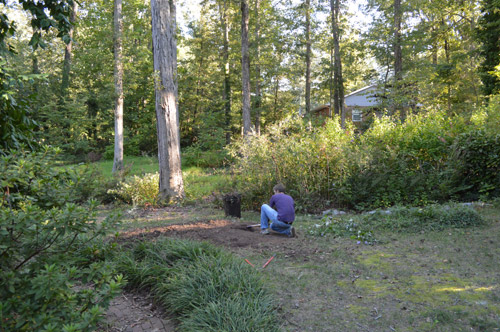 After a good four hours of clipping, digging, transplanting, leveling, hauling, and raking, here's what we were left with: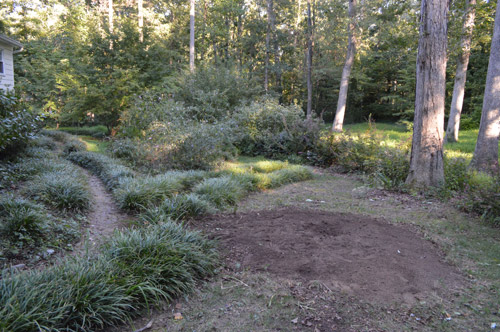 A nice big swatch of space to seed with grass… just as soon as we dig out the other giant butterfly bush on the other side of that liriope-lined path (yes, were that lucky – The Biggest Butterfly Bush in the World apparently comes in pairs). Hence the "Part 1" in the title. Oh well, slowly but surely. Did we mention we also want to dig up all that crazy path-encroaching liriope? I know, that's a whole lotta digging, but we think it'll be as dramatic as our front yard makeover if we can actually pull it off. Remember that one?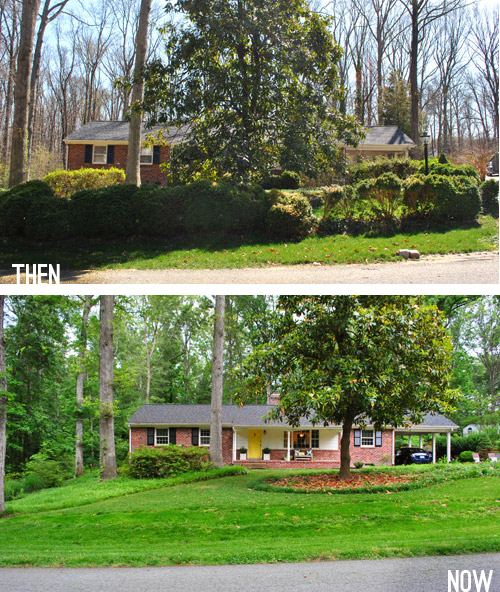 We worked on that on and off throughout the spring, so we're hoping we can put in some time this fall to overhaul the back yard. It'll certainly be a while before it's looking as spiffy as the front, but for now we're keeping morale up by staring at the then & now shots below and soaking up what a huge difference just removing that one planting bed has made. Woot.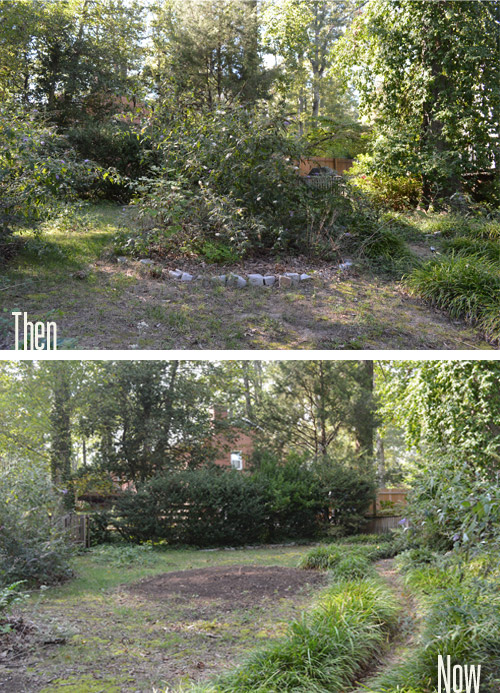 What did you guys do this weekend? Did you get dirty or meet any snakes?
Psst- John's gearing up for his annual health-a-thon. The name? Aquatober. The game? It's all explained over on Young House Life.