As much as we love a white kitchen, there are so many other fun options out there, like my sister's wood cabinets + white appliances combo and "tuxedo" kitchens (a combo of dark and light cabinets). So when Rita's makeover landed in our inbox, we couldn't believe how much she changed her space for the better, and especially liked her two-tone cabinets. Here's her letter:
Hi Sherry and John, We recently finished renovating our kitchen. The challenge was creating a kosher kitchen (two sinks and separate spaces for meat and dairy) while keeping it looking clean and uncluttered and keeping the cost down. The original kitchen was beige-on-beige laminate with very little counter space.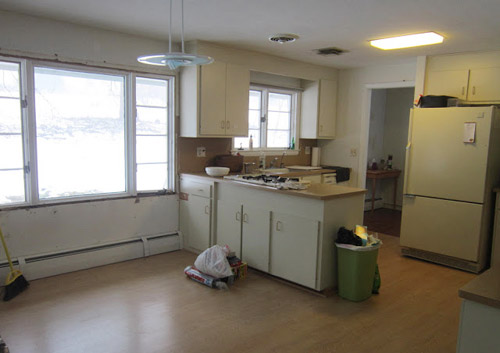 The only thing that wasn't torn out was the window above the sink! The wall between the dining room and kitchen was removed, the dinette area was deleted, and that's where the breakfast bar now sits. The large picture window was made shorter to accommodate the long counter with a second sink.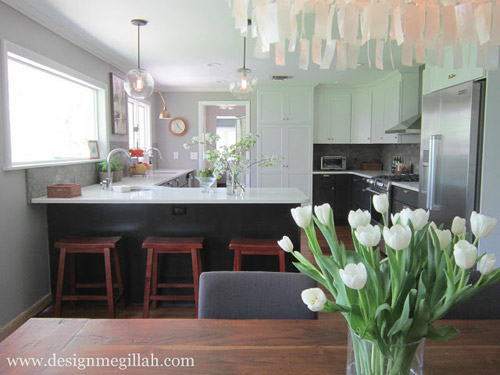 This kitchen is all about contrasts… white upper cabinets and dark gray bottom cabinets, a rough reclaimed wood dining table and shimmery capiz lighting fixture, sleek white counter tops and a dark limestone tile backsplash.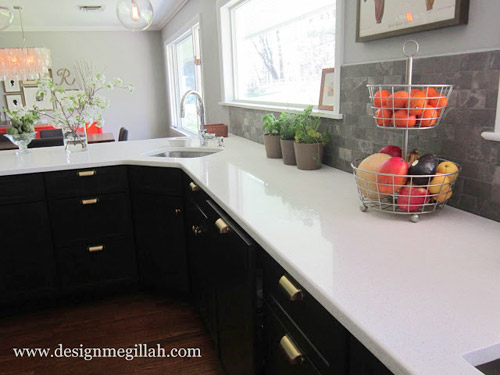 The cabinets are shaker style Diamond cabinets from Lowe's (I'm thrilled with the quality). The brass pulls are Martha Stewart for Home Depot and the counters are quartz. Light fixtures over the breakfast bar and sink are from Schoolhouse Electric. The natural light that pours into the kitchen most of the day is awesome although I still need window treatments–I'm thinking of roman shades.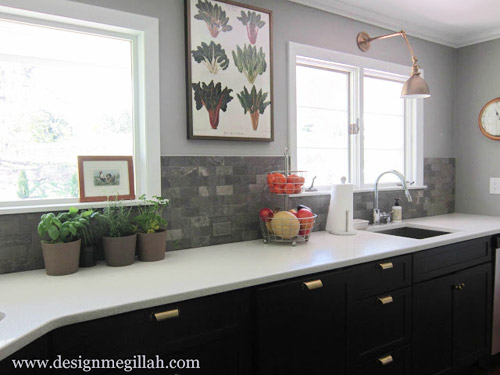 The new pantry sits where the original refrigerator used to be.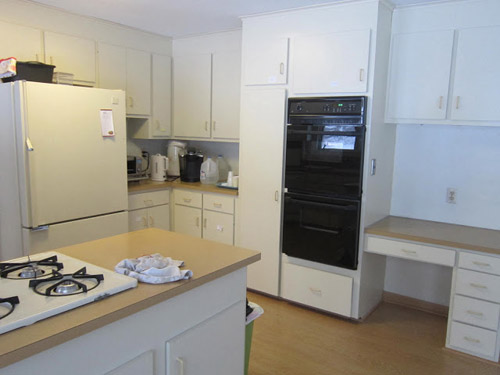 There are also two "sides" flanking the stove–one for meat the other side for dairy.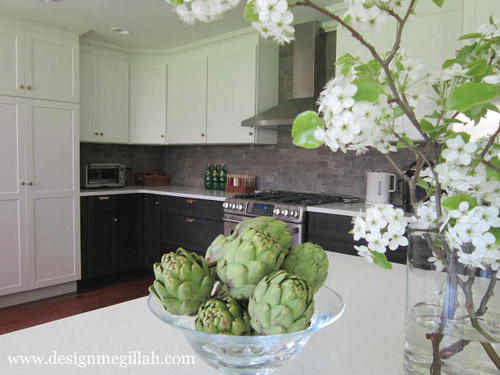 Here's one of my favorite things–I found the idea on Pinterest.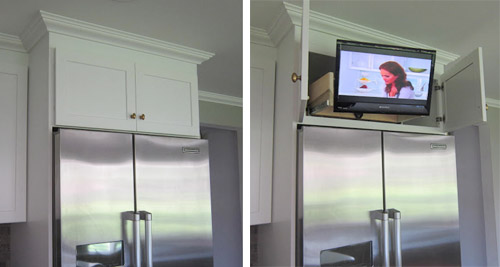 It was totally worth the months of plaster dust and living with no sink or stove for a while. Our new kitchen is not only beautiful but a pleasure to cook in and I feel blessed to be able to work in it everyday. Thank you, Rita
No, thank YOU Rita! Because in addition to that awesome cabinet color combo, you have actually made me – a dude who likes power washing – appreciate gold hardware. And Sherry's pretty much in love with everything, but the gold fixture over the sink (speaking of which, you can read all of the full sources on her blog) did her in. Thanks again for sharing your kitchen! What do you guys think? Got a favorite part? Who's digging the secret TV?