*** This giveaway is no longer accepting entries – see who won below! ***
Random.org has done it again and selected our winner as… Chelsea (who loves the smell of coffee in the morning). Congrats!
The only fragrance we're giving away this week is that of sweat and elbow grease (yummy, right?). Because this week's prize comes from Channellock, who not only makes some of our favorite tools but is also celebrating 125 years of forging them right here in the USA. So they're giving away 1 + 2 + 5 tools (that makes 8, btw) to one soon-to-be-sweaty guy or gal. That lucky lady or lad will be getting a five-piece Tool Roll, two Ratcheting Wrenches and one Professional Laser Level. Can't ya just smell those projects in your future?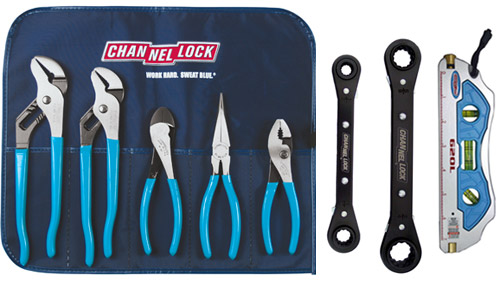 PRIZE: Channellock's Tool Roll #3, Ratcheting Wrenches and Professional Laser Level (a $173 value)
TO ENTER: Comment on this post with the words "CHANNEL ME!" and…
BONUS QUESTION: … tell us about your favorite smell. Do you have a go-to perfume or cologne? Are you a sucker for a particular type of scented candle? Or will you admit to something stranger like burnt popcorn, gasoline, or egg salad?
GIVEAWAY CLOSES: Wednesday, August 10th at 8pm EST
NUMBER OF WINNERS: One
PRIZE SHIPS: All Fifty United States
USUAL STUFF: One entry per e-mail address is permitted. The winner will be selected using random.org and announced on Thursday as an update to this post. That's right, come right back here on Thursday morning for the announcement of our winner. Good luck…
Note: We weren't paid or perked for hosting this giveaway, we just do 'em to thank you awesome folks for stopping in. See our Giveaway FAQs page for more info. Pics courtesy of Channellock.
Bonus Freebie: Hey Richmonders – we've got a local prize for you over on our Facebook page (you might have to scroll a bit to find it – just look for the elephant). You can enter to win a pair of tickets to next week's ASID White Elephant Designer Auction right here in RVA!