We've dealt with box-y rooms, but this takes that term to a whole new level: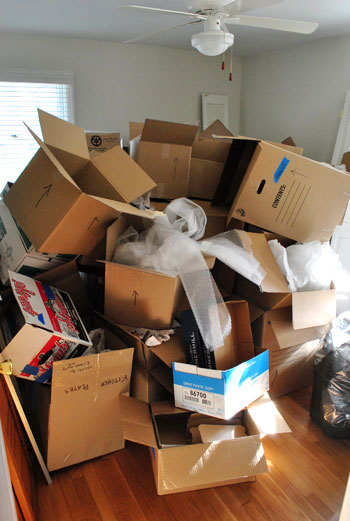 What you're looking at is what we lovingly called our "Box Graveyard," aka the guest bedroom filled to the brim with all of our now-empty moving boxes and packing supplies. As disastrous as it looks, we have to admit that after trying to be so orderly about packing, it was somewhat cathartic to just toss the empty boxes into one big über-disorderly pile. Call it tapping into our wild side if you will.
But of course we can only pretend to enjoy a mess for so long. So almost as soon as the last box was tossed there, I found myself breaking them down and collecting the newspaper and bubble wrap into garbage bags (so they can be reused by someone else along with the boxes thanks to cragslist). About two hours later I found the walls and the floor again: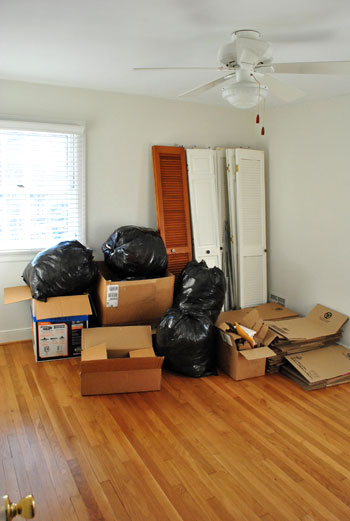 It's not quite the tidy "after" that we typically go for, but we're sure a fellow-craigslister will take them off our hands so we'll officially have our guest room back. Well, except for those bi-fold doors that still need to make it over to the Habitat For Humanity ReStore. Hopefully we'll get to that soon…
Has anyone else out there used the Box Graveyard method? Or relied on some other form of controlled chaos to make themselves feel better after a move?