***Clara's here! So this baby pool is officially closed***
Sherry's officially three weeks from her due date (May 19th) so we thought it was about time we started a fun little baby pool around here. And like any traditional baby pool, we're taking guesses about when the beanette will be arriving…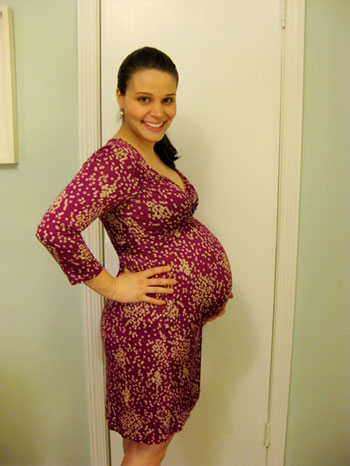 But our little YHL twist is that this baby pool comes with a special home decor-tastic prize: an $100 gift card to West Elm! We realize it's not a particularly baby-themed freebie, but we wanted everyone (with or without a bean) to be excited to play. And needless to say we were beyond thrilled when the kind folks at West Elm offered up an amazingly generous gift card to one lucky reader. We couldn't love their stuff more. Seriously.
Just check out some of their merch that we're ogling at the moment (and a few things that you may recognize because they already live here at Casa Petersik):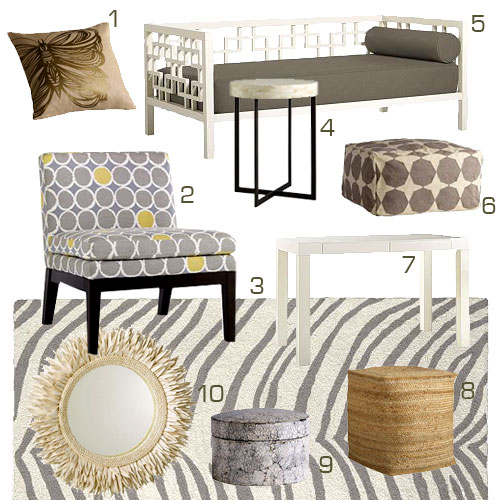 The Patch NYC Flax Butterfly Pillow
The Flower-Dot Upholstered Slipper Chair
The Safari Rug
The Bone Side Table
The Overlapping Squares Daybed (which we've enjoyed since 2007 in our sunroom)
The Platinum Dhurrie Pouf
The Parson's Desk (which we've used in our corner-of-the-den office for years)
The Jute Cube
The Large Crushed Eggshell Box
The Round Coco Mirror
So here's how it's gonna work:
Comment on this post with the DATE that you think our baby girl will arrive. No need to guess times or weights (well you can but we won't be judging those). And for fun feel free to toss out your favorite West Elm item these days.
We'll leave the pool open for guesses until we announce Baby P's arrival, so guess now or take your chances waiting (bearing in mind that we won't be disclosing the exact moment she's born, so you do risk losing if you hold out too long).
Once we've recuperated after D-Day (delivery day), we'll use random.org to select ONE RANDOM WINNER out of everyone who guessed the right date.
The prize (aka: a $100 gift card to West Elm) is available to everyone in the USA. And, as usual, only one entry per email address is permitted.
Have fun with your predictions everyone – at this point your guesses are as good as ours!
Find more freebie info on our Giveaway FAQs page. Pics courtesy of West Elm.