We've shared a few behind the scenes posts about how we take on side gigs, like this one about how our lighting collection came together, and this one and this one about our experiences with writing a book. So we thought it would be interesting to share a side gig that didn't work out, despite putting lots of behind-the-scenes hours into it. You know we like to share the good, the bad, and the ugly – so why hide something that ended up being a big ol' bust when we can tell you guys about it?
Without naming names, a very nice company that makes wool/cotton rugs approached us and said "Let's do a Young House Love rug collection!" It was right about the time that we had started working on our lighting collection, so it felt like a natural extension to that project. Part of the reason we jumped at the lighting opportunity was that Shades of Light shared our vision for affordability. They liked the idea of working with us to create lights that were priced at $99 and under, which made the process more challenging (some nice-but-too-expensive designs got canned along the way) but keeping to our budget-minded roots meant that the whole project felt right for us. We were essentially designing things that we, as a customer, would buy (and did buy!).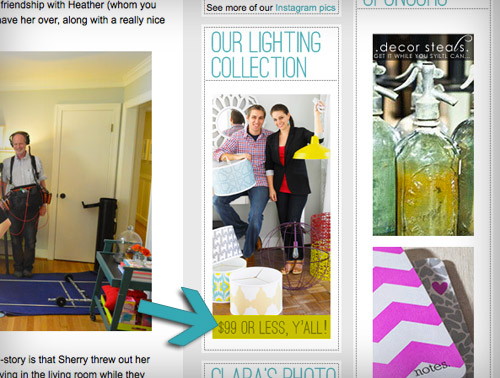 We were also excited by the prospect of getting to design some cool yet affordable rugs made from nice natural materials (like cotton and wool, which we prefer in our own home) and the rug company was on board with that vision too. So across many months of emails, calls, and even through shipping samples back and forth, we collaborated with their designers and manufacturers to turn ideas into renderings… and eventually into real rugs! Check out how little Clara was during that initial part of the sampling process. There's a nice arm tatt going on here, too.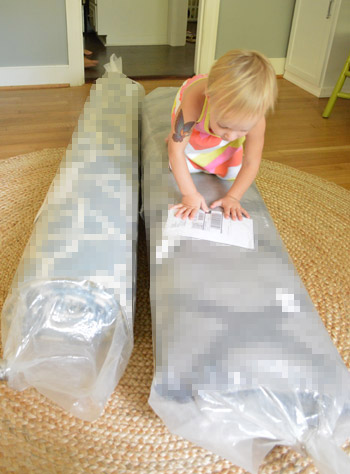 We were really excited about how they were coming together. After establishing initial patterns, most of our work was in tweaking the color schemes and adjusting the scale. And the manufacturer was doing a great job of turning them into high quality, flatweave cotton rugs that we'd love to have in our own home. But the one thing that we were having trouble seeing eye-to-eye on was the price.
You know we're always looking for a deal (some may even call us cheap… okay, we call ourselves cheap) so finding a good score on a rug is in our blood. In fact, we realized during this process that we're not sure we've ever paid full price for a rug. So as the pricing on our designs started to come back significantly higher than we expected, it was like a metaphorical record scratch. If I could beatbox I'd make the noise and put it right here in the post. Oh heck, let's just give it the ol' college try. Yeerrrrrreeeeech. How was that?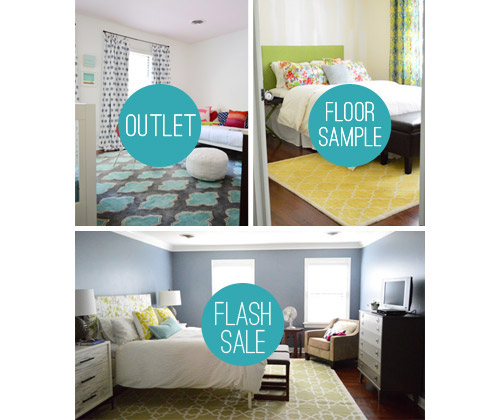 The point is, we just kept asking ourselves how we could possibly ask people to pay a price that we wouldn't consider ourselves. So after a couple of stressful phone calls and restless nights, we and the company came to the agreement that it wasn't a good fit. There wasn't much wiggle room in the prices, without compromising quality (nothing either of us wanted to do), and we just felt that it would be disingenuous to put our names on something that was outside of our own price range.
The good news is that the company was still able to move forward with producing and selling the rugs for the price they wanted, so the designs weren't wasted (although I'm not sure if they've hit market yet or not). And it wasn't a waste for us either. We learned a lot from the design process and we came out the other end with a clearer sense of the most important things for us to iron out whenever we collaborate (namely, quality and price point) – things that we'll know to pin down a lot earlier in the process next time.
I think one obvious thing we've learned from this blogging journey of ours is how hard you're driven to work when you work for yourself (the amount of effort that you put in can directly correlate with how much money you make for groceries that month) but we've also had to learn not to ever let the prospect of money talk louder than our gut instincts. If it feels wrong, we just have to gracefully bow out – even if it means we put in months of work and won't make a dime if we walk away. It sure is a better option than putting our names on something that just doesn't seem to fit (and feeling like big ol' rug phonies).
So that's the story of one side gig that never saw the light of day. Have you guys ever worked on something for a while and then realized it just didn't mesh up with your initial intention of the project? How did it all go down?