You guys have asked some questions about taking our own newborn photos, making Teddy's birth announcement, taking Clara's four year photo & making her annual video, and what I got for Mother's Day (spoiler alert: it's a super sentimental photo book of kid quotes from Clara), so this post is a smorgasbord of all that documentation. As I wrote this I thought "maybe John and I are more 'document-happy' than most people" – you know, to take so many photos and make a yearly video, etc. But then I realized that most people with a blog probably lean towards a love of capturing things, and a ton of our non-blogging friends and relatives have phones and computers full of videos and photos of their kids. So I think it's just easier than ever thanks to cell phones, and maybe we're not that unusual after all.
We did stash our phones and break out the good camera to snap some casual newborn photos when Teddy was just a week old though, so here's our favorite one on the cover of his birth announcement. We just used a template from TinyPrints, added the picture, and bought a few dozen.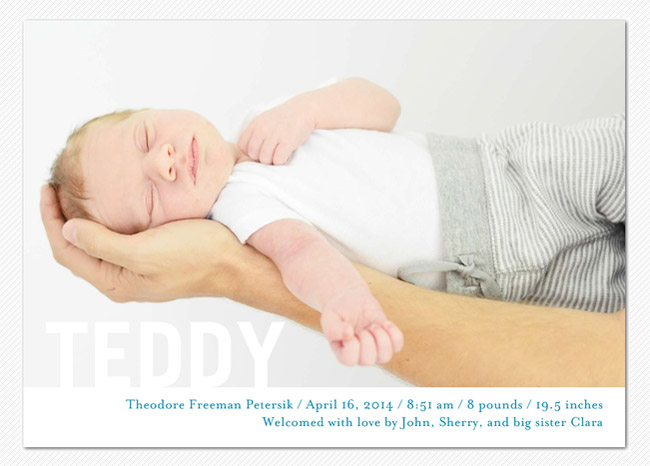 As is the case with most photoshoots, it gets a lot less glamorous when you zoom out. Yup, we snapped the photo above while John stood between a giant box and a plant in the office.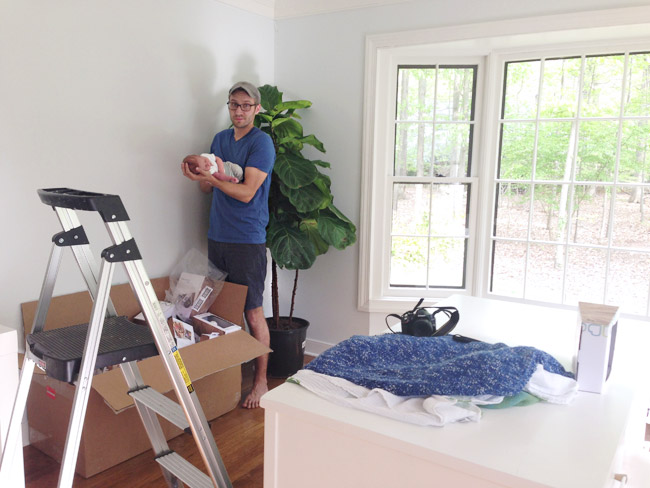 Teddy was just seven days old when we did this, because we wanted to capture his sweet squishy newborn stage. Our amazing brother-in-law Todd (who's a professional photographer) also offered to take some family & baby photos for us, so it was nice to know that the pictures we took wouldn't be the only ones. It took the pressure way down, and made it nice and fun. John and I both got in on the shooting action, and we even got some sweet pictures of Clara and Teddy together.
As for the tools we used for our casual little shoot (professionals we're not, so these really came in handy), we used the diffuser I got John for Christmas, a soft surface that we created with a pile of blankets and a Boppy on our office desk, and a step stool to help us take some shots from above.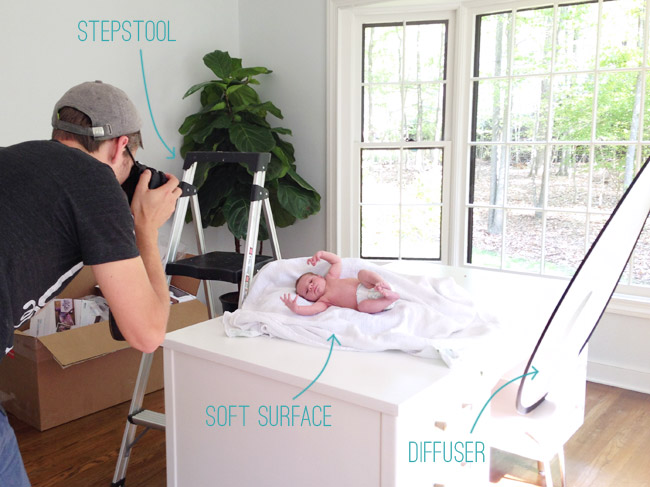 The difference of the diffuser was pretty dramatic. The shot on the left is one we took without it – and then we held up the diffuser to even out the light and took another picture. These baby-in-a-basket shots make us laugh because he straight-up looks like he's in the womb. I think good pro photographers can pull off setups like these, but after snapping a few we moved on to simpler shots of him sleeping, John holding him, Clara looking at him, etc.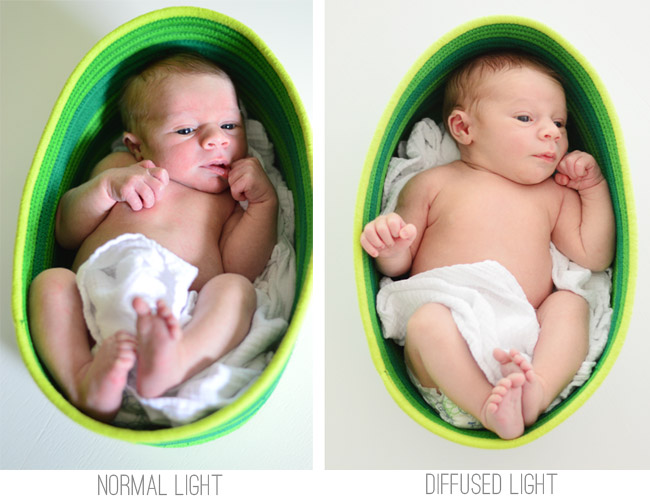 We took these photos with our Nikon D3200 and our nifty fifty lens (it's an AF-S Nikkor 50mm lens that we've had for a few years now). It's great for shooting detail shots and creating that blurred background, but we never use it for full room shots (we use the stock lens that came with our camera for those).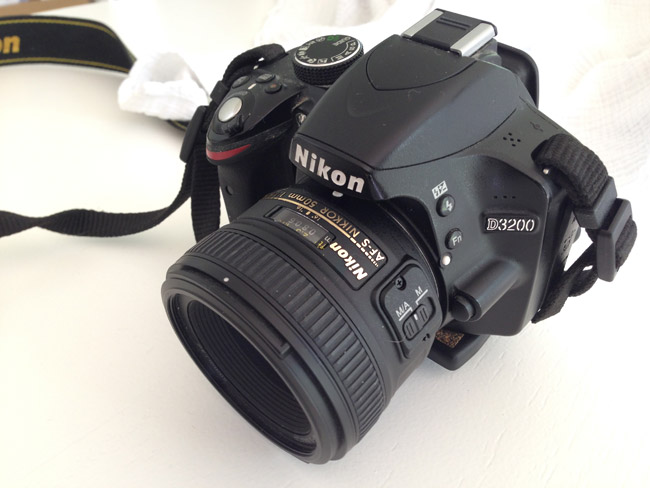 We also tried to include things with meaning to us in the photos…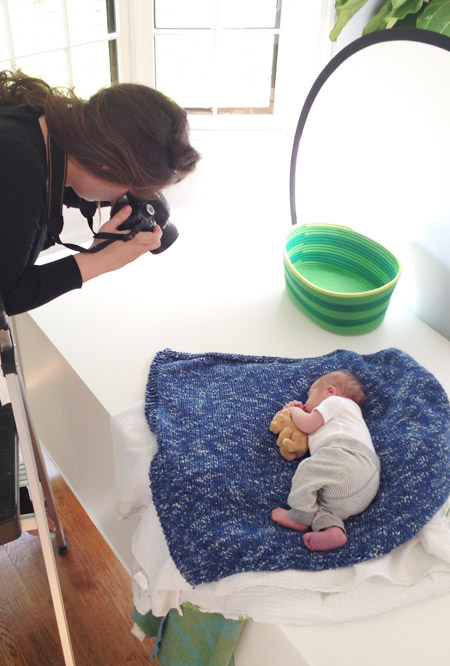 … like this sweet blanket that my brother's wife Ali knitted for us (it was the first one she ever made – and it came out awesome!).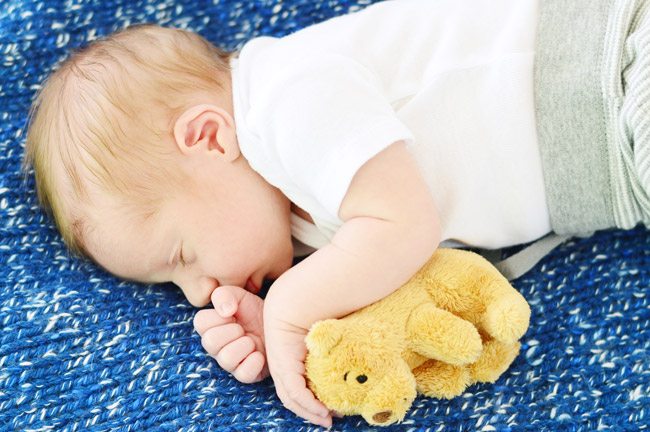 Baby foot intermission. I still contend there is nothing cuter.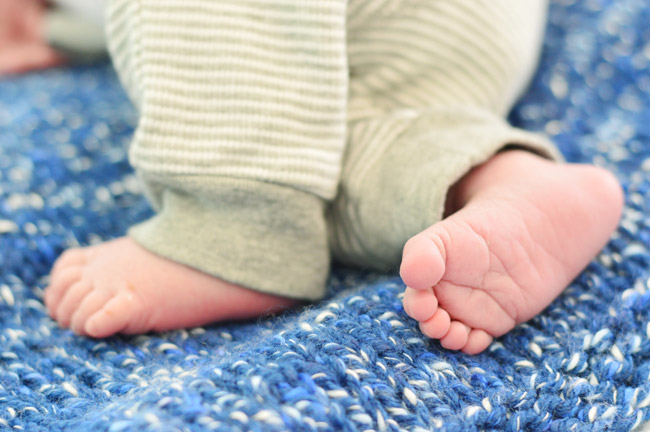 I love this photo that captures Teddy's cute hair and John's wedding ring with a simple light background. I still can't believe how much hair he had at birth since Clara had hardly any for a while.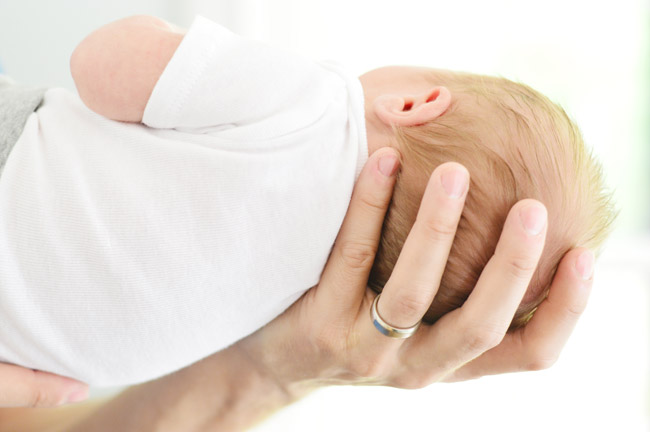 Here's one with eyes, was a total coup for us since he was still pretty sleepy and squinty at seven days old.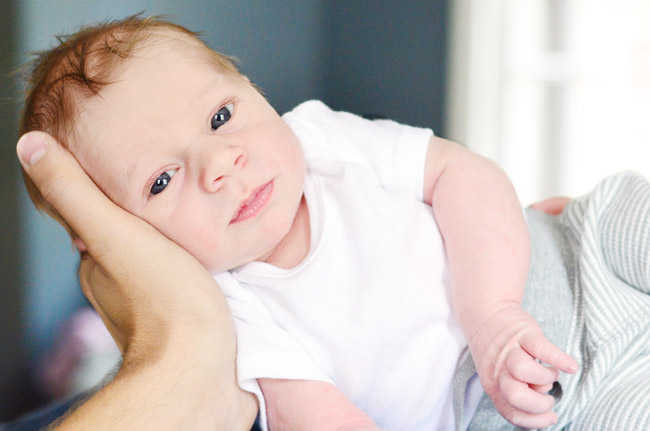 We also wanted to get some shots of Clara with him, so we used our bed as a casual background.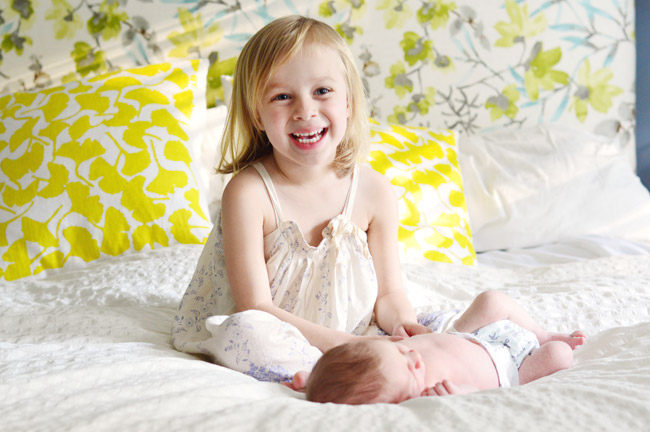 This one melts my heart. This girl LOVES her brother.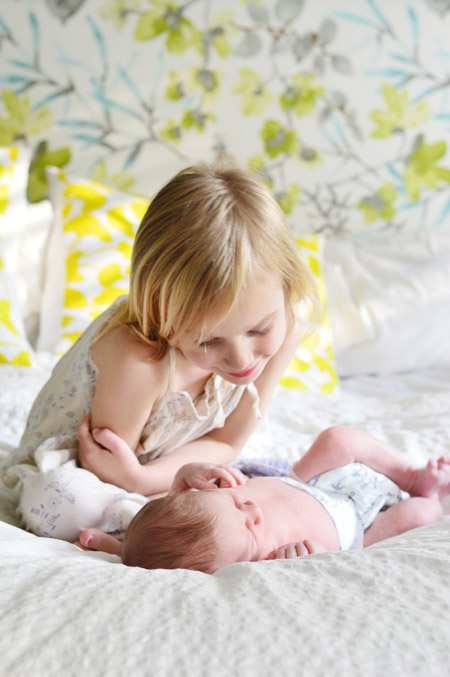 We liked these shots so much that we used a series of them on the back of Teddy's announcement.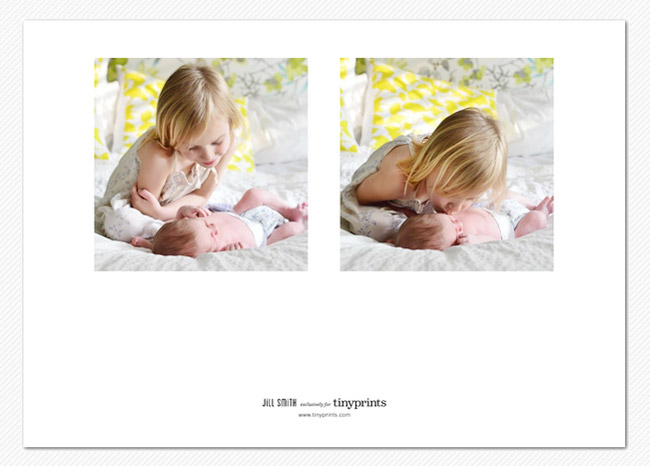 These photos were taken the next day, just randomly when they were laying in our bed.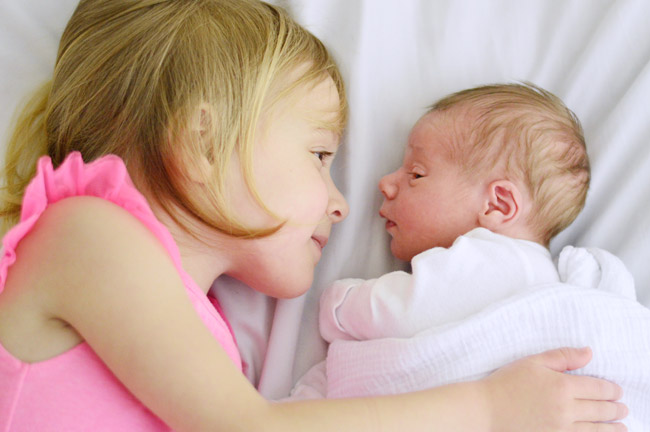 They're a pretty hilarious pair, these two.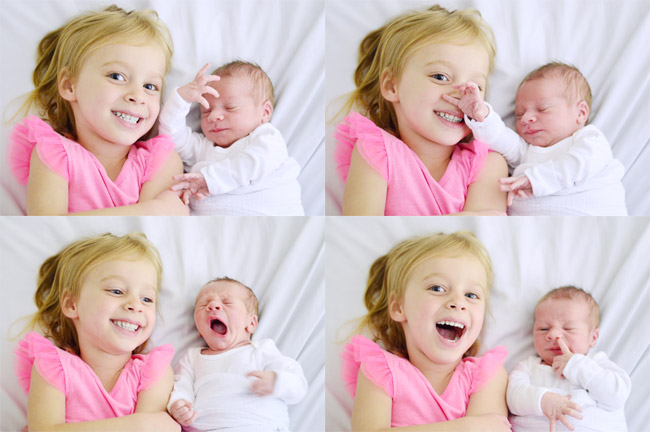 Which leads us to Clara's latest photo project picture. A bunch of you started asking where her four year shot was after we shared her birthday party (thanks for the reminders! It had completely slipped our mind between party stuff and general newborn happenings).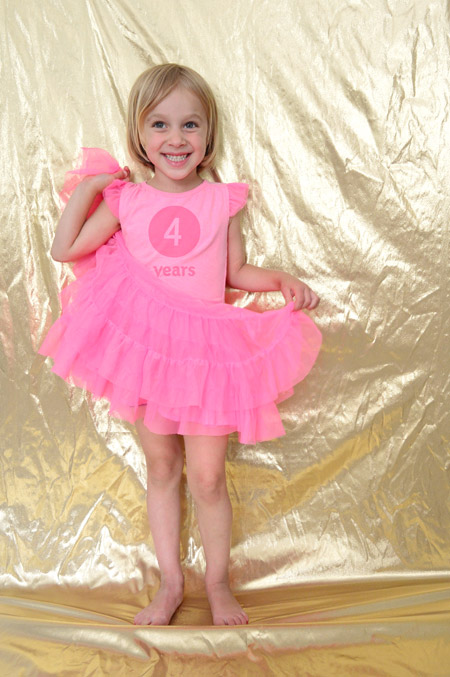 It's pretty crazy to see how much she has grown since we started the project. One of our favorite things to do now is to take Teddy's weekly photo and then look back at Clara's photo from that same week. She loves studying his photos next to hers, and it's fun for us to pick out a few similarities and differences.
We also got some pretty great outtakes from Clara's four year photo. The one on the right kills me. She saw it and said "I look like a flamingo!"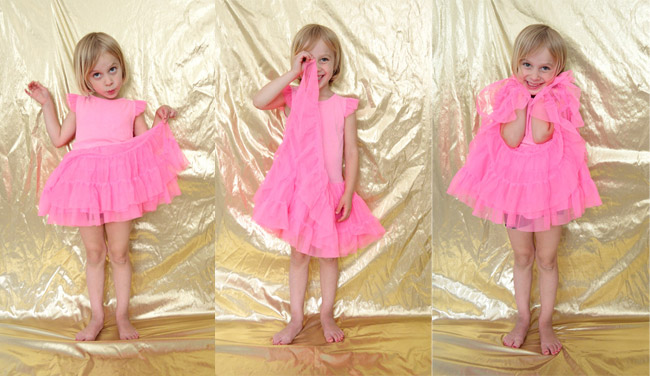 And now for my mother's day gift. It made me full on ugly-cry. John secretly put together a little photobook full of Clara Conversations for me.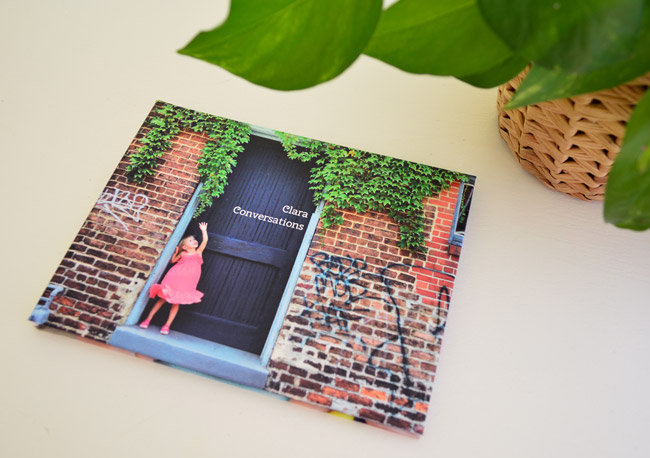 Every page had me doing that smiling-with-tears-running-down-my-face thing. It's one of my favorite things ever. And such a huge surprise. I have no idea when he snuck the time in to make it.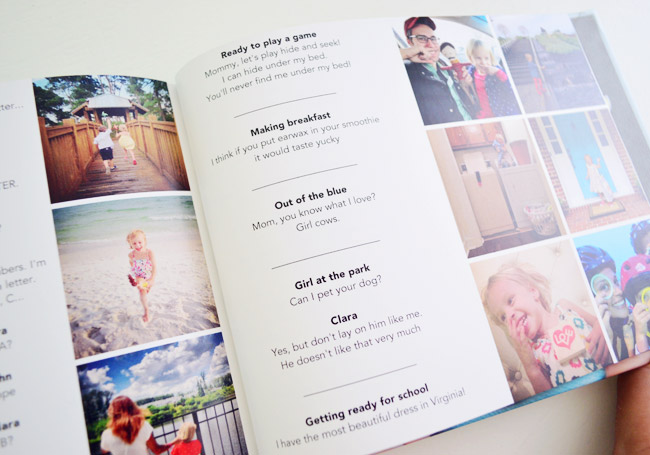 John even thought to leave the last page blank so Clara could draw our family. Look at us, all holding hands. I also like how Daddy is smaller than Teddy. And the Easter stickers are a nice touch too.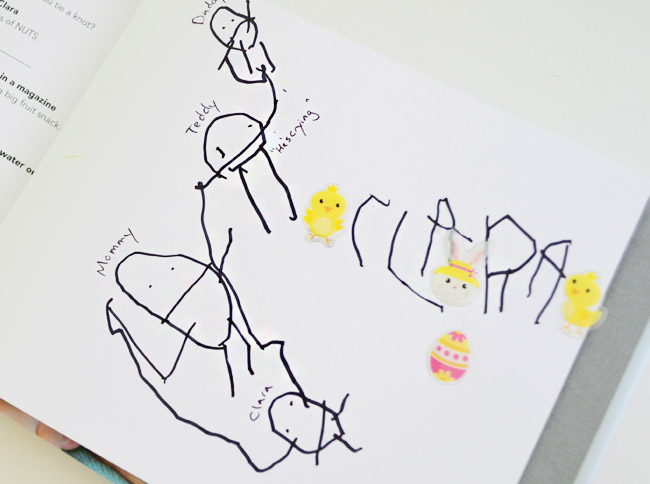 Update: John made/bought the book through MyPublisher, which is also where we order our family yearbooks (although this book is smaller and thinner than those).
How are you guys documenting things these days? Is your phone full of photos? Have you make any videos with clips and pictures set to music (here's a post about how we make ours). Is anyone else sending out birth announcements? Is it weird that I keep them? I have dozens of them, from every friend and relative who has ever sent them to us, and I keep them in a big stack next to the cookbooks in a kitchen cabinet.