Now that Clara's old enough to hold a tiny paint brush, get down with some Mod Podge, and rock out with a nail gun (just kidding about that last one), I thought doing the occasional project with her would be a good time. And I'm not gonna lie, this project is still fun without a kid (and can definitely be done with adult-made art or even some awesome decorative gift wrap or wallpaper), so let's slap a "no children necessary" label on this baby.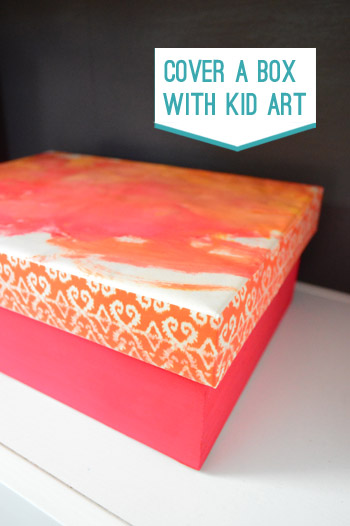 As for the how, first my trusty assistant and I perused some of the art that she made at school (she loves to paint) to choose the one that she liked the best. Her winner was the one closest to the camera below (with yellow and orange and red in it).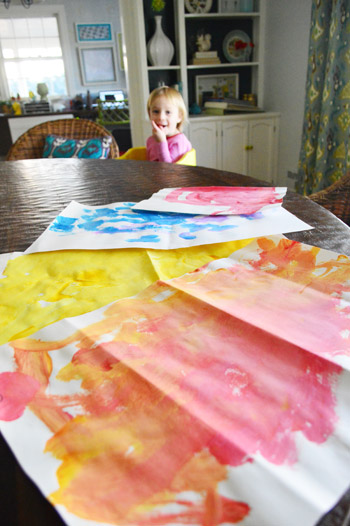 Then we grabbed one of those very lightweight wood craft boxes that we picked up at JoAnn (I think they're also at Michaels). Clara watched intently while I laid the art under the box lid with both the art and the lid facing down and cut the corners of the art like this, so they met up with the corner of the lid: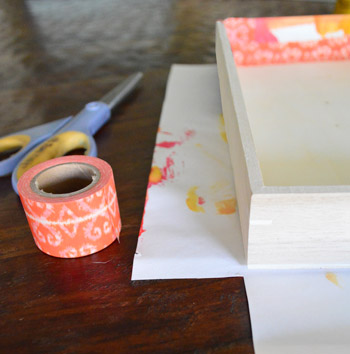 This allowed me to wrap the painting around the box as if I was gift wrapping it, and I used some decorative washi tape (it was a gift, so I'm afraid I'm not sure where it's from, although I've seen similar stuff at Target) to hold it down on the inside of the lid.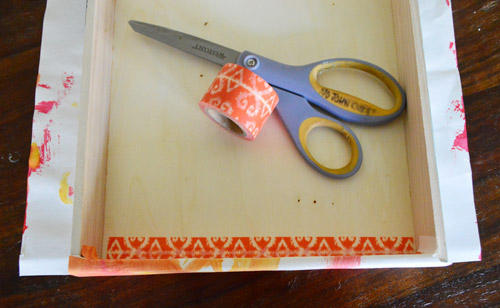 I repeated this process on each side of the box as Clara watched attentively from her chair nearby.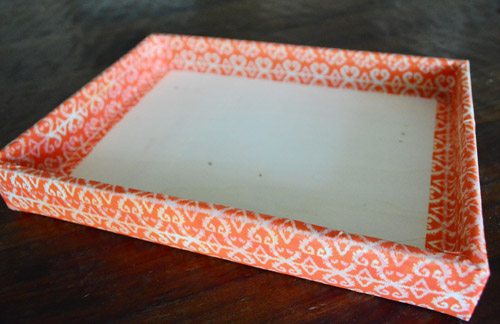 Then I ran some of the tape around the side of the lid, just because I loved how it looked with Clara's painting so much, but if you like seeing the art wrap around the lid instead of adding a tape border, you can leave it as-is.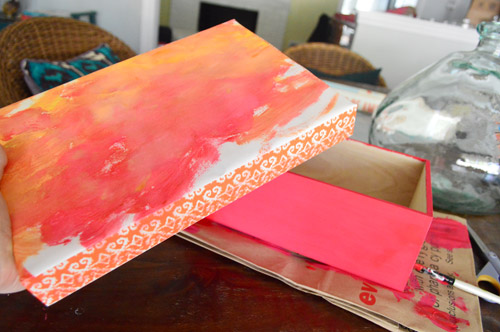 Oh and you'll notice in the background of that picture that Clara and I had gotten down to work and painted the bottom of the box red. She loved helping with that step, and it took a few coats (with drying time in between) so we went off and played with a few other things and got dressed and all that good stuff in between coats.
After all the paint was dry, Clara also enjoyed helping me slap some Mod Podge all over the top of the box, to seal her painting and protect it for the long haul.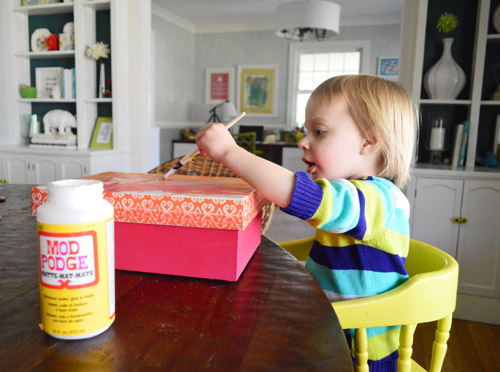 So to anyone who loves doing projects with their kid, there are actually three steps that Clara enjoyed. The first one of course was making the art in the first place, the second one was helping me paint the base of the box, and the third one was applying some Mod Podge to the top of the box to seal things – so I just did the harder stuff like cutting the paper and taping it into place on the lid.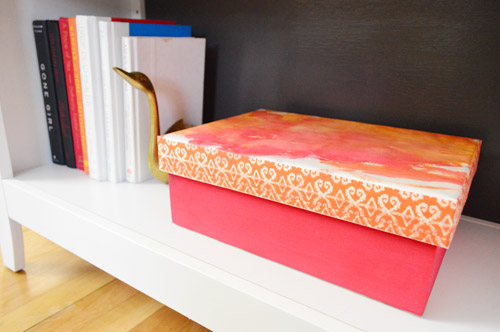 I think the finished product is pretty cute, and I love how fun it was to tackle with Clara. What kid crafts have you guys been doing lately? Don't you love finding ways to incorporate their art into your home so you can enjoy it instead of storing it away in some box that you never open? Clara's teacher says when they paint in class she stops and steps back and looks at the paper and then steps forward and paints a little more and steps back and looks at it again and then dives back in. Is that cute or what? She's my little Van Gogh.