This weekend we spent a few hours combing through things we already had and popping out to Target and Michael's for a few affordable Halloween accents to decorate three different areas of our living room just in time for the season of ghosts and goblins. We don't usually go all out for the spookiest day of the year, but when we realized that purchasing a silver candy bowl, a faux crow (say that ten times fast), two votive candle holders, a plate, one red candle, two white faux pumpkins and a few black feathers could transform our console table, coffee table and dining table we were totally game.
So here's a little video all about how we repurposed everything from an Old Navy scarf to dog treats (yup, dog treats) to get into the Halloween spirit without breaking the bank:
And for those of you who can't view the video at work, here's a little summary for ya. We opted for an eerie Edgar Allen Poe meets Twilight & True Blood effect, so we skipped the orange pumpkins and fall leaves and went for high contrast black and white accessories set off by a few haunting accents like an ominous black crow and some DIY bleeding candles.
For the console table we dug up an old scrap of burlap to use as a raw and rough looking runner and placed various candlesticks and votives around the new silver candy bowl we picked up.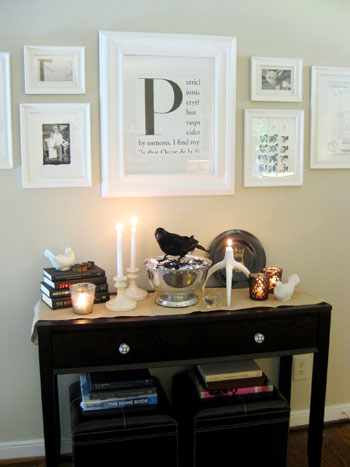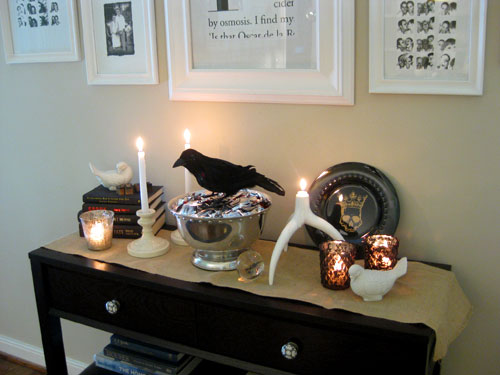 We also found books laying around with appropriately spooky titles and black spines to work into the display…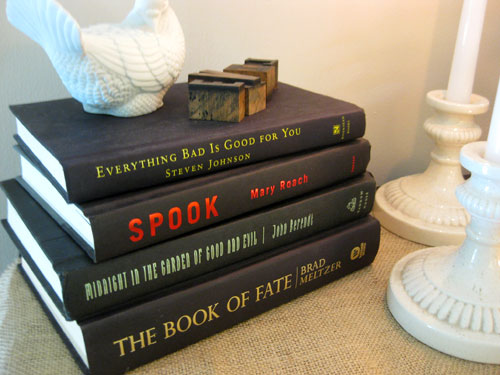 …and even realized that old printing blocks from the flea market that spelled LOVE could be rearranged to spell EVOL- just one letter away from EVIL. So we flipped over the O block and markered in an I on the blank wood back. Voila- a cheeky little greeting (or warning) to add interest to our display.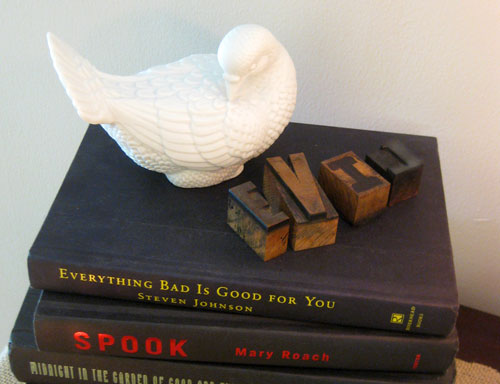 John also had some free Photoshop fun with our wedding picture, turning us into skulls and framing it above our console table in a let's-see-who-notices experiment for the Halloween season. Switching out art is just another easy way to add some dark and creepy interest around the house, so from ominous silhouettes to spiderweb sketches there's no end to what you can DIY for your walls on the cheap.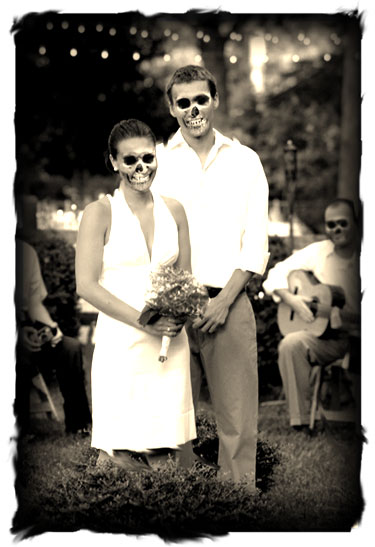 When it came to the coffee table we gathered every single candlestick and votive holder that we already owned (from mercury glass beauties to crystal and glass varieties) and grouped them en masse on the coffee table.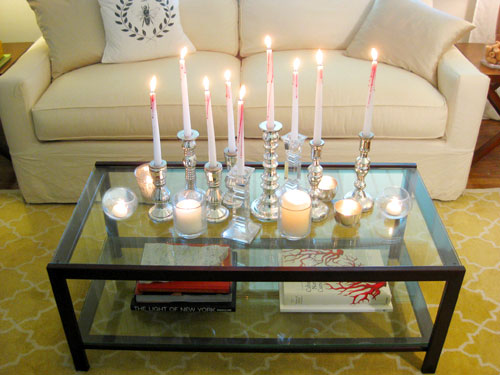 Then we just dug out some white taper candles we already had and purchased just one thing for this entire set up. A $69 cent red candle, which we heated up and used to drip red wax down the tops of our existing candles (an old Martha Stewart trick we love).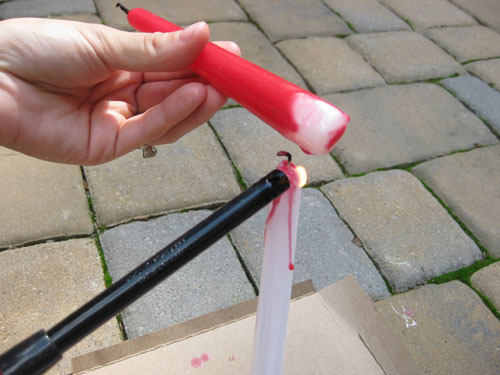 Presto- an arrangement that Edward and Bella (or Sookie and Bill) would be proud of.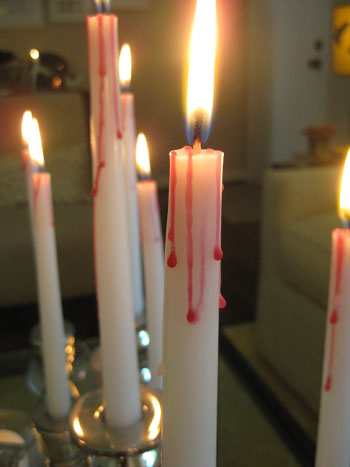 Then for the dining table we pulled out my aforementioned Old Navy scarf to repurpose as a runner (the black and gray pattern almost looked like spiderwebs) and a glass greenhouse that used to house a fern in the guest bedroom (which we used to display a silhouette of Burger that John gifted me a while back). It's funny how putting something behind a dome of glass makes it look like a specimen or some sort of eerie mad-scientist experiment. We even added an old fashioned stopwatch for even more of that scientific vibe (a relic from my past as copywriter- I used it to time scripts I wrote for commercials).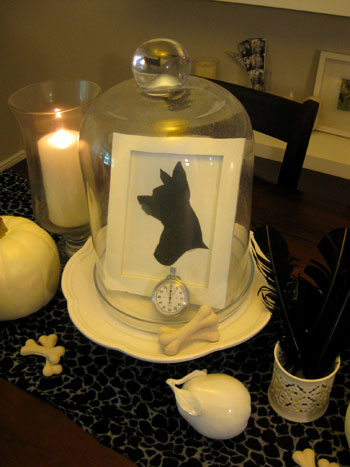 Raising the glass dome up on a cake stand created some interest and height in the center of the table, and then we just added our two white faux pumpkins, two hurricane candle holders from the den, and even two white ceramic pears from the kitchen. The finishing touches were six small ceramic-looking bones which are actually Burger's treats! They're made of oyster bones and they're odorless and actually look super convincing among our other Halloween décor- especially when paired with Burger's silhouette. And the funny thing is that they're around $2 for a bag of 15 at Target (which we already had laying around) so although we used six on the table there were still plenty left over for Burger's belly.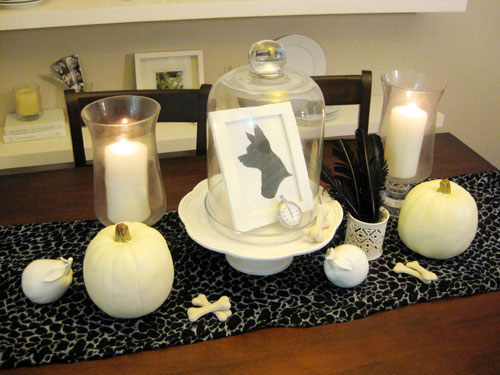 So that's how we sifted through our closets, cabinets and even Burger's treat dish to come up with three fun little arrangements for the Halloween season. And because we know you people love a budget breakdown…
Silver candy bowl – $14 (Target)
Faux-crow – $4 (Michael's)
Smoky glass votives – $7 for two (Target)
Skull plate – $2 (Target)
Red candle – 69 cents (Michael's)
Two faux-pumpkins – $5 for both (Michael's)
Black feathers – $2.00 (Michael's)
Grand Total: $34.69 (which breaks down to around $11 per arrangement)
Not bad considering we were able to snag a few things we can use all year round (like our new silver bowl and the smoky glass votive holders). Plus we love that we now have a little go-to collection of Halloween accessories that we're sure we'll be able to repurpose in a whole new way next year. But let's not get ahead of ourselves… we still have at least 30 hungry neighborhood kids to shove candy at THIS Halloween.
And speaking of doling out candy to the adorable 3 foot tall ghosts and mummies who ring our doorbell, that's always our favorite activity along with getting together with friends. Do you guys have any fun Halloween plans or traditions? We'd love to know what DIY decorating schemes you have up your sleeves and whether you'll go door to door, dish out candy or meet up with friends on the 31st. And stay tuned for some more Halloween-related projects coming down the pipeline, from pumpkin carving to porch decorating and more!