***This giveaway is now closed – see who won below!***
You guys hit the 10,000 entry cap to giveaway within 24 hours, so you must love some Fab as much as I do (or perhaps you just like $500). Either way, we've crowned a random winner and it is… Whitney (who says "Most of my apartment is muted gray, yellow, and blue, but my kitchen has bright red baking dishes on display.") Congrats Whitney!
I'm a recent addict to Fab (I own more t-shirts from there than I probably should admit). So imagine my reaction when I got an email from them offering to do a – wait for it – $500 Fab gift card giveaway for you guys. Their site includes items marked down between 10-60% from retail prices across just about every category – home, accessories, art, kitchen, pets, kids, clothing, jewelry, etc. And everything is selected with a discriminating-but-not-too-serious design eye. There's an emphasis on quirky, weird, and colorful items within their sales… which means there's a lot of fun to be had while spending the five hundred beans that are up for grabs.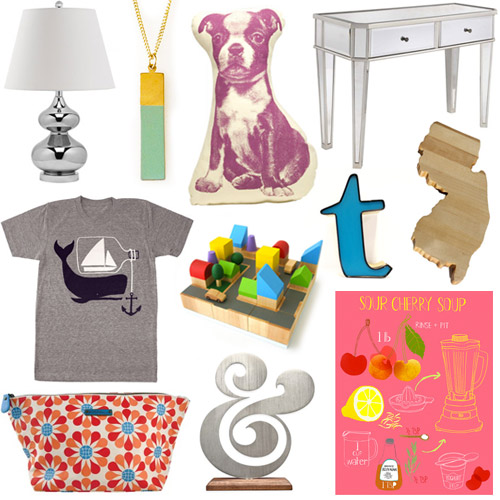 PRIZE: A $500 gift card toward Fab
TO ENTER: Comment on this post with the words "FAB ME!" and tell us…
BONUS QUESTION: …what's something weird, quirky, or colorful in your home that you love? Is it a bold art print in your entryway? An armchair with a happy pattern in your living room? Or several dozen ceramic animals placed throughout your house… not that we'd know anything about that.
GIVEAWAY CLOSES: Wednesday, January 30th at 8pm EST or at 10,000 entries (whichever comes first)
NUMBER OF WINNERS: One
PRIZE SHIPS: We always beg every vendor to ship internationally but some companies are not legally able to vend things beyond specific areas (more on that here). This giveaway is open to the United States, Canada, and much of Europe (click here for a specific list of countries)
USUAL STUFF: One entry per e-mail address is permitted. The winner will be selected using random.org and announced on Thursday as an update to this post. That's right, come right back here on Thursday for the announcement of our winner. Good luck…
***COMMENT ISSUES? If you're trying to enter but keep getting a "duplicate comment" warning, click here to see how to solve it!
Note: We aren't paid or perked for hosting these giveaways, we just do 'em to thank you awesome folks for stopping in. See our Giveaway FAQ page for more info. Pics courtesy of Fab.