As we previously mentioned, we recently enjoyed a whirlwind trip to New York City and back, the highlight of which was meeting our new nephew: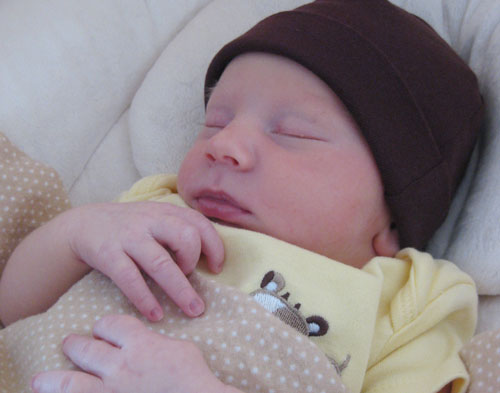 And while we were bonding with him in his parents' gorgeous uptown co-op, we finally got to see their new kitchen in the flesh, after months of makeover magic on their part. See, John's older sister Katie and her husband Martin had been living with their tiny NYC kitch for too long, so they decided to move some things around and take their cramped space from wee to wow. Their former cooking area was just one short wall with a tiny old stove and a seen-better-days fridge. Here's the before for ya (yup, that's all the built-in storage they had- two bottom cabinets, one drawer, and a few more upper cabinets).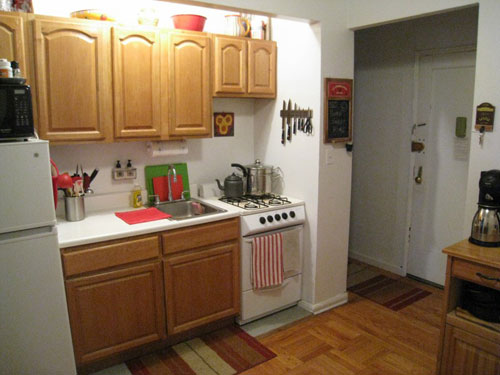 Of course there was no dishwasher (that's the stuff of dreams in Manhattan), but Martin and Katie soon realized that they could make that dream a reality by utilizing the empty wall across from their tiny cramped kitchen and adding an entire L-shaped area of cabinets to their modest layout (thereby almost tripling their storage space and creating a functional work triangle to boot. Here's the empty L-shaped wall (which used to include a now-relocated door to their bedroom) before the addition of some much needed cabinetry: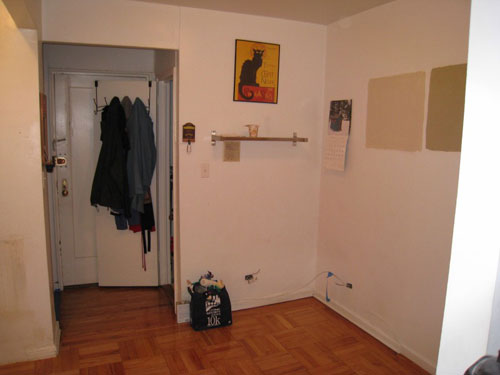 And here's the old kitchen all gutted and ready for a retake: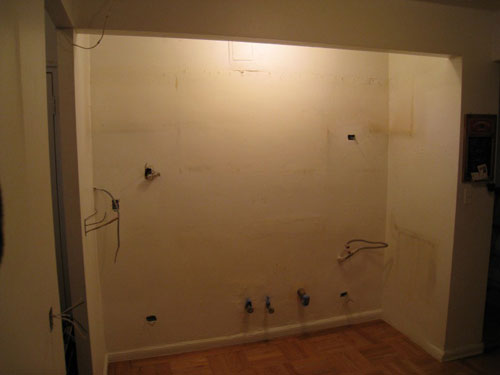 After using Home Depot's kitchen planning service (just like we did for our renovation last year) here's their lovely new after of a kitchen: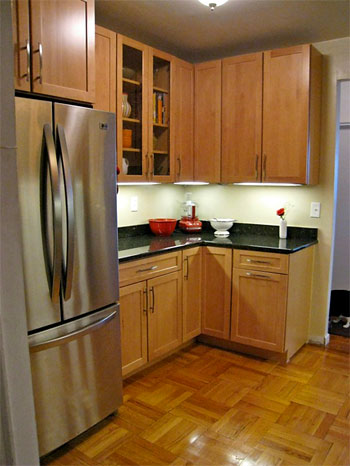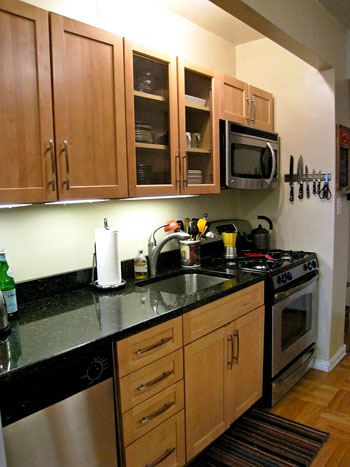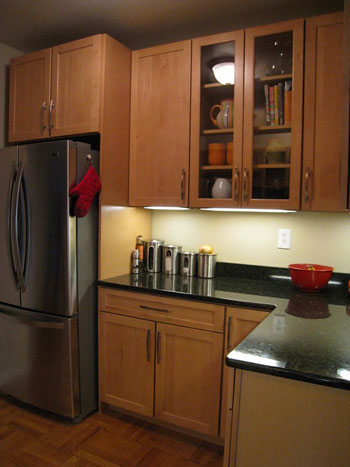 New taller upper cabinets add even more storage space, and relocating the refrigerator across the room allowed for a mini dishwasher to be installed, which is seriously the most amazing perk in Manhattan. Of course the new stainless steel appliances and granite countertops have added endless value to Katie and Martin's kitchen investment, and everything from the updated hardware to the gas stove keep the space feeling oh so sleek and current. We also love that Martin and Katie went for a few glass-fronted cabinet doors (two on each side of the room) to keep things open and to break up all that wood. We adore the glass door in our kitchen since it almost mimics a window and reflects tons of light, so we tell anyone who will listen that a few well placed glass fronted cabinets really can be the icing on the kitchen-makeover cake.
So there it is. A metropolitan kitchen that gained tons of storage space, function, and easy-on-the-eyes appeal. Do any of you guys have a tiny kitchen that you're thinking of expanding? Anyone considering swapping out some solid cabinet doors for a few glass ones? Anyone else in the city jonesing for a tiny dishwasher like Katie and Martin's? Let's talk.