At first I had typed the original "I like to move it, move it" lyrics but then I realized that I don't really enjoy the moving process at all, so it was sort of an unpleasant deja vu moment when we started unloading furniture into the Homearama showhouse on Monday. But my glass half-full version of the situation is: we're finally getting to the furnish the showhouse! Note: for anyone wondering what the heck this showhouse is, and how it benefits Habitat for Humanity, click here and here for more info.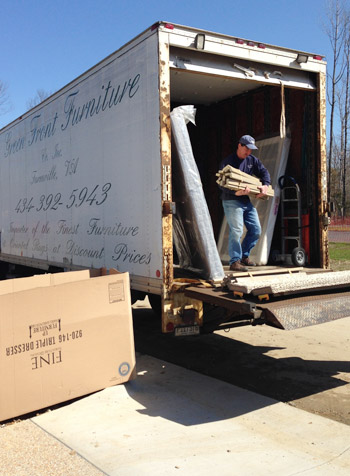 With almost everything done construction-wise in the house, we greeted a truck from Green Front Furniture (the local place loaning pieces to many of the houses in the show). They were delivering a bunch of bigger items like beds, desks, and sofas, so we had an "all hands on deck" day to carry things in and place them. Here I am with Charlie the listing agent hoisting the king-sized mattress out for the master bedroom.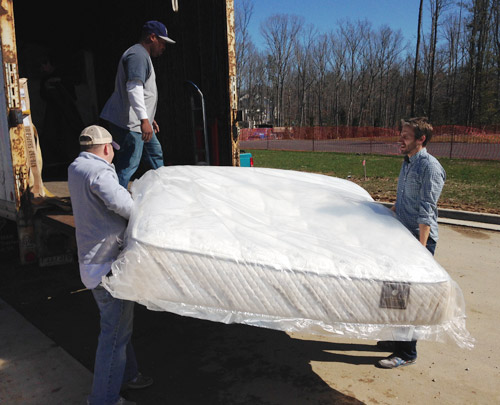 Not everything is coming from Green Front, so more stuff has been trickling in as the week went on. And Sherry and I have spent a few hours every day going to thrift & secondhand places, small local shops, and big box stores to buy all that makes-a-house-a-home stuff to fill blank walls, empty shelves, and other empty feeling nooks and crannies.
There has also been some great progress outside. The wood beams have been stained and sealed, which made their color a bit richer/darker as planned. It still looks somewhat naked without any landscaping, so we can't wait to see that stuff go in (should be rolling out sod this weekend) but the front door has officially been painted.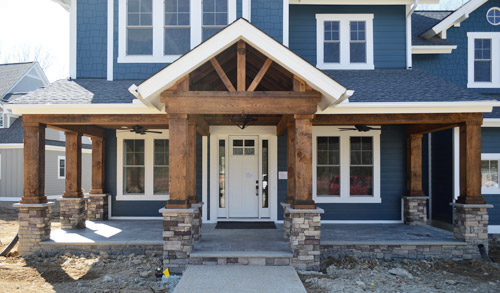 After the rest of the Homearama team weighed in on the door color debate, the write-in vote for white from you guys stuck (we all liked the idea of making the door look more substantial, so keeping it the same color as the white sidelights gave it more visual heft). The real stars of this exterior are the deep siding color and the rustic wood porch anyway, so we were all happy to let the door take a supporting role rather than competing for attention. Especially since we'll be adding things like landscaping/potted plants/porch furniture to the mix. We even have a hanging porch swing that's going up soon.
Moving inside, the kitchen is looking much improved now that it's all put together. The appliances are officially in, the backsplash has been tiled, and we even got our island stools put together, which are these comfy saddle stools donated by West Elm. (For anyone wondering about the island color, it's Hale Navy, the gray cabinets are just a stock color by the cabinet maker that we picked from a sample, and the gold pendants over the island are from Shades of Light).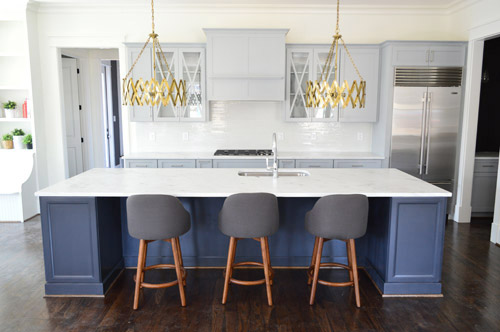 And look, you can see a sliver of styling stuff sitting in the built-ins of the eat-in nook to the left of that picture. Sherry's probably working on those as you read this.
I don't think we've showed that little corner of cabinetry on the right of the kitchen until now, so there it is. It's a nice big open space (the island is 11 feet long if that helps put things into perspective) and Sherry can't wait to get stuff on those counters and in those glass-fronted cabinets to make it feel more homey. Just seeing the stools pulled up to the island made it feel more "like a real kitchen" for us, though.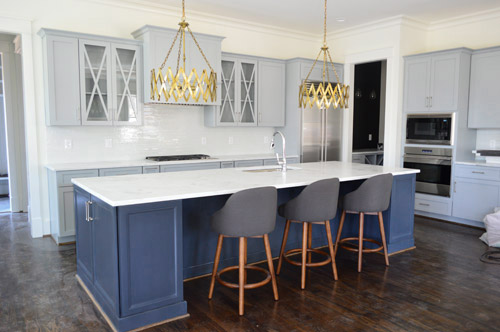 We wanted the backsplash to be fairly subtle, mainly just bringing a little polish and light-reflection to the room. So we chose this white blend waterfall glass tile from a local company called Mosaic. This is another case of "this didn't need to be the star" since we have things like the gold light fixtures, that big navy island, and those x-fronted glass cabinets – so we just aimed to make it a solid supporting player.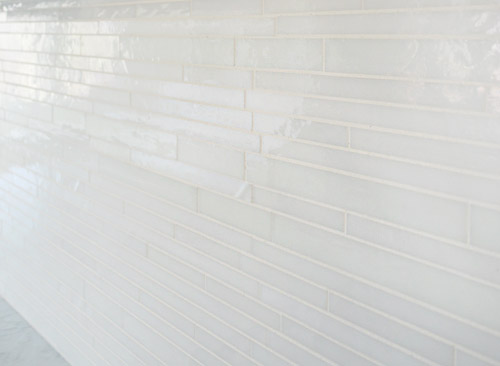 I tried to get a better shot of the counters, but didn't totally succeed. It's a leathered marble called White Moura which means that rather than having a smooth, glossy finish it has a slightly pebbled texture to it, along with a more matte finish. It actually feels kind of like leather (hence the name) but obviously is a lot harder/denser. And apparently the way they seal these, along with that added texture, makes them durable and easier to keep clean/maintain.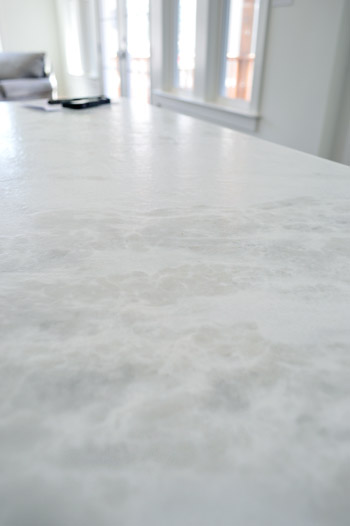 Let's talk about the fridge. I'm mad jealous of this fridge. Well, actually, I'm mad jealous of Yolanda Foster's fridge (I do my best to ignore the housewives entirely, but Sherry paused it to show me that fridge and it did something to me). But I'd still feel like a king if a fridge like this ended up in our house someday. We picked all of the appliances at a local contractor place called Cline. We had started by choosing a nice Whirlpool line, but the builder wanted to go big or go home, so he upped the ante and had us select a Sub-Zero and Wolf package.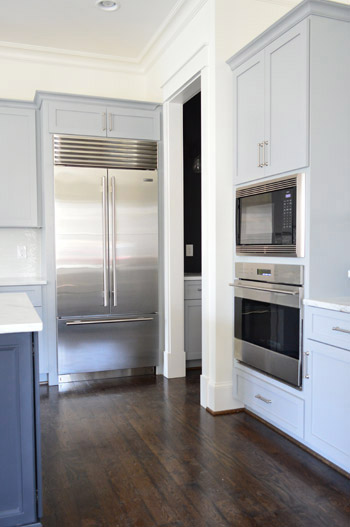 The area through that doorway above is the butler's pantry which has the same cabinetry and counters as the kitchen. We put in the traditional wine / servingware storage in the bottom, but ditched the usual upper cabinetry in place of some cool industrial teardrop sconces from Shades of Light and a wall full of chalkboard paint. It's a pretty small transition space so we thought it would be nice to let the upper walls breathe a little – and we have some plans for that chalkboard area soon…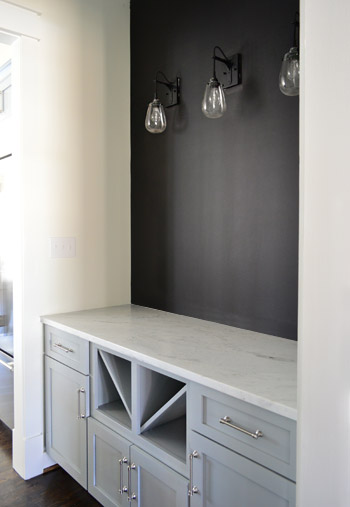 Moving upstairs, the wallpaper we've been way too excited about has finally been hung in the laundry room. It's called Pebble Leaf by MissPrint and was donated by Wallpaper Direct. We waffled a little bit on adding it, but in the end we said "showhouse! take risks! stop waffling!" and went for it. So glad we did.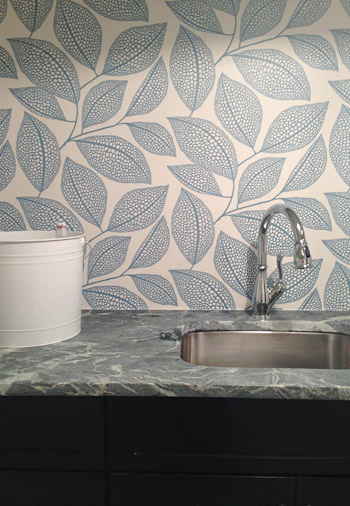 The counters are soapstone (purchased through a local place called Eternal Stoneworks), the faucet is called Leland (donated by Delta), and the cabinets are a dark wood stain (purchased from Affinity here in Richmond) while the floors are a nice, light and modern tile (called Travertino White Field Sunrock, purchased from Mosaic in Richmond). The lights are from our Shades of Light collection (they're these in "Extra Lime"), and we bought two of them to hang in a row for fun. We're still waiting on the washer and dryer (we ordered them in a deep gunmetal color) so that should complete that wall and balance things out.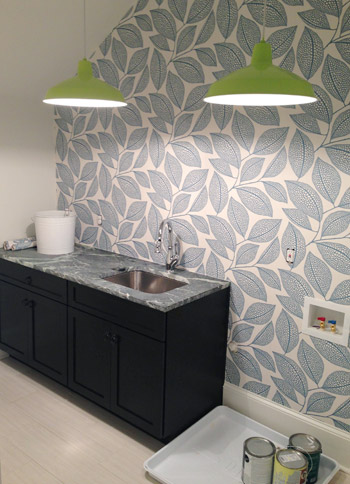 We haven't shown you the guest bathroom yet, since it's still missing a few major things like finished tile work and a mirror over the vanity. We wanted sort of a vintage vibe in there so we did a tile wainscot around the whole room, which we can't wait to show you when it's finished. In the meantime, here's a peek at the floor, which was donated by The Tile Shop. It's the hex version of the penny tile that we put in our last kitchen.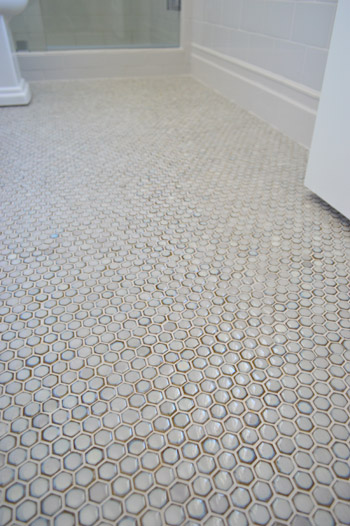 We also had fun with some vintage inspired fixtures, like this this bridge faucet that was donated by Brizo.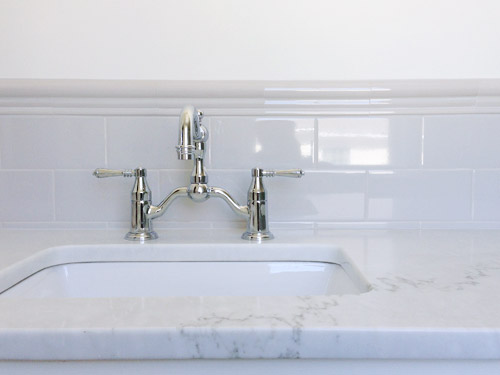 Even little details like having the hardware on the cabinets is making it feel that much closer to complete (these were donated by Liberty).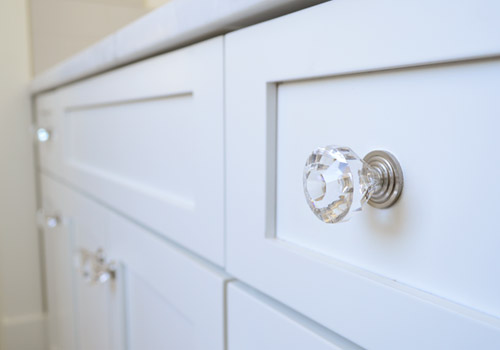 As much as we love the old-school/classic feel of the guest bath, our favorite bathroom in the entire house is the kids bathroom. You had seen a preview of the green vanity and the white lantern tile a few weeks back, but the wall-to-wall mirror finally got installed, along with our wall-mounted faucets, and that fun industrial light fixture (donated from Shades of Light).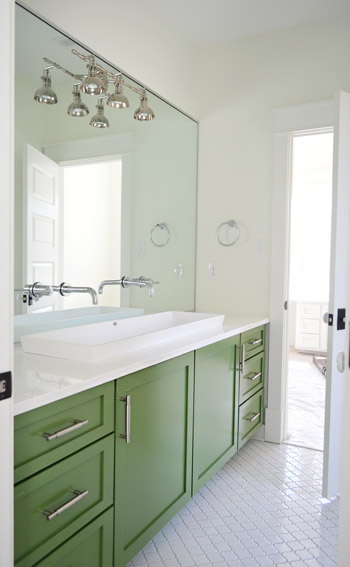 The white solid surface top has a double trough sink recessed into it, which the folks at Ferguson helped us find. It's hard to see how deep it is since it's half recessed (it doesn't just sit on the counter, it drops beneath it) but it has over 5″ of depth, 14″ of width, and is nearly 48″ long. Can I just tell you how crazy Clara would go for this set-up? It'd be like the grandest swimming pool ever for her Barbies. We also had fun adding a pair of wall-mount faucets (donated by Delta) that come directly from the mirror.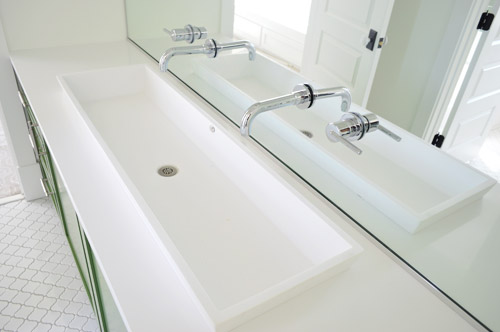 Don't mind me. Just another shot of the vanity since the lighting was about as perfect as I'm ever gonna get in there.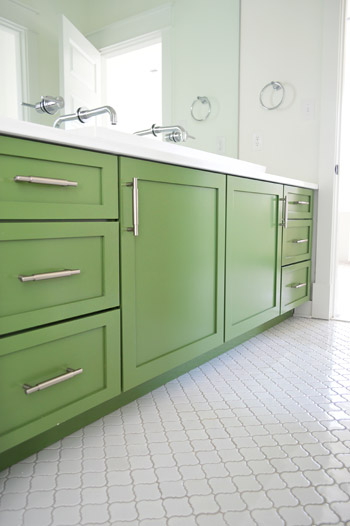 Another fun feature in that bathroom is the attached toilet/shower area, which is sectioned off by a door (so one kid can shower or use the toilet while the other one washes up/gets ready). Inspired by the cubbies in this bathroom, we had the builder squeeze in a set of wall shelves behind the shower that are perfectly sized for rolled up towels, shampoo, and other small bathroom accessories (you can read more about the striped glass tiles we chose for the shower here).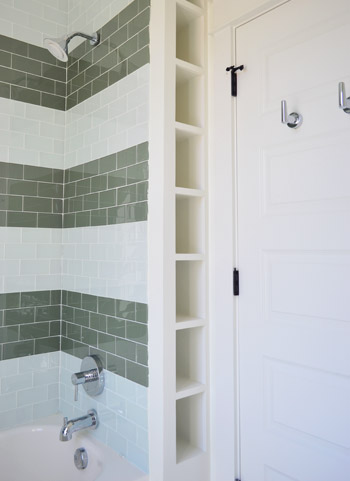 Other little nooks that are starting to come together include the Master Bedroom "Atrium" between the bathroom and closet. We got this brass floor mirror from West Elm so the future owners can look at themselves taking photos (I kid), and of course you guys have seen a peek of that branch chandelier here. Ah to have 10′ ceilings on the first floor and 9′ ceilings on the second floor. Update: these walls are Stonington Gray by Ben Moore.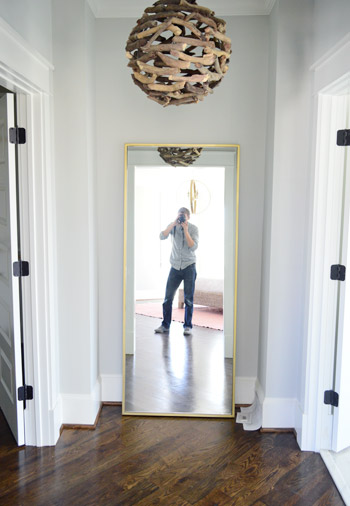 And we can't forget that there are six other awesome houses going up right around us for the show – each done by a different team. So the other day we took a super quick field trip (the clock was ticking for preschool pick-up) to see some of the other exteriors. How amazing is this backyard? Pools aren't super common in Richmond so it's a nice treat to see one going in. We wouldn't blame you guys if you just hung out back here during most of the show…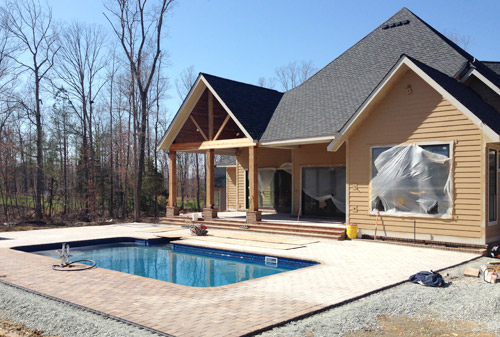 Things are going to be really showhouse heavy in real life for us over the next couple of weeks, so forgive us in advance if we're behind or off schedule. We don't want to let down our team or Habitat, so we're hustling to get this baby done… well… before our other baby is done. We're supposed to have as much finished as possible by April 4th (yes, a week from today) so it can be photographed by the Homearama organizers and then judged shortly thereafter (we'll continue tweaking things and tying up loose ends for the following week or two). So we're basically living out there these days. Good thing there are mattresses now.
PS: For those asking about Homearama tickets, they're usually $10 (children 18 & under are free) but you can get them for 20% off (and show some love to Habitat if you're so inclined) here. The show is open Thurs-Sun, the first three weekends of May.
&nbsp
From moment one of seeing this house, something about the view of a series of three lights all in a row(ish) in the upstairs hallway made us inexplicably excited. Just call it "the tri-light zone" effect. We just knew that arrangement had serious potential. You know, once we looked past the old carpeting and the blue trim.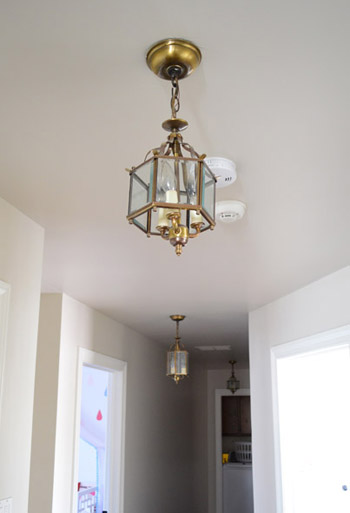 The existing lights were a little undersized for us (pictures don't do it justice, but this is a 33 foot long hallway!), so although we considered spray painting them another color (oil-rubbed bronze? red? navy?), I worried it'd make them look a bit more gothic cathedral than we wanted. Plus, all three of them were crooked, one of them had a broken stem, and the middle one was actually bigger than the other two.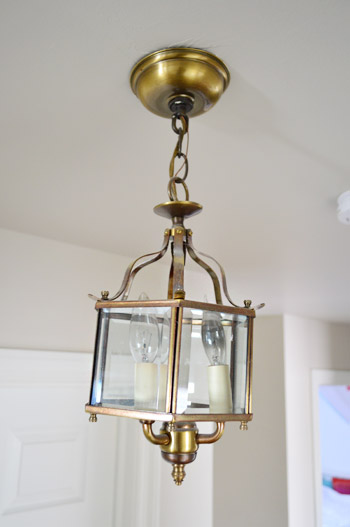 I've had these fixtures mentally bookmarked for years. Ever since we saw them in a House Crashing that we did in Portland, OR in 2012 I've wanted to work them into our home somehow. I like that they're a mix of classic and modern, and that their dark finish offers some nice contrast but isn't too heavy looking thanks to all the glass. The good news is that Sherry was with me (we don't always agree on lights, so sometimes finding something we both like takes a while). The only issue was that the $250 price tag was a bit much for us since we'd need to buy three of them.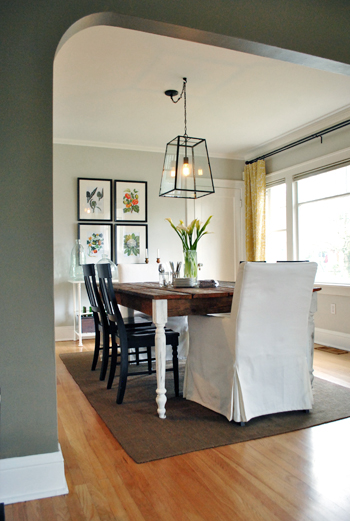 We hoped to find something similar at a local lighting outlet that we frequent (and even checked craigslist and the ReStore occasionally) but coming by three identical fixtures was tough. Then Sherry got an email alert about a World Market sale (25% off orders over $150) which lead her to these puppies – and we realized that after the sale they'd be $75 each, which means we could buy all three for less than the price of our single inspiration fixture.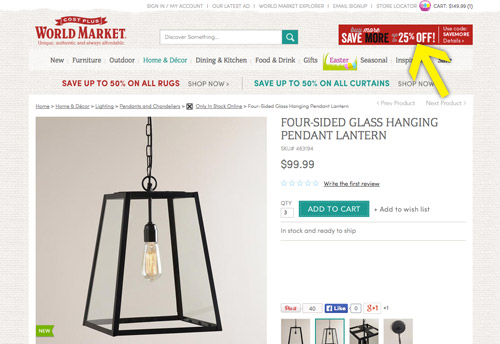 Normally I wouldn't take you through the installation process again, since I feel like I've done lots of posts like these – but I actually picked up a couple of tricks (albeit small ones) from observing the electrician work his magic at the showhouse. Trick #1 being leave the protective packaging on during installation. I guess I've always been so eager to unveil our new purchases that the first thing I usually did was strip away all of the plastic, cardboard and styrofoam. But I had a "well duh!" moment watching the electrician leave it all on (well, whatever didn't interfere with installing it) to help prevent any damage while he worked. Of course he took it off before firing up the power and adding a bulb, but just hanging them with the added protection felt a lot better than rushing to strip it before manhandling things into place.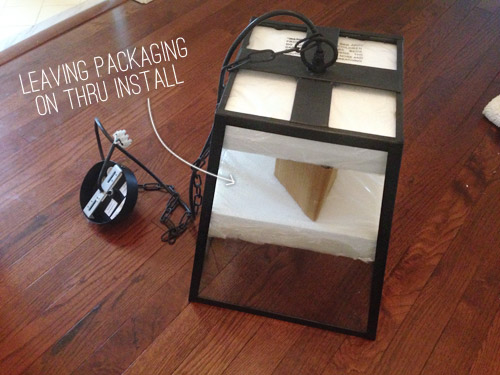 Obviously I would've loved to let these babies hang down on their chains a bit, but our 8ft ceilings weren't gonna let it happen. So we had to shorten the chain by prying the links open with two pairs of pliers, the tips of which I wrapped in masking tape to keep them from scratching the finish off.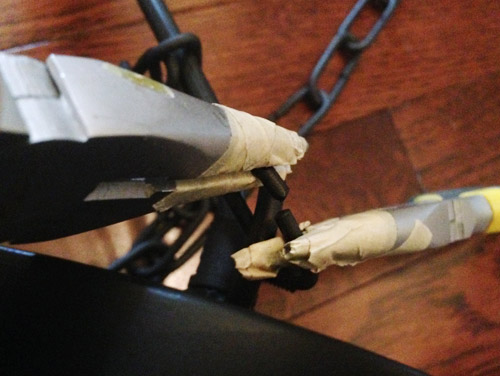 The previous lighting had been a bit low for my 6-foot self (well, the middle one outside of Clara's room was – since that lantern was inexplicably larger than the other two), so we decided to hang the new lights by just one chain link – which would put them all a couple inches higher than that old middle light (it hung about 75″ from the ground). So even though these are larger scale fixtures, the bottom of each lantern ended up being 77″ from the floor after installation.
But back to the single link method. I kept one link handy, but left a longer string on the fixture for the time being. More on that in a minute.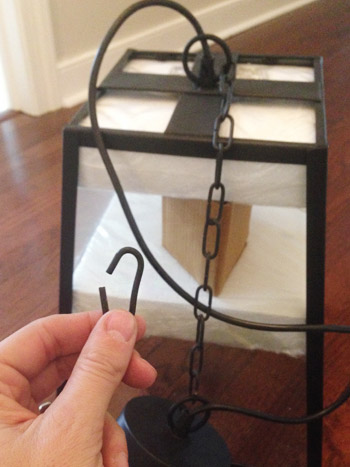 In addition to shortening the chain, I had to shorten the cord. So using my wire cutters I cut open the wire cover, pulled it off, and then stripped the ends of the white, black, and green wires.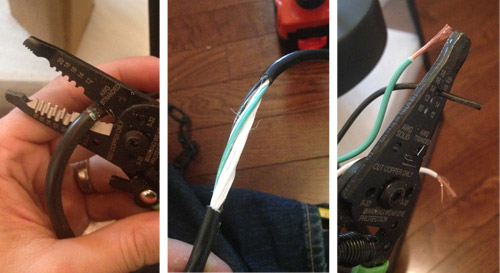 With Sherry supporting the fixture, I connected the wires to the matching ones in the ceiling. Sorry for the grainy pic, but we had the power off so lighting was limited up there.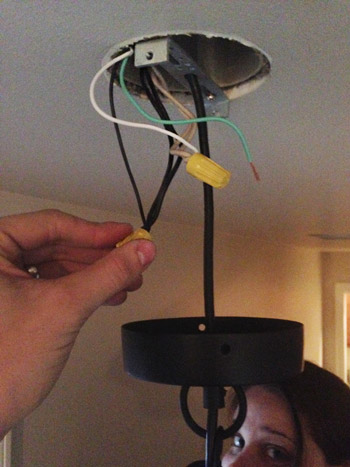 The second trick I picked up was to hang the fixture low and then raise it to your final desired height. With most light fixtures it's much easier to raise them (by removing chain or feeding more wire into the ceiling) than to make them lower, especially if you've already cut your wire. So not only is this an easier way to get your perfect height, in our case it made installation much easier because Sherry didn't have to hold the light as high and I wasn't wiring in such a cramped space between the fixture and the ceiling.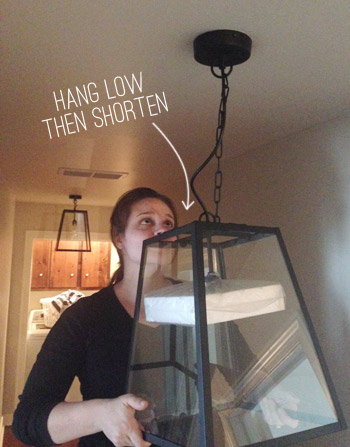 Once everything was secured, I swapped out the long chain for the my single link and pushed the excess wire up into the canopy. You can see my screwdriver tightening the screw that pinches the wire in place.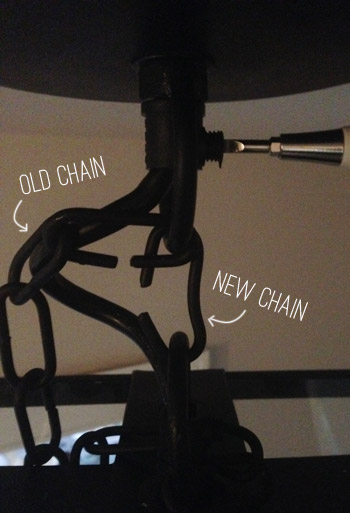 It still took a fair amount of time to get all three installed. Maybe 3 hours? I always have a tough time guessing since I'm slowed down by photo taking and, in this case, fielding showhouse calls. But in the end we love the result.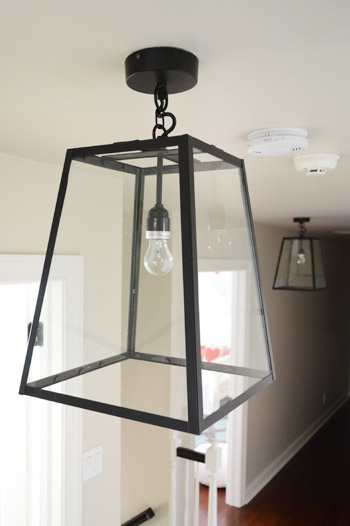 Just like the light in our foyer downstairs, we really like the high contrast look that these add. Even the way they tie into the dark door hinges, doorknobs, and the stained stair rail and runner that lead downstairs seems to make things feel more deliberate. They're a bit oversized for the space, which may bother some folks – but it's kinda what I dig most about them.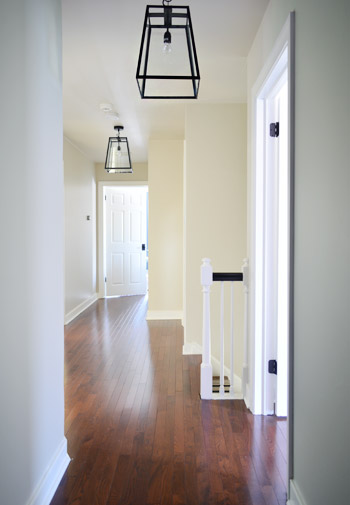 Adding some substantial wainscoting, interesting art, and other hallway updates should definitely bring more balance. So here's our remaining to-do list:
Reinstall & maybe modify the doors in front of the laundry area
Add crown molding (not looking forward to those angles!)
Add some nice thick wainscoting (it'll bring more substance to the bottom half of the hallway)
Get some art going on
Just for fun, here's a hallway before shot for comparison.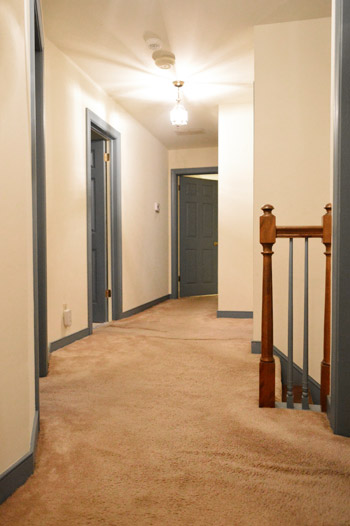 In the function column, I feared that it might be a little darker (going from three 3-bulb fixtures to three single bulbs), but these take a higher wattage (60 instead of 40) and somehow the glass seems to reflect so much that it actually feels brighter. Could also be that half of the old bulbs were burned out too, so there's that.
Here's how things look with the clear bulbs that came with the fixtures when they're on. They throw some angular shadows on the ceiling, but if we want less of that look we can switch them out for frosted bulbs (eventually we'd love to get LEDs in every fixture).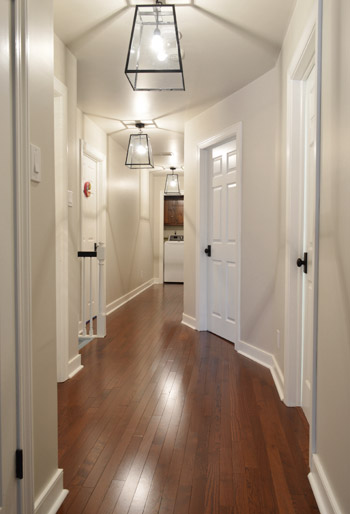 Anyone else have hall happenings to share? It's weird that those "not real rooms" in the house can end up being the ones you spend a ton of time passing through, so they make a surprising difference when you show them a little attention.
&nbsp